Wicked Closes in Australia on September 11
The multi-award winning smash-hit musical Wicked, which opened in Melbourne on Tuesday July 12, 2008 and has since enjoyed phenomenally successful seasons in Sydney, Brisbane and Adelaide will have its final performance in Perth at the Burswood Theatre on September 11. Over 1.5 million Australians have seen the production in its record breaking run.
This week, Wicked will break the record for the highest ticket sales of any show in Perth history, having sold over 127,000 tickets to date with five weeks left to run. At the completion of Wicked's Australian tour, the production will prepare for its forthcoming Asian tour.
One of Australia's leading theatrical producers whose Broadway productions have won two Tony® Awards, Australian Co-Producer of Wicked John Frost is accustomed to hits, but he says Wicked was something he had never experienced. "Wicked is a phenomenon, quite unlike any other musical, one of the most successful shows of all time. It is well over three years since we opened Wicked at the Regent Theatre in Melbourne, and we weren't sure if we'd run a week, a month or a year. But right from the beginning this show has been an overwhelming hit - Australians have taken Wicked to their hearts. Audiences have been captivated by the soaring ballads, the spectacular sets, costumes and lighting, and been draw into the emotional richness of this beautiful story. Thank you Perth and thank you Australia for making Wicked the success it has been."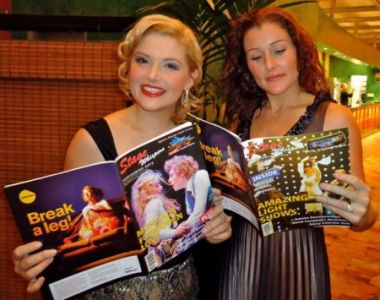 New tickets for the final week of performances in Perth up to and including Sunday September 11
go on sale on August 8 through TICKETEK on 132 849 or online at www.ticketek.com.au
Images: Glinda (Lucy Durack) and Elphaba (Jemma Rix)
Our earlier coverage
DEFYING GRAVITY – WHERE THE MILLIONS ARE BEING SPENT ON WICKED.
WICKED CELEBRATES 1000 AUSTRALIAN PERFORMANCES
Or go to Search for more Wicked
To keep up with the latest news and reviews at Stage Whispers, click here to like us on Facebook, or follow us on Twitter