The Addams Family
Book by Marshall Brickman and Rick Elice. Music and lyrics by Andrew Lippa. Based on characters created by Charles Addams. Capitol Theatre, Sydney. Opening Night: March 23, 2013.
Dancing off black and white TV screens onto the stage, The Addams Family now springs to life in its own joyous musical comedy, playing at Sydney's Capitol Theatre.
Based on the Charles Addams cartoons that inspired the TV show, black, white and shades of grey still provide the broad palette, allowing judicious splashes of cleverly placed colour to illuminate plot and character in striking designs.
Lots of laughs combine with charm and heart. At first glance the macabre, kooky Addams clan might seem the antithesis of 'normal' musical comedy characters, but that adds to their appeal, and may draw audiences who wouldn't be seen dead at a 'normal' musical.
And in the end, despite the macabre kookiness, like the TV show, it's basically about family and relationships, and there's a ring of truth and humanity.
Of course there's boy meets girl, but with an Addams twist – Wednesday Addams has grown up and fallen in love, with a Lucas Beineke, a boyfrom a 'normal' family, throwing the family into chaos. But just how happy are the 'normal' Mal and Alice? In a plot very adjacent to the great Kauffman and Hart comedy, You Can't Take it With You, when Mal and Alice come to dinner the Addams help remember who they once were. Hardly surprising – after all, despite the kinkiness and masochism, have there ever been greater small screen lovers than Gomez and Morticia?
Modestly successful on Broadway, the revamped musical was overhauled for the US National Tour, with several songs replaced, a heightened conflict threatening the relationship of Gomez and Morticia and extra dance numbers, while under the scalpel of experienced show doctor / director Jerry Zaks, clangers like the family's giant pet squid were reduced to calamari.
The result is a stylish, slick musical thick with gags (some a tad corny), one-liners and visual humour, crafted in the classic Broadway style of which Zaks is a past-master. The revised Andrew Lippa score now serves both situations and characters far better.
Cleverly the audience is warmed up by the familiar opening notes of the TV show's theme, commencing the overture, drawing a resounding clap, clap in place of the customary double clicks, to push the nostalgia into overdrive.
Lush red drapes part, almost a character in their own right, with their varied openings and closings.
As well as introducing the familiar Addams clan, the opening number summons their ancestors from the family vault with all that dancing on their graves. The family we know, the ancestors, cleverly individualized in movement and costumes, are a treat in their deathly white make-up, wigs and costumes. The small ensemble are slick and stylish in their choreography, made even more appealing by frequent individualized moves.
Excellent performances from the fine Australian cast were essential to engage audiences with such iconic characters in their new context.
John Waters' debonair, conflicted Gomez is charming, sympathetic and engaging. If his Latino is a tad stereotyped, it harks back to John Astin's well-loved portrayal. Chloë Dallimore brings a scintillating mix of elegance, sexiness and wit to Morticia.
Russell Dykstra's Uncle Fester breaks the fourth wall to draw the audience along, affectionately channeling the childlike innocence of Jackie Coogan's TV original. His love song to the moon is a highlight. Meredith O'Reilly's Grandma is delightfully eccentric. Ben Hudson has the perfect presence and silent or appropriately garbled wit as Lurch.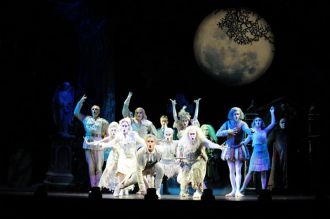 Five different boys alternate as Pugsley, a great opportunity for quirky comedy, and a glimpse at vulnerable side, played on opening night by Blake Hurford.
She may have fallen in love with a boy from a 'normal' family, but Teegan Wouters' Wednesday Addams is unmistakably that gorgeously creepy, sadistic little girl grown up. Wouters combines a Broadway belt voice to set musical theatre hearts racing with a steely glare which could freeze the blood. She's compelling. Tim Maddren is extremely likable as Wednesday's beau Lucas, complementing Wouters in a romantic plot with it's own share of twists.
Distinctly Mid-Western and out of their comfort zone, 'normal' parents Mal and Alice Beineke both undergo transformations. Thanks to an accidental dose Granny's truth potion, the tightly-laced Alice, who communicates in badly-rhymed poetry, lets loose, and Katrina Retallick ensures it's a delightfully outrageous high octane turn. Stiff and fixed in his ways, husband Mal is forced to rediscover the man he once was. Tony Harvey's delightfully bemused Mal makes his rather formulaic transformation work despite itself.
You may miss some favourite bits of the TV show: familiar tag-lines, Cleopatra, not enough Thing or Cousin It. In the end, though, creating a new plot made sure that we didn't just get a mish-mash of best bits, or suffer another failed attempt to convert the half-hour TV format into a two hour stage play.
Highly entertaining musical comedy, with a creepy, kooky twist of Addams.
Neil Litchfield
Images: Lightbox Photography
Opening Number - When You're an Addams
More reading.