Altar Boyz
Music and Lyrics by Gary Adler and Michael Patrick Walker. Miranda Musical Society. Director: Osman Kabbara. Sutherland Memorial School of Arts. June 12 – 21, 2015.
In the space of a few weeks I've seen two productions which have taken multimedia in Sydney Community Musical Theatre to new levels, in totally different ways. First it was Tommy at BMMS, and now Altar Boys at Miranda.
On a basic setting, with rostra and scaffold columns reminiscent of a rock gig, director Osman Kabbara has made remarkable use of projection to give this small production an impressive, elaborate staging.
Altar Boyz is a short Off-Broadway musical, about an evangelistic boy band which plays in real time portraying one of their concerts, with bright lively score which captures a genuine boy band sound. It's a fun, cheesy send-up.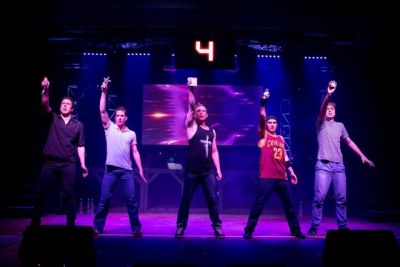 The cast of five - Gareth Davis, Tim Wotherspoon, James Jonathan, Sasha Simic and Gus Noakes – play the piece with sheer commitment and energy, rarely leaving the stage. They revel in the corny humour of the piece, and for the most part sing and dance the piece impressively. I say for the most part, because there are momentary lapses in the trademark boy band harmonies, and while Craig Nhobbs' choreography lives up to his strong standards, in execution sometimes it lacks that tight synchronization and slickness which gives boy bands their peculiarly appealing cheesy style.
The standout performance for mine comes from young Gus Noakes as Abraham, the token Jewish member and lyricist of the group, in a capable cast.
Musical director Joshua Ransom's band provides excellent support throughout, and the sound balance for this bright raucous little musical, courtesy of Loud and Clear, is excellent.
Despite my few quibbles, I had great fun at this lively, energetic production of this musical, having its NSW Amateur Premiere.
Neil Litchfield
More Reading
Earlier coverage of Altar Boyz
Community Theatre Seasons 2015.