Annie
By Charles Strouse, Martin Charnin and Thomas Meehan. The Regals Musical Society. Sydney Technical High School, Bexley. Director: Meg Day. Musical Director: Jake Ryan. Choreographer: Tracey Rasmussen. October 14 – 22, 2011.
INGENUITY was essential, and evident in abundance.
Five weeks out from opening, The Regals discovered that Rockdale Town Hall would be unavailable for their production of Annie, due to asbestos concerns. The company, including two big casts of children, had been rehearsing a large-scale production for four months, with all facets of preparation, assuming the Town Hall stage facilities, well under way.
Like Rockdale Musical Society's Avenue Q, which received the same news just one week out, in the best theatrical tradition, the show has gone on, though under far from ideal conditions, making numerous compromises.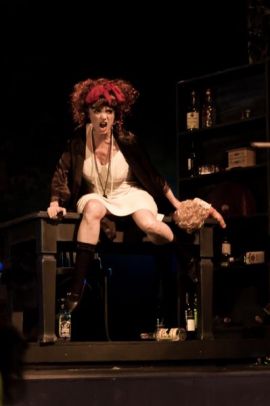 After opening night I so wished I had been able to see Director Meg Day's radical take on the well-loved musical in its totality. I loved so much of what I'd seen. We'd been promised a Tim Burton inspired vision of the show in early publicity, and it was visible everywhere – Alice in Wonderland, Charlie and the Chocolate Factory and Sweeney Todd all intriguingly referenced. There were touches of Dickens, as he might have seen 1930s New York, and the Grimm Brothers.
Costuming, make-up, sunken eyes and lighting created a grim, dark world of orphanages and 1930s depression, contrasted with a vibrant, zany, technicolour world in the Warbucks mansion, where the Burton-esque extended into the servants' flippant characterisation. Only in the White House scene did the Burton interpretation seem go missing.
Chatting briefly to Meg Day afterwards, I understood a more of her grand vision, and the fluidity of the physical staging which she intended.
For once, audiences should simply forgive the technical issues, accept where the blocking, scenery or props occasionally seem a little amiss, and mentally edit them out. Lay the blame on past building practices, close your eyes and enjoy the musical interludes. I'm sure they'll get shorter as the season progresses.
If you do can do that, there's so much that's right.
There's a young girl with a big voice who launches into Annie's famous songs, as well as tugging at the heartstrings (Zoe Iannou in the 'yellow' cast I saw), supported by two dozen endearing urchins.
Then there's Michele Lansdown as Miss Hannigan, with a big Broadway belt in the songs, while capturing the monstrous, the humourous and the humanity of this classic Broadway character.
Add a Daddy Warbucks in Lachlan O'Brien who interprets the songs delightfully and gets balance between the gruff and sympathetic in just the right proportions.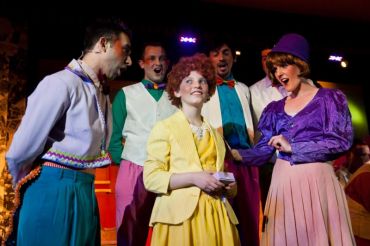 Brad Clarke is a suitably malevolent Rooster, and Adelie Battam an amply vacuous Lily. Jessica Shirley's Grace and Ste Casimiro's Butler Drake nail the kind of off-beat characterizations the interpretation called for. This was also true of several featured ensemble cameos. Jon Prowse is an appropriately paternal sort of President Roosevelt.
The entire company launches into the show with vibrant, infectious energy.
Without going into all the gory detail, to top everything off, the company lost a major rehearsal in the final week, which meant only getting one full technical run prior to opening night when the school.
After all that, it is remarkable just how genuinely enjoyable the whole production is.
Neil Litchfield
To keep up with the latest news and reviews at Stage Whispers, click here to like us on Facebook, or follow us on Twitter.