Driving Miss Daisy
By Alfrew Uhry. Director: David Esbjornson. John Frost, Jed Bernstein & Adam Zotovich production. Playhouse, QPAC, from 9 February 2013; Theatre Royal, Sydney from March 2; Comedy Theatre, Melbourne from April 6; Her Majesty's Theatre, Adelaide from May 17 and His Majesty's Theatre, Perth from June 8.
In the hands of Broadway royalty, Driving Miss Daisy becomes not only a good play but a great one. Angela Lansbury, James Earl Jones and Boyd Gaines invest this basically affectionate anecdote with star power rarely seen on an Australian stage.
Most people will know Alfred Uhry's Pulitzer Prize winning play from the film version which starred Jessica Tandy and Morgan Freeman. The plot revolves around Daisy Werthan, a 72 year-old Southern-Jewish matron, who has had a crash in her car which has resulted in her son, Boolie insisting that she needs a chauffeur. He hires an aging black man Hoke Coleburn for the job. The interaction and gradual growing friendship between the cranky Miss Daisy, a former school teacher, and the uneducated Hoke forms the basis of the play.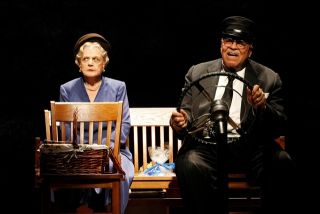 Set in Georgia between 1948 and 1973, the 25 year period of the play encompasses some of the most momentous Civil Rights changes in America. Although Uhry hints at some of them, such as a lynching and the 1958 bombing of Atlanta's oldest synagogue, his is not a heavy-handed approach.
This production comes via acclaimed Broadway and London seasons with James Earl Jones and Boyd Gaines repeating their roles as Hoke and Boolie. Jones is perfect as Hoke, creating a character of strength and dignity and in the final scenes empathy. Gaines likewise is also perfect as Boolie, a successful Jewish businessman caught up in the changes sweeping America and ever mindful of his place in them. When he puts out his hand for Hoke to shake, and there's a slight hesitation before Hoke accepts it, we feel this could be the first time Boolie has ever shaken the hand of a black man. It was a compelling moment.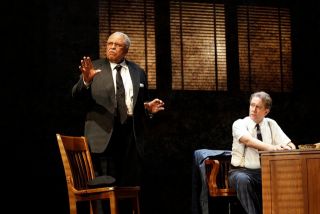 Completing this trilogy of perfection is Angela Lansbury, whose luminosity glows from the moment she steps on the stage. Capturing the querulousness of the imperious Miss Daisy, from her outward non-acceptance of Hoke to her eventual friendship and respect of the man, was acting of the highest order. In the dying minutes of the play when she acknowledges Hoke as her best friend by lightly touching him on the arm, the emotion was palpable.
David Esbjohnson's direction was understated and avoided the play tipping into sentimentality which it could easily have done. John Lee Beatty's uncluttered set design aptly evoked the locations helped by some back projection, while Peter Kaczorowski's lighting and Mark Bennett's music completed the overall perfect picture.
These three actors have won a total of 11 Tony Awards. To have one of them on our stages would have been a blessing. To have all three is a surfeit of riches.
Peter Pinne
Driving Miss Daisy is ninety minutes of champagne theatre, as two superb actors give 'vintage' performances, splendidly supported, if support is the right word to describe the work of a third multi-award-winning actor. I won't attempt to trump Peter Pinne's praise of this production. It was a rare privilege to be in the audience for this moving play, performed by consummate actors Angela Lansbury and James Earl Jones, more-than-supported by fellow Tony Award winner Boyd Gaines, as the opening night audience in Sydney finally had it's chance to appreciate what Brisbane audiences have been feasting on for the last month. A simple, eloquent production places total emphasis on the performances (though I did love the social context provided by projections). This is an evening where the words star and legend are totally apt, and one of theatre which truly lives up to the must-see expectations which preceded it.
Neil Litchfield
images: Angela Lansbury & James Earl Jones & James Earl Jones and Boyd Gaines in Driving Miss Daisy (c) Jeff Busby.
Our earlier coverage and tour dates.