Euröbeat: Almöst Eurövisiön
By Craig Christie and Andrew Patterson. Directed and Chroegraphed by Patt Ryan Fab Nobs Theatre, Bayswater (Vic). March 8th – 23rd, 2013.
There are all kinds of Musical Theatre. Some shows are meant to move you; some to make you think; some to overwhelm you with romantic music, or historic themes….and some are just a hoot; hilarious entertainment with no agenda at all. Euröbeat is the latter and proudly wears its campery as a badge of honour. And when you take a send up of something already as camp as Eurovision and add to it an insanely talented cast with a fearless and imaginative director, the result is a wonderful night of energetic and energising theatre that everyone who needs a little laughter and joy in their lives should rush to see.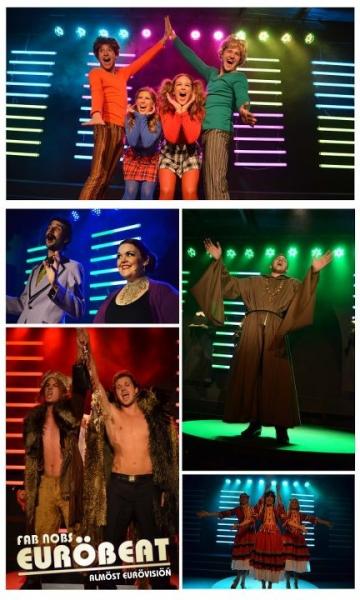 Fab Nobs continues to amaze with each production. This time, in a flawless cast, top honours go to Tony "Bones" Burge and Ang Cuy as the Sarajevo hosts Sergei and Boyka. Apart from the delicious physical contrast between them (Sergei all angles, Boyka all curves) they complement each other's comic styles…Boyka's dry, throwaway wit the perfect foil for Sergei's goofy physicality. Both actors have superb comic timing and considerable ad-libbing skills. Burge is one of the great, mostly undiscovered, comedic talents in Australia and Cuy possesses a level of finesse far beyond her years.
The "contestants" are all amazing and in great voice and harmony under the direction of Vicki Quinn, and although the songs are mostly so kitsch you're too busy laughing to remember them, there are some highlights. It was such a treat to finally get to hear Sarah Somers beautiful soprano voice and Colin Morley, always impressive, was a hoot in a zoot suit representing Germany. Shannon Pendry – who cut her community theatre teeth in Fab Nobs' Drowsy Chaperone – shows natural vocal and comic talent in a delicious send-up of Bjork, and Rob Medica really MUST stop showing off that body (one of his many talents) as this elderly lady has trouble coping with the weather, let alone hot flushes.
Zachary Alaimo is hysterical as the Monk who won for Ireland on opening night, and the remaining cast – Andrew Amos, Gemma Considine, Lauren Cox, Janette Diab, Sheona Gregg and Thomas Kit-Thompson all shone in a variety of roles under the direction of the wonderful Patt Ryan….and the choreography was hilarious, especially when the Russian Boy Band sang Ice Queen. It's a brilliant ensemble production. We laughed, we cheered, we totally forgot that we were melting in 36 degree heat and we went home ready to face a world that is, for the most part, nowhere near as enjoyable and exhilarating as a night with Fab Nobs.
Coral Drouyn