Kiss of the Spider Woman
By Terence McNally, John Kander and Fred Ebb. Bankstown Theatre Company. Bankstown Art Centre, Olympic Parade Bankstown. March 15 – 24, 2013.
Community musical theatre rarely gets better than this … a tight, all-encompassing production concept, smartly executed, with leading performers in roles that seem made for them, strong supporting players and a capable ensemble of male dancers.
Manuel Puig's dark novel Kiss of the Spider Woman, set in a Latin American prison, and the resultant film, aren't the most obvious choice for musicalisation, still the cinematic flights of fantasy into which gay window-dresser Molina escapes, create a challenging tour-de-force opportunity for a triple threat performer, which Rozlyne Howell seizes with vengeance.
If the subject matter seems unlikely at first, the Kander and Ebb (Cabaret, Chicago) score brings top musical theatre pedigree to it, while Puig's story, adapted by Terence McNally, plumbs a deep well of humanity, alongside the overt campiness, in a musical which won Broadway's Tony Award for Best Musical in 1993.
Rozlyne Howell's tremendous professional stage experience here and abroad raises the ante even higher than her previous outstanding community theatre performances. A charismatic, versatile triple threat, she creates the cinema diva and her various film sirens in Molina's fantasies with style and panache. Her array of costumes and wigs adds vibrant bursts of colour to the pizzaz she repeatedly brings to the stage, contrasting to the bleaker grey tones of the broader design.
In another top-notch performance, Gavin Leahy absolutely inhabits the flamboyant, high camp role of Molina in a sympathetic, convincing portrayal. Vocally, dramatically (and comically) it's the full deal. His revolutionary cell-mate Valentin, though decidedly reserved by contrast, is played with inner strength, credibility and humanity by Nelson Padilla. As Molina's mother, Diane Wilson proves there are indeed 'no small roles' for our most talented and experienced community theatre performers.
Group dancing is capably handled by a strong male ensemble, who also portray individual moments and choreographic movement of props and set elements effectively. Only when they are called to partner the leading lady, do the strongest dancers become really evident.
Director / choreographer Edward Rooke has a clear, creative vision, splendidly and thoroughly realised.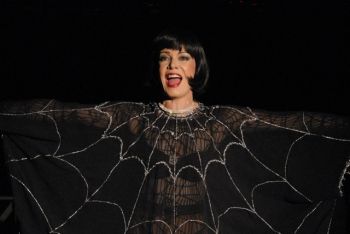 The design serves the piece and the performance most effectively, making intelligent, imaginative use of this very basic black box theatre, with cleverly conceived, fluid transitions between the play's twin worlds of cinematic fantasy and prison.
Musically too, the show is top notch, accompanied by an impressive, compact band led by musical director Greg Crease.
For some community theatre excellence, outside the usual repertoire, Bankstown's Kiss of the Spider Woman is hard to go past.
Neil Litchfield