Lost Lives
By Spencer Scholz. Adelaide Fringe 2021. Safari Street Creative. Holden Street Theatres. Feb 19 – 27, 2021
Lost Lives is a new 70 minute play, written by Adelaide author Spencer Scholz. It has the germ of a very clever episode of Silent Witness, and I half hoped that my favourite characters would pop up and take advantage of a fabulous, enlightening forensic opportunity that the murder of lovely Jane Kelly presented.
This show is presented by Safari Street Creative, a company who are committed to theatre that is 'dangerous, exhilarating and unpretentious'. A fledgling company, they bravely present a two hander; perhaps one of theatre's greatest challenges, and whilst the timing and characterisation between the two actors is still developing, the company is to be applauded on their courageous piece of theatre that stretched both actors.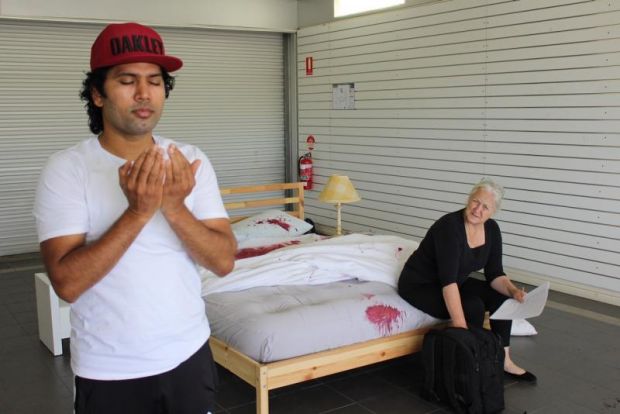 Esther Michelsen portrays Meg as the exhausted, harried, but very professional team leader of a forensic clean up team. She knows the science of blood-borne disease, and into the mix is an untidy home life that intrudes, frustrates and tests her. Even behind a very familiar COVID face mask, Michelsen could be heard, and largely understood. Her acting style was naturalistic, and she was well supported by a cleanly designed, well created and bloodied crime scene.
Ceejay Singh as the new staff member, a young Muslim boy anxious for success with his first forensic crime scene, has charisma, but is somewhat flatfooted and 'act to the front and declaim' in his style. Accent aside, stronger, and confident projection would enhance his already promising stage performance.
The company and play promises to deliver morals, cultures and secrets to the forefront. A further workshopping of this chrysalis may indeed give us that. The writing has not, as yet, cashed in on the wonderful opportunities that the forensics offer to 'spice up' this story.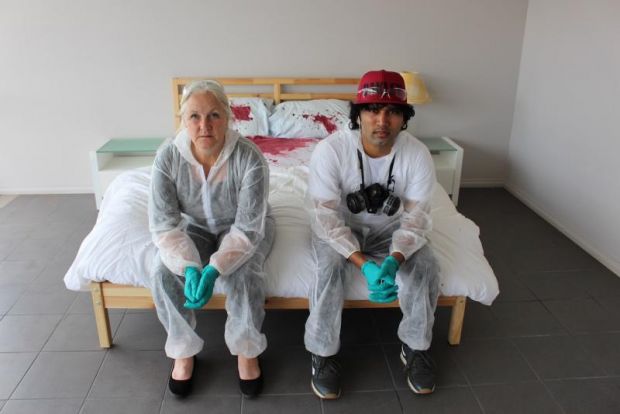 Lighting and sound were effective and well used, and the sparsely set bed and room were convincing, enhancing the work of the two actors. Safari Street Creative are bold and well equipped as serious theatre contenders. I look forward to seeing their next play, but in the meantime, it is an enjoyable night out seeing two actors work with such passion.
Jude Hines