Mamma Mia!
Music and lyrics by Benny Andersson and Björn Kristian Ulvaeus. Book by Catherine Johnson Packemin Productions. Directed by Jordan Vassallo and Jessica Fallico. Musical Director: Peter Hayward. Choreography: Sally Dashwood. Riverside Theatre, Parramatta. August 2 – 17, 2019
Any jaded feeling of "Mamma Mia! Here we go again" was immediately swept away by this high energy production with a cracking cast, that had people whispering in the foyer that they enjoyed it more than the recent professional season.
After a popular movie, sequel and three national tours, Australia's unquenchable love of Abba music is now being satisfied by elite community theatre companies given the first bite of the Mamma Mia! cherry. Packemin Productions is pro-am, but given the weighting of the musical to a small ensemble of leads and rare appearances by the chorus this felt like it was very much more pro than am.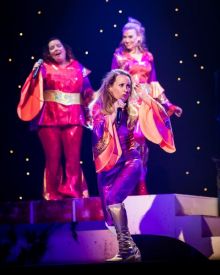 The story line of a bride-to-be inviting three of her mother's ex boyfriends to her wedding hoping to discover which one is her father is such a piece of fairy floss that I seem to conveniently forget the ending every time I sit down to re-watch the musical.
Louise Symes has the grittiest role in the music as mother of the bride Donna. Her controlled vibrato in the power ballad "The Winner Takes It All" brought the house down.
Her friends Tanya (Debora Krizak) and Rosie (Rachael Gillfeather) were bursting with a joy of life that you could slice.
The three prospective fathers seemed to be having so much fun on stage that I was wondering if they were paying to be in the show. Scott Irwin was cool as a cucumber as Sam, Mark Simpson charismatic as Bill and Blake Erickson impossibly funny as Harry.
The bride and groom to be, Courtney Bell (Sophie) and Chris White (Sky), looked every bit the part of a gorgeous couple. Courtney allowed costume designer Audrey Currie a moment to shine when she slipped from the most elegant white wedding night undergarment into a matching tightly sculpted wedding dress.
Other production highlights include a motorised boat which powered around the stage and an e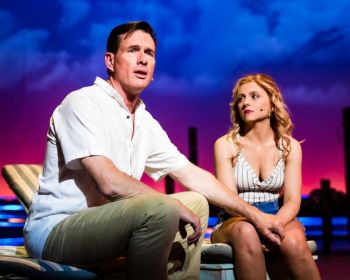 legant church with a windmill on top. The new set, designed by Josh McIntosh (and set to be seen at productions around Australia), was well splashed with Mediterranean colour and wheeled around by the cast. At one point the double storey structure looked a little close for comfort to be pushed out towards the audience.
There are not a lot of moments for a large ensemble – a former trademark of 'Packemin' productions. When they came, the choreography was bright and breezy – especially in the scene when the blokes head off to a day at the beach and slide around the stage in beach inflatables.
The big dance number at the curtain call, a rousing encore of Abba classics, brought the audience to its feet.
David Spicer
Photographer: Grant Leslie
More Reading on Packemin's Mamma Mia!