The Mikado.
Gilbert and Sullivan Society of South Australia. The Scott Theatre. 20 to 29 October, 2011.
It would be only fair to start by saying that I am not familiar with each and every note and individual instrumentation in The Mikado – so going into a production whose main point of difference is the reorchestration is a difficult task to say the least. I will instead provide commentary on what I saw, without comparing it too much to the 'original'.
This production stands firmly on its own two feet and does not feel awkwardly removed from its cousin, nor bastardised. What Ross Curtis has done is understated and affectionate; highlighting poignant and funny moments nicely and unobtrusively underscoring the rest of the production well. Further to the rewriting, Curtis's handling of the orchestra was first rate, particularly the Flute/Piccolo and Clarinets, which sounded smooth as cream.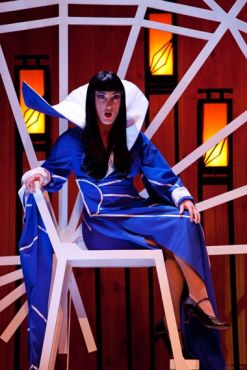 On stage, the cast are equally up to the task. At the helm is David Lampard in the role of Ko-Ko. Lampard has amazing stage presence and uses it to his full ability. Alongside the operatic ensemble, his non-classical voice is not distracting and well executed, but his accent does occasionally suffer from an Australian ocker-ism. Lampard is a fine performer, and talented at multi-tasking too – he is simultaneously responsible for the outstanding set and costumes.
Ian Andrew plays opposite Lampard as the other male suitor, Nanki-Poo. Andrew delivers with the same outstanding level of quality and professionalism one has come to expect; a young singer who is going on to big things.
Leading lady Liana Nagy as Yum-Yum is a pleasure to watch, with a divine singing voice. Nagy sings a gorgeous rendition of 'The Sun, Whose Rays' in Act II. During her ensemble parts Nagy's voice climbs high into the rafters, stealing the soprano line and hitting every note with confidence.
Andrew and Nagy together have great chemistry, but are both occasionally under expressive. Nagy in particular could do more with her face, particularly during long times of choreographed stillness.
Timothy Ide plays Pooh-Bah, and slides wonderfully into the role. Ide is playful and dastardly and marries his characterisation wonderfully through movement and voice. Sarah Nagy and Natalie Tate are Yum-Yum's ladies-in-waiting Pitti-Sing and Peep-Bo. Both sing confidently and well, with only a few moments that aren't as strong.
David Rapkin plays The Mikado, and in act II virtually owns the stage. Rapkin has great presence but vocally was not as strong as his fellow performers. Patrick Witcombe plays Pish-Tush, who has most of his songs early in the first act. Witcombe has a delightful voice and great stage presence. The role of Katisha, usually played by a much older and far less attractive woman, was instead played by the younger and quite attractive Danii Zappia. Whilst actually having quite a good voice, Zappia does not have the strength needed to match the ensemble lead cast. Casting a young and attractive Katisha was also a mistake. Lampard worked very hard to be repulsed by Katisha, but it was all in vain, and didn't really work.
The look of this production is first rate, and the set and costumes have a highly professional finish. Individual touches on set framing (Japanese style) and lanterns were excellent. Lampard clearly has an eye for design and detail and this translates into what looks like a high budget production. The lighting is faithfully executed by designer Daniel Barber.
While this is an excellent performance of The Mikado, the show itself feels a little old now, and the themes are out of date. Some attempts were made by director Richard Trevaskis to modernise the script with references to Facebook, Twitter and Julia Gillard, and with the use of iPads and modern gadgetry; but the show still wasn't as funny as it used to be, perhaps now being too far past it's time.
If you love The Mikado, I am confident you will be very pleased with this performance. If you haven't seen it before, then you would be well advised to catch this production. Gilbert and Sullivan S.A. are definitely delivering an incredibly professional standard, bravo!
Paul Rodda
Our earluier article and more details.
To keep up with the latest news and reviews at Stage Whispers, click here to like us on Facebook, or follow us on Twitter.