Scarlett O'Hara at the Crimson Parrot.
By David Williamson. Directed by Chris Procter. 1812 Theatre, 3 Rose Street, Upper Ferntree Cully, Melbourne. 21 November - 14 December, 2013
A kind of contemporary Australian take on Walter Mitty, Scarlett O'Hara (aptly named given her love of old Hollywood movies) is a ditzy, pratfalling klutz who hasn't much luck in her love life and fares little better in her efforts to hold down her day job of waitress at the Crimson Parrot cafe. This engaging heroine spends her time daydreaming, quoting Bogie and Bacall, and being alternately harangued by her over-protective, lonely mother and browbeaten by her money-troubled chef. The part may have been written for Caroline O'Connor, but Donna Pope makes it her own in the 1812 Theatre's production, delivering a warm, nuanced and intelligent performance. Her comic timing was great and the physical humour required for the role well choreographed, managing to look completely natural with not a stunt going south.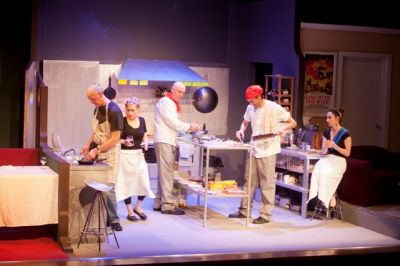 Clearly written as a light entertainment piece, the play is full of deliberate stereotypes, such as Scarlett's mother (Joan Crossland) who could have stepped out of a TV soap, IT nerd Alan (Mathew Ducza) who provides Scarlett's potential love interest, and even the requisite "ageing poof" kitchen hand (Graeme Doyle). Given this cast of characters, there's plenty of opportunity for very un-PC jokes. The plot's good-natured predictability was telegraphed with the use of old movie clips which played on a large monitor throughout, often cleverly integrating old footage with newly-shot scenes featuring our cast of characters taking the roles of classic movie stars and mouthing their overdubbed dialogue. These moments elicited real delight, as did some of the more outrageous one-liners. Certainly not a laugh was missed as the cast mined the text for every vein of humour - but there was poignancy too, topped off with a feel good ending. It was a good choice for 1812 to tackle, rewarded with enthusiastic applause and a good vibe from the audience throughout.
Alex Paige
Images: Donna Pope and Joan Crossland, & Graeme Doyle, Donna Pope, Dexter Bourke, Farhad Zaiwala and Dhania McKechnie.