Sea Wall
By Simon Stephens. Flying Penguin Productions. Adelaide Fringe. Space Theatre. February 16 – 21, 2021
It is interesting that one of my first thoughts on leaving this performance of Seawall, was a line from Hamilton – he is going through the unimaginable….
A play, crossing paths with a musical - so different, but inexorably linked through trauma.
Seawall is a stunningly moving piece of modern tragedy presented by Flying Penguin Productions. First written for Andrew Scott in 2008, it stars Renato Musolino as Alex - the storyteller who opens up to us with a tale so poignantly beautiful and harshly difficult, that we can truly see the hole he describes, which runs 'through the middle of him'.
This hole is clearly a metaphor for his excruciating pain and Alex guides us gently through it, initially with smiles and joy, as he relays his love for his wife Helen and his daughter Lucy, and later at warp speed as we experience his world implode.
This is a must – see piece of theatre and demonstrates how one actor can hold an audience spellbound for some forty minutes. The audience on the night I attended was mainly high school drama students who were quite boisterous before the play began, but who later sat motionless and silent, captured by Musolino's performance. The direction, by David Mealor is tight and utilises the space, lighting and shadow and minimal set to great effect, mirroring how Alex's life has been stripped bare.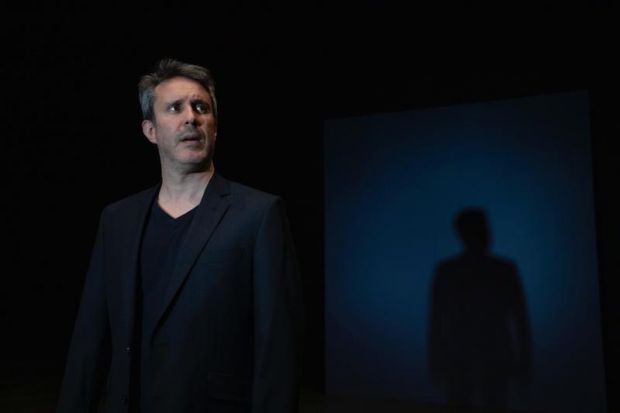 The lighting by Chris Petridis is clever and utilises full houselights when Alex is directing his thoughts through the fourth wall, but brilliantly uses intimate shadow and spotlight to isolate Alex and focus on his pain.
Musolino is a tour-de -force, rivalling the performance by Scott and injecting his own style and physicality to what could be a static monologue. The background music and sound effects by Quincy Grant were also apt and added immensely to the mood.
This is a beautiful, albeit hard to watch at times, piece of theatre. It takes us right to the precipice of the 'seawall' where we teeter every day, knowing that all it takes is just a moment for what we believe in, and know to be important in our lives, to be swept away into the depths.
Shelley Hampton
Photographer: Shane Reid