South Pacific
Music: Richard Rodgers. Lyrics: Oscar Hammerstein 2nd. Book: Oscar Hammerstein 2nd & Joshua Logan based on novel Tales of the South Pacific by James Michener. Opera Australia & John Frost presentation of the Lincoln Center Theater Production. Director: Bartlett Sher. Music Director: Andrew Greene. Choreographer: Christopher Gattelli. Lyric Theatre, QPAC, Brisbane. 2 – 27 January, 2013
Rodgers and Hammerstein virtually created the 'musical play' and there's no better example of their genius than South Pacific. The story of a middle-aged French plantation owner, Emile de Becque, and a young American nurse, Nellie Forbush, who fall in love against a background of the Second World War has drama, comedy and probably the most glorious score the team ever wrote.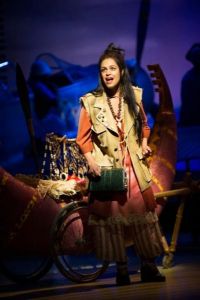 Like the Nazi story strand gives spine to their The Sound of Music, racism gives it to South Pacific. It's all over the piece, from the leading character's children by his Polynesian mistress, to the Cable and Liat sub-plot of love between a white American and a Eurasian girl.
Director Bartlett Sher has gone for period realism, even down to the choreography which is more skylarking and roughhouse than dance.
When the musical opened on Broadway in 1949, opera singer Ezio Pinza was cast as Emile de Becque, and the Lincoln Center production followed suit when they cast Brazilian opera singer Paulo Szot in the part, so it's no stretch to find one of Opera Australia's 'stars', Teddy Tahu Rhodes, essaying the role here. He's superb - magnificent voice, imposing presence, the ideal leading man. His "Some Enchanted Evening" and "This Nearly Was Mine" drew deservedly thunderous applause. But Lisa McCune more than held her own with a feisty yet vulnerable portrayal of Nellie, whether claiming "I'm Gonna Wash That Man Right Outa My Hair" or emphatically shouting "I'm In Love with a Wonderful Guy," she was bliss.
Daniel Koek sang the Lieutenant Cable role better than anyone I've ever heard on stage (or disc for that matter) with a thrilling version of "Younger than Springtime" and a passionate "You've Got To be Carefully Taught," the most perceptive song that's ever been written about racism. He and McCune also did a nice duet of "My Girl Back Home," a song dropped from the original Broadway production but reinstated for the road tour and movie.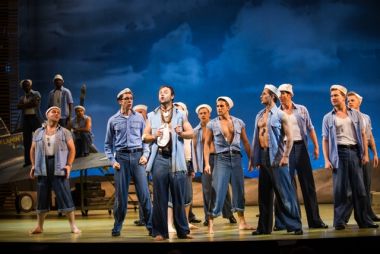 The men's chorus made a virile feast of "There Is Nothing like a Dame," Christine Anu's "Bali Hai" was mesmerizing while Gyton Grantley, a musical theatre virgin, made the venal Luther Billis immensely likeable.
The orchestra sounded lush and the sets, with their use of bamboo screens, effectively established the locale. Apart from over-amplification, which at times made the voices sound harsh and metallic, this was an almost perfect production.
Peter Pinne
More coverage
Christine Anu - New Bloody Mary
Images: Christine Anu, Gyton Grantley and Daniel Koek; Christine Anu & Gyton Grantley and the male ensemble. Photographer: Kurt-Sneddon.