'Twas the Night Before Christmas
By Ken Ludwig. Harbour Theatre. Directed by Jane Sherwood. Camelot Theatre, Mosman Park, WA. Nov 27 - Dec 13, 2020
Harbour Theatre are embracing the season, with their celebratory offering Ken Ludwig's 'Twas the Night Before Christmas.
Camelot Art Centre has become somewhat of a Christmas Wonderland, with strolling players, a place for Christmas wishes and writing letters to Santa, an opportunity to add your name to the Naughty or Nice List and a chance to meet Mother Christmas - so make sure you arrive with plenty of time to have a look around, or linger for a while after the show. The show itself is festive Christmas fare. Aimed at families, this pleasant little show, just on an hour long, ends with a sing-along.
The success of this show lies chiefly in the hands of its three (or four) young heroines. Caitlyn Bamber plays young Emily, a young girl who with her best friend, a mouse, sets off to save Christmas. Caitlyn is a worthy, likeable leading lady and also sings beautifully. Jennifer Wright plays mouse friend Amos and doubles as Amos' twin, who lives in Kansas - also named Amos. Jennifer is a dynamic, high energy performer with loads of character, who quickly wins the hearts of the audience. Completing the terrific trio is Danica Szkiela lighting up the stage as elf Calliope.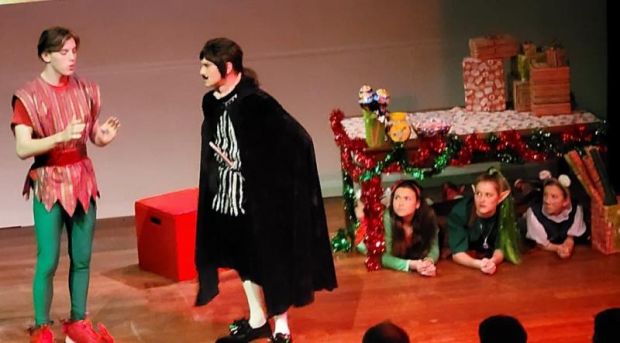 A good villain is great to see. Chris Kennedy pulls off a Captain Hook style doubling, playing Emily's Uncle Brierly and the evil Sir Guy (like Hook, Sir Guy is fond of the odd sword fight). Jack Dorward is a worthy evil side-kick - kooky and giving light to their evil schemes.
A plethora of smaller roles add support. Bob Charteris handles the biggest of these - playing neighbour Wendell and bringing warmth to the big man in red. Julie Mackay is Mother Christmas, Barbara Mortimer plays Britannia, Nicole Miller is Figgy Pudding and Max Hingston and smallest cast member, Chloe Miller, play very cute elves.
A lovely way to start the Christmas season, 'Twas the Night Before Christmas is a little bauble of fun.
Kimberley Shaw