Brisbane Academy's Dorothy
The Brisbane Academy of Musical Theatre is celebrating the success of Diploma of Music Theatre student Carly Bettinson.
Carly has made her professional debut in the lead role as Dorothy Gale in Harvest Rain's The Wizard of Oz - Arena Spectacular, touring arenas around Australia in 2019/2020. She's performing to crowds of over 4,000 each show.
"After starting a Bachelor of Music, I realized I was not happy with where I was going. I discovered the world of Musical Theatre after working as an usher at QPAC, and soon applied to the BAMT Musical Theatre Course. I was accepted into the Certificate IV course and I have never looked back. I left Uni and dedicated all my energy into learning as much as I could from my trainers and peers.
"At BAMT, it felt like I had found home. The CEO of Harvest Rain, Tim O'Connor, told me right at the beginning of the year something that has changed my worldview - he said, "You are not a 'small' Carly, you're big." It sounds crazy out of context, but it confirmed for me that my dreams were not too big or wild and that I had the power to make things happen.
"It doesn't matter where you come from or what your skill set is - work hard, be kind and respectful to everyone, forgive yourself when you fail and make mistakes and just keep going.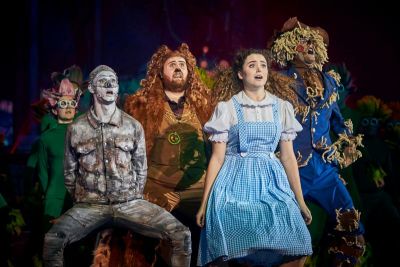 "BAMT has given me the confidence and the skills to continue a creative career. I'm currently touring with The Wizard of Oz and learning so much. Studying at BAMT has given me the confidence to go anywhere."
BAMT's full time courses is an intensive one-year of musical theatre training and networking with some of the best and most prominent people in the business. The course provides students with a year of theatre experiences that broaden knowledge and understanding of the entertainment industry and provide industry standard training to prepare for further study or employment.
BAMT is the only musical theatre training program in Australia housed within a major performing arts venue. The headquarters is also the home of Harvest Rain, Australia's largest not-for-profit youth arts organisation and producer of musical theatre. Students train in the same venue where some of Australia's biggest musical theatre stars are rehearsing and performing.
Entry is processed by direct application on the BAMT webpage and applicants are required to demonstrate, through skills assessment or other form of evidence, competence in vocal, dance and acting skills.
Check out Performing Arts Courses across the country in our 2020 Course Guide