GCIT Leads the Way in Creative Industries
GCIT's (Gold Coast Institute of TAFE'S) Coomera campus is quickly becoming recognised by the Creative Industries sector as the leading creative training facility in South East Queensland.
The $30 million campus was built in 2011 with an impressive cache of 21st Century Digital Film making tools which are used in a variety of productions.
The purpose-built facility is equipped with four levels of classrooms overflowing with the latest technology and equipment including seven recording studios, digital editing suites,theatres, rehearsal studios, state of the art computer laboratories and motion capturing capabilities for 3D animation as used in the renowned Avatar film.
Students not only benefit from the state-of-the-art equipment but also learn from highly skilled, award winning professionals who have close industry connections providing students with opportunities to gain real world experience while studying.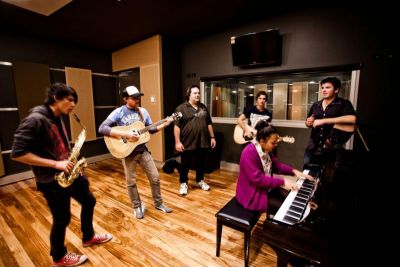 With the region's film and television industry growing each year and newrolesemerging,GCIT offersan arrayof coursesin Media,Screen&Media,Music, Sound Production, Graphic Design and Interactive Digital Media, all providing a diverse scope of career opportunities.
The Diploma of Screen & Media takes 12 months to complete and provides students with skills in pre-production, lighting ,digital audio,video editing, 3D modelling and animation, production project management and post-production.
Graduates can jump into a career as an Animator, Production Assistant, Scriptwriter, Sound Recordist, Video Editor or a Storyboard and Visual Effects Artist.
With a range of flexible learning options such as full-time, part-time, blended learning and online delivery, studying at GCIT is suitable for people from all walks of life, including school leavers, working professionals, the mature-aged and people wanting to re-enter the workforce.
Located on Foxwell Road, the Coomera campus is approximately 1.5km east of the Pacific Motorway and conveniently located in close proximity to the Coomera Train Station for students travelling fromNorth or South.
For more information please visit www.gcit.edu.au or call (07) 55818300.