A Taste of AIM
Budding entertainment professionals are invited to attend AIM's annual Open Day to discover AIM.
The Australian Institute of Music (AIM) opens its doors to hopeful students and parents on 17 August 2013 for next year's intake. Open Day allows prospective students to see what the institute has to offer and how an AIM education can serve as the launching pad for future entertainment industry professionals.
From 10am to 3pm, the Open Day program will include with informative talks, instrument, vocal and acting masterclasses; film, composition and music production workshops and tours of AIM's facilities, all of which are tasters of what courses are on offer.
A feature of this year's AIM Open Day will be a guest appearance by The Voice 2012 runner-up and AIM Fellow, Darren Percival who will be delivering a special Vocal Masterclass. This one-off event will provide an exciting insight into the learning experience at AIM.
Visitors at the event will also have plenty of opportunities to meet with AIM's teaching staff, as well as industry professionals and experts during the popular music, dramatic arts, and entertainment industry panel forum.
Darren Percival will also be present at the panel in the John Painter Hall at 1pm, where industry experts from all areas of the music and entertainment management courses will share valuable knowledge from their experiences in the entertainment industry and the diverse opportunities available in creative industries today.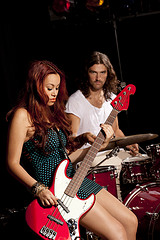 The Open Day is the opportunity to find out more about AIM's music, entertainment management and dramatic arts degree and diploma courses, as well as the AIM high School courses, Open AIM short courses and Young AIM music courses.
Current students and alumni will be available throughout the day to be quizzed about a day in the life of an AIM student, and how their education has benefitted them. Former AIM students have gone to pursue a variety of careers in the industry. Some have gone on to performing alongside some of Australia's best musical talents, including Guy Sebastian and rap outfit Bliss n Eso. Two members of the AIM family, Celia Pavey and Alex Gibson, went all the way to the live finals of The Voice 2013.
2013 has been a year of growth for AIM. AIM's Sydney campus acquired two new external venues, the Tom Mann Theatre and Australian Hall. These new venues are within walking distance from the main Foveaux St campus and add to the suite of professional performance venues at AIM that also include the John Painter Hall and the Pilgrim Theatre. In January 2014 AIM will be opening a campus in Melbourne.
The Australian Institute of Music Open Day is a must attend event for prospective students interested in pursuing a career in the music and creative industries. Enjoy student and staff performances, informative discussions, workshops and take an interactive tour around AIM's facilities and see for yourself how an AIM education can help budding entertainment industry professionals carve a path towards their dream careers.
For more information and to access the full Open Day Program go to: www.aim.edu.au/events/2013/open-day
For more information on AIM visit www.aim.edu.au
AIM Sydney Open Day
Date – Saturday August 17, 2013
Time – 10am-3pm
Location – AIM Main Campus –1- 55 Foveaux Street