Stage on Page 2019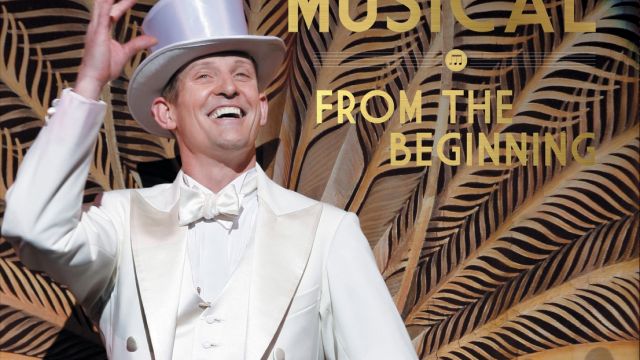 Peter Pinne's collected book reviews from 2019 editions of Stage Whispers (except for Peter's own book The Australian Musical: From the Beginning, written with Peter Wylie-Johnston) which is reviewed by Beth Keehn).
The Australian Musical: From the Beginning
By Peter Pinne and Peter Wyllie Johnston. Published by Allen & Unwin in association with Queensland Performing Arts Centre (QPAC). RRP: $79.99
What makes a successful musical? Tony Sheldon says the key is 'heart'. Well, whether a smash success or glorious failure, there is plenty of heart on show in The Australian Musical. From 'FFF' in 1920 to 'Muriel's Wedding' in 2019, this immaculately researched and fabulously comprehensive book covers every story in 100 years of homegrown musicals. Readers who love theatre or history will enjoy the book's chronological exploration from early pioneers to today's stars; theatre practitioners, drama and music teachers will relish the A to Z, providing synopses for more than 300 productions and a list of over 2,000 original songs. Many theatrical characters emerge from the pages, each demanding further exploration. This book is also full of stories ripe for future stage productions!
While Australian talent now enjoys a global audience, that was not always so. Our early musical mavericks found out, from painful firsthand experience, that it was difficult getting their ideas from page to stage! It is riveting reading about the strugglers and stars who have paved the way for today's international players, such as Tim Minchin, Eddie Perfect, Kate Miller-Heidke.
The first hurdle was a colonial mentality – underlined by US-born promoter JC Williamson – that Broadway and the West End were superior to local productions. But other entrepreneurs, such as FW Thring, championed our own stories and talent. We beat world records: May Brahe was the first woman to sell one million sheet music tunes (1916), and Oscar Asche had the world's longest-running musical in London's West End with Chu Chin Chow (1916–1921). However, for every star, there were several unsung heroes working to make a living from their passion. A handful emerge in the 1970s and 80s – Enright and Clarke, Pinne and Battye, Denver, Livermore – producing regular successes. Meanwhile, dozens were putting heart and soul (and often their own savings) into short-lived shows.
It is a medley of one-off productions, bumpy runs, and abrupt closing nights. There are occasional successes, boosted by independent budgets, state-subsidies or generous philanthropists – but nothing in the early years to build a stable, homegrown industry. Star players come and go, giving in to the lure of London. But, despite the 'tyranny of distance' that thwarted the collaborations so easy for creatives in the US and UK, there were favourite stars (Gladys Moncrieff) and hit tunes ('The Road to Gundagai') to attract audiences – who knew that 1953's Reedy River, a musical about the 1891 Shearers' strike, would ignite the 'jukebox' spark that would lead to Priscilla: Queen of the Desert and The Sapphires?
The many productions detailed reveal that our musical talents have tried it all – tapping history and literature, sportspeople, politicians, crazy true-life stories and even Biblical epics. And it is reassuring to see that tenacity and patience have their day: Jon English waited 23 years to see his Paris performed; and Peter Stannard's Rosie premiered in 2005, nearly 50 years after his initial work in 1958.
Success can result from a strong work ethic (Pinne and Battye); popular original material (Ladies in Black) or the smarts of vast entertainment experience (John Michael Howson and Steve Vizard). Sometimes it seems almost accidental – Casey Bennetto's Keating! And when our irreverence is celebrated – Priscilla – and indigenous stories are embraced – The Sunshine Club, Bran Nue Dae – we see smash shows from refreshing new talent (Tony Briggs, Jimmy Chi and Kuckles).
Interestingly, this book gathers first-time material on the contribution of women writers, musicians and directors – such as Coralie Grace Condon, Dorothy Mendoza, Robyn Nevin and Gale Edwards – and new Australians such as Stelios Salingaros. It also highlights the importance of numerous designers and crews who offer their time and moral support, the cabarets and fringe festivals that supply vital venues, and the producers and theatrical adventurers who establish national funding and training (e.g. Jim Sharman and the Australian Musical Foundation and artist-in-residence gigs sponsored by Jeanne Pratt) that all fuel future superstars.
The Australian Musical is perfect to dip in and out of over the upcoming holiday season. Treat yourself!
Review by Beth Keehn
Click here to check out Stage Whispers' special purchase offer - buy a copy autographed byAustralian musical theatre legend Nancye Hayes, and also receive a 6 month free subscription to Stage Whispers.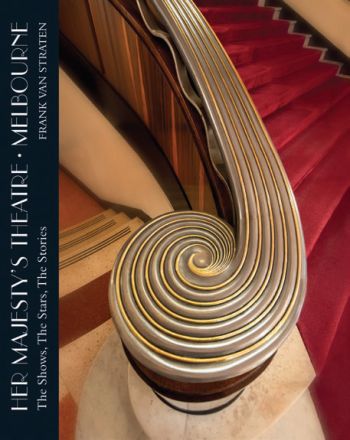 Her Majesty's Theatre – Melbourne - The Shows, The Stars, The Stories. By Frank Van Straten (Australian Scholarly Publishing $65.00)
Growing up during the fifties in Melbourne, Her Majesty's Theatre was my Mecca. The jewel in the crown of the J.C. Williamson organisation, it was the home of musical theatre - not as opulent as the Edwardian Princess Theatre in Spring Street, but an art-deco palace that was grand, exciting and always enticing. It was there as a teenager that I saw Hayes Gordon in Kiss Me, Kate, fell in love with Rodgers and Hammerstein's South Pacific, and thought Alton Harvey singing "Those Were The Good Old Days" in Damn Yankees was the funniest performance I had ever seen. Add in Jill Perryman as a Mormon wife in Paint Your Wagon, Toni Lamond swapping the principal boy tights she wore at the Tivoli for pyjamas in The Pajama Game, and being captivated by the show-everyone-had-to-see, My Fair Lady, andit was a heady introduction into musical theatre.
And, of course, every visit to Her Majesty's meant a visit to Ernest Hillier's, who made the best malted milks in Melbourne. Not only was Her Majesty's my home but I think I've had more thrills in that theatre than in any other around the world. Now Frank Van Straten's well-researched and highly readable book has helped me relive some of those magical performances.
The theatre began life in 1880 as the Hippodrome, a building that "looked a little like a mock castle", and one which presented prize fights, the circus, and a campaign for a reprieve of Ned Kelly from the hangman's noose. Six years later a new theatre called the Alexandra was erected on the site, complete with a velvet curtain and electric lights. It opened with the play Bad Lads,and followed with a 'moral temperance drama', Tempted! or On the Back Blocks of the Darling,and a season of opera by the pioneering German-born impresario Martin Simonsen, which included Il Trovatore and Lucia di Lammermoor.
In 1900 the theatre was repainted, relit and renamed Her Majesty's by its new lessee, James Cassius Williamson. Williamson owned the Australasian rights to the Gilbert and Sullivan operas, so the newly named theatre opened with HMS Pinafore, followed by The Pirates of Penzance. The success of Gilbert and Sullivan in the antipodes, and their constant revivals, kept J.C. Williamson's afloat in many a difficult time.
The early years saw the production of The Merry Widow with Carrie Moore in the title role, Scottish actor Julius Knight in The Scarlet Pimpernel and Gertie Miller in Our Miss Gibbs. The twenties saw musicals by the Gershwins (Tell Me More) and Rodgers and Hart (The Girl Friend), mixed with a lot of operetta (The Student Prince/The Desert Song/Rose Marie), and the show that made Gladys Moncrieff a star and kept being revived for years, The Maid of the Mountains.
Disaster struck on 25 October 1929. Fire destroyed the theatre, which wasn't reconstructed until 1934. In the interim it housed Francis W. Thring's Efftee Film Studios, producing films including Diggers and Diggers in Blighty with Pat Hanna, and George Wallace in His Royal Highness.
The newly reconstructed theatre opened with Strella Wilson playing Josepha in the London hit White Horse Inn, a musical that filled Williamson's coffers for many years. It was followed by Charles Zwar's Blue Mountain Melody, with the dancing darlings Cyril Ritchard and Madge Elliott. A local musical, it was one of only two that Williamson's mounted during their existence. The other was Albert Arlen's The Sentimental Bloke, which played the Comedy Theatre in 1961.
During the late thirties "The Firm", as J.C. Williamson's was commonly known, was run by the Tait Brothers (E.J., John, Nevin and Frank), who in 1938 lost control of the company to the flamboyant showman Ernest C. Rolls. Dubbed by the tabloid Truth as 'Flash Ernie', Rolls squandered money on a slew of new musicals from Broadway but under his umbrella only one, Rodgers and Hart's I Married an Angel, was staged and proved to be a costly failure. Following a revival of the Strauss operetta A Waltz Dream, which had interpolated songs by Aussie Jack O'Hagan, Rolls resigned, leaving a mountain of debt.
The theatre was kept alight in the early forties by further revivals of beloved operettas - The Vagabond King, Rio Rita, Sally and White Horse Inn, and more Gilbert and Sullivan, until the arrival post-war of the new smash hits from America - Annie Get Your Gun and Oklahoma!
In between, the theatre found time to accommodate Cicely Courtneidge in Under the Counter, but it was the last British musical offering until 1961, when they cast Johnny Lockwood (Fagan) and Sheila Bradley (Nancy) in their first production of Lionel Bart's Oliver!
1957 was a ground-breaking year for Williamson's, when they cast The Pajama Game locally with Toni Lamond, Bill Newman and Tikki Taylor. It began an era of Australian performers starring in Broadway musicals which continued with Jill Perryman in Funny Girl and Nancye Hayes in Sweet Charity.
In 1964 Williamson's commissioned Melbourne's Little Theatre designer John Truscott to design sets and costumes for their production of Lerner and Loewe's Camelot. A huge success, Truscott's designs were subsequently used in the London production and also in the 1967 film version, which won him two Oscars. Fiddler on the Roof, Hello, Dolly! and Mame reigned in the late sixties, while the 70s saw Johnny Farnham join Anna Neagle and Derek Nimmo in Charlie Girl, and Harold Prince recreate his Tony winning production of Evita.
But the seventies were the beginning of the end for the Williamson management, after 102 years of operation. They sold their Australian and New Zealand theatres, retaining only Her Majesty's in Sydney and the Comedy and Her Majesty's in Melbourne. Producer Kenn Brodziak kept the Williamson name alive by creating J. C. Williamson Productions, and together with Michael Edgley kept the lights on with frequent tours of the Bolshoi Ballet and other Russian dance companies.
The seventies also saw A Chorus Line, with an all-Australian cast, Annie with Hayes Gordon making a welcome return to the boards, Andrew Lloyd Webber's Cats, and solo shows by Marlene Dietrich, Peter Allen and Barry Humphries. In fact Humphries visited four times in At Least You Can Say That You've Seen It, Isn't It Pathetic At His Age, An Evening's Intercourse with the Widely Liked Barry Humphries and Eat Pray Laugh!
Sadly during the nineties the theatre was frequently dark, with sometimes only two or three productions keeping the doors open, until Mike Walsh rescued it from the developers in 2000. He reportedly spent $12 million restoring it to bring it back to its former glory. Since then it has hosted a succession of major musicals - Eureka!, Monty Python's Spamalot, Miss Saigon, Billy Elliott the Musical, Strictly Ballroom, Georgy Girl and Disney's Aladdin.
Some of the world's most famous stars trod the boards at Her Majesty's - everyone from Laurence Olivier, Vivian Leigh and Anthony Quayle to Maggie Smith, Judi Dench and Derek Jacobi. It was Melba's favourite theatre and she sang there many times. So did Joan Sutherland and Luciano Pavarotti, whilst ballet lovers have been richly rewarded with performances by Anna Pavolva, Margot Fonteyn and Robert Helpmann.
The book has several breakout sections which detail important events in the theatre's history - the pantos which were produced annually in the early days, the Gilbert and Sullivan operas, the Melba and Sutherland opera seasons, and the enormous influence the three visits in the thirties by Colonel Wassily de Basil's Ballet Russes companies had on Ballet in Australia. Twenty-seven-year-old Czechoslovakian dancer Edouard Borovansky was a member of the company. He stayed in Australia and created the Borovansky Ballet, which later morphed into The Australian Ballet.
Towards the end of the book there is also a series of colour plates showing how the theatre looks today. The book is produced with the assistance of Mike Walsh, the theatre's current owner, and it's a loving tribute to what is probably Australia's grandest theatre. Frank Van Straten is to be congratulated on a monumental piece of research. The book is coffee-table size, beautifully produced, with copious B&W and colour photographs. It comes with a bibliography and index. Highly recommended!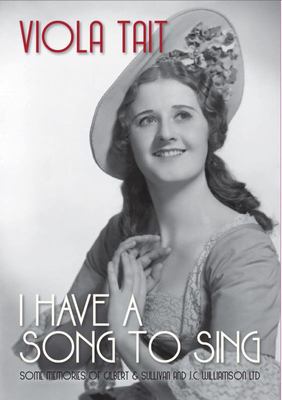 I Have A Song To Sing– Viola Tait (Theatre Heritage Australia/Tate Memorial Trust) (avenuebookstore.com.au $39.99)
Viola Tait's memoirs languished in her 'theatrical basket' for years before she finally began in earnest to write them, but ill health got in the way and the manuscript was only partly completed at her death in 2002. Elisabeth Kumm, who had assisted her on her previous book Dames, Principal Boys … and all That: A History of Pantomime in Australia (2001)came to the rescue and completed it. Bravo to Elisabeth for doing so because it's a marvellous evocation of a theatrical era long passed and an enlightening look at life behind and in front of the footlights.
Viola Tait's career saw her singing principal roles with the Royal Carl Rosa Opera Company in London and South Africa, playing principal roles with the D'Oyly Carte Opera Company in London and New York, appearing in Gilbert and Sullivan for J.C. Williamson, and starring in Lilac Time (1942) and The Dancing Years (1946) in Australia. But another important role was being wife and sounding board to Frank Tait, the youngest of the theatrical family of Tait brothers who managed J.C. Williamsons Theatres.
Viola Tait was born in 1911 in Pressburg (now called Bratislava, the capitol of Slovakia), a city on the River Danube near Vienna. Her parents were Scottish and her father managed a branch of J. & P. Coats' Mills, a Scottish company based in Paisley which operated extensively in Europe. For the duration of the war her father was interred but in 1915 the family managed to get to Paris and finally back to Paisley. In Scotland the family had to deal with persecution because they spoke German and later because of her mother's health they moved to Largs, by the sea.
Music was always in the house and Viola learned to play simple tunes by ear on the piano. But it was in Largs that Viola got the stage bug when she saw the variety troupe, Alvin Sawyer and his Smart Sea Cadets, and at 17 was enrolled at the Glasgow Athenaeum School of Music to study piano and voice.
In 1935 the Royal Carl Rosa Opera Company came to Glasgow and it was pure chance that Viola met the owner of the company Mr H.B. Phillips, who asked her to audition for the forthcoming six week London season. She did and so began her professional career in Die Fledermaus. She later became a permanent member of the company and appeared in Carmen, Tales of Hoffman, Faust and Rigoletto. She toured South Africa as Nedda in Pagliacci and The Gypsy Baron, later premiering the English version in Nottingham in 1938. It was during this period her salary was increased from 6 pounds to 8 pounds per week.
The Carl Rosa Company was also where for the first time she met Ivan Menzies, who would later head the JCW Gilbert and Sullivan Company which brought her to Australia in 1940. Viola appeared in The Gondoliers with matinee idol Max Oldaker, but it was Menzies who was the audience favourite. When the company decamped to New Zealand, it was on the tour that she married her 'boss' Frank Tait.
Viola continued to perform after her marriage, in Lilac Time (1942) andNightbirds (1942),but after The Dancing Years (1946) she quit to devote her time to her family. During her time as Mrs Frank Tait, Viola saw many successes for "the Firm" including the 1948 Italian Grand Opera season with Rina Malatrasi in Madame Butterfly and La Boheme, the 1955 Old Vic Company's Shakespeare season with Robert Helpmann and Katherine Hepburn in The Merchant of Venice, The Taming of the Shrew and Measure for Measure, Margot Fonteyn's appearance with the Borovansky Ballet, a co-production with Garnet H. Carroll in 1957, My Fair Lady, which saw Williamsons mount two companies with one touring New Zealand and South Africa, and the Sutherland/Williamson Grand Opera Company in 1965 with the then reigning opera diva in the world, Joan Sutherland, and a young Luciano Pavarotti.
It's a wonderful memoir which evokes the heady smell of greasepaint on every page and comes with B&W and colour photos and an index.
Click here to download the free ebook version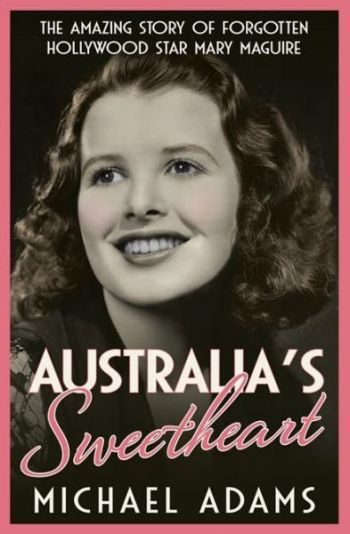 Australia's Sweetheart by Michael Adams (Hatchett $32.99)
If you asked anybody today, even a film historian, who Mary Maguire was, they'd be hard pressed coming up with an answer. Michael Adams' new book, Australia's Sweetheart, looks at the life of this teenage Australian film star.
Mary braved the cut-throat Hollywood industry in the thirties, became a contract player, mingled with the movers and shakers of the time, married in England to British aristocracy, but also found illness, tragedy, and more disgrace in her private life than any of the heroines she portrayed on screen.
She was born Helene Teresa Maguire in Melbourne in 1919 to an Irish mother Bina and a barenuckle boxer father Mick. During the 20s the family were publicans of several Melbourne Hotels, before moving north and becoming proprietors of the Brisbane's grand Belle Vue Hotel in 1933.
Star-struck Mary first professional role was on stage in a pantomime, Jack and the Beanstalk, which played as a support for the Mary Pickford film Kiki at the State Theatre, Flinders Street. At 13 she was cast as a secretary in Pat Hanna's movie Diggers in Blighty, followed by Irish colleen Biddy O'Connor in Charles Chauvel's epic historical drama Heritage (1935), and the female lead in The Flying Doctor (1936).
On arrival in Hollywood she was put under contract to Warner Bros, where she was called the Australian Mary Pickford. Her first Hollywood movie was Love Begins (retitled That Man's Here Again), followed by Confession with Basil Rathbone, Alcatraz Island and Sergeant Rourke (with newcomer Ronald Reagan). Constantly photographed for publicity, she dated 20th Century Fox chairman Joe Schenck, Alfred Vanderbilt Jr and Howard Hughes. Schenck signed her to a seven year contract at Fox, where she made Mysterious Mr Moto with Peter Lorre.
Then came Picadilly Circus, later retitled Keep Smiling (U.S. title Smiling Along), a Gracie Fields movie shot in England. While she was in the UK Fox renegotiated her contract and sold it to APBC (Associated British Picture Corporation) where she made two more movies, The Outsider with George Sanders and Black Eyes with Otto Kruger. Before she started her next film, An Englishman's Home (U.S. title Mad Men of Europe), she fell in love with Robert Gordon-Canning, six years older than her father, a member of British aristocracy, unaware he was a fascist, a popular trait amongst the gentry at the time. Ironically the plot of An Englishman's Home had her falling in love with a spy, which Gordon-Canning was later charged with being and sent to gaol. Prior to his arrest, Mary became pregnant and sired a son who tragically died when he was one-year-old.
With her husband in gaol and rumour of her being complicit in his fascist network, Mary helped put bread on the table by returning to work in the propaganda movie This Was Paris, and a regional stage tour of the play Bedtime Story. It was during this time she met her second husband, American pilot Philip Legarra. They returned to America, where Murphy tried to resuscitate her film career, but it wasn't to be. Instead she and Legarra became functioning alcoholics.
After her husband died, she ended up living in Long Beach in an $80 per-month apartment, a far cry from the luxury of her early days at the Belle Vue Hotel. She died in 1974, one day shy of 40 years since her discovery by Charles Chauvel.
Her parents, always supportive, moved to the U.S. and England to be with her and also took their other four daughters with them. The daughters all married into money, which would have pleased their mother Bina who always wanted her daughters to marry well. It's a fascinating story of Australia's early radio, film and aviation industries, Hollywood's Golden Era, European fascism and the London Blitz. With little first-hand research available, Adams has done a mighty and compelling job of bringing Mary Maguire's story vividly to life. The book, which comes with B&W photos and an index, is a great read.
The Ripples Before The New Wave – Drama at the University of Sydney 1957-63 by Robyn Dalton and Laura Ginters (Currency Press $39.00)
This book also documents an important snapshot of Australian theatrical history that has never been in print before. At the head of an early chapter Mungo McCallum is quoted, "The years 1957 – 1963 have gone down in folklore as a sort of golden age at Sydney University: an outpouring of creative talent unmatched since the Athens of Pericles or the Florence of the Medicis. Even I, as one who was there, am prepared to admit that this is probably something of an exaggeration."
Inflated it may be, but Robyn Dalton and Laura Ginters' book certainly makes a case for it. With a cast list that includes: Clive James, Germaine Greer, Bruce Beresford, Robert Hughes, Madeleine St John, Les Murray, Bob Ellis, Richard Brennan, Jill Kitson, Ron Blair, John Bell, Richard Wherrett and Leo Schofield, it was a busy hive of creative energy.
Dalton and Ginters sketch in a brief history of Australian University drama before they get to the period in question, when there were two theatrical groups on campus: Sydney University Dramatic Society (SUDS) and Sydney University Players (Players). At the time in Sydney, apart from the big commercial entrepreneurs like Williamsons and Carrolls who produced West End and Broadway hits, there was no one presenting alternative drama except Doris Fitton's Independent Theatre. The University groups filled a gap.
SUDS and Players were the first to perform any plays by the existential playwrights Samuel Beckett, Eugene Ionesco and Jean-Paul Sartre. The work of Bertolt Brecht was first seen in Australia at the University, where a memorable production of Mother Courage (1962) featured Germaine Greer in the title role.
Shakespeare provided the launching pad for John Bell in an acclaimed Twelfth Night (1960)directed by Ken Horler, and for John Gaden in Coriolanus (1962),also directed by Horler, only it's second production ever in Australia.
Leo Schofield was a jack-of-all-trades with Gilbert and Sullivan's HMS Pinafore (1959),handling direction, production, promotion, and costume and set design. In fact the workload was so big he had to take annual leave from his day job as a cadet reporter from the Sydney Morning Herald to handle it. A big success, he followed it with an even more ambitious production of Henry Purcell's masque The Fairy Queen (1960), with Jill Cameron (Kitson) as Titania and John Bell as Oberon.
But there were other landmark productions. The Sydney University Dramatic Society staged the first performance anywhere in the world since antiquity of Menander's Dyscolas (1959),and the German Department's production of Ludus de Resurrectione, featuring Andrew McLennan as Jesus and poet Les Murray as Satan, was the first time this Easter play had been presented since 1473.
Revue was a feature of University drama, which in the early fifties produced the Phillip Street trio of wits, Lance Mulcahy, John McKellar and Gerry Donovan. Peter Stannard and Peter Benjamin also wrote for revue long before they created Lola Montez. In fact the icy pen of satire was pointed at that show in Dead Centre (1959), in which Lola Montez and Lolita were mangled to become "The True Story of Lolita Montez", with the two stories contrasting Lolita's extreme youth and seductive traits with Lola's age. Performed by Madeleine St John in red hair, cape and a whip, she was described by Honi Soit as a "roly poly barrel of fun". Revue was where Ken Done and Martin Sharp had their first experience designing program covers.
Victoriana was a popular and lucrative entertainment which the groups enthusiastically presented each year. Although Arthur Dignam, Malcolm Robertson and Peter Carroll all went on to do major work in the theatre, University drama was their school. When Bell was told by Robin Lovejoy there was no place for him at the Old Tote Theatre following the success of The Legend of King O'Malley (1970), he, Horler and Wherrett founded Nimrod, which ironically became the cutting edge of the 'New Wave'.
Dalton and Ginters book is an engaging read and comes with B&W and colour images and an index.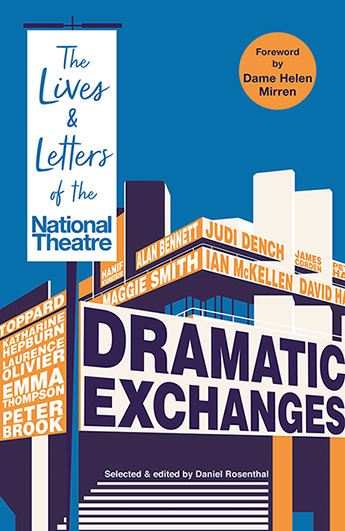 Dramatic Exchanges –The Lives & Letters of the National Theatre Selected & Edited by Daniel Rosenthal (Profile Books $49.99)
Britain's venerable National Theatre comes under scrutiny in this superb book by Daniel Rosenthal of 800 letters exchanged between actors, directors, playwrights, critics and more who have worked there throughout its history. Pithy, personal and totally engrossing, it paints a thrilling behind-the-scenes portrait of the institution from a practitioner's point-of-view. Culled from over 12,000 archival riches, the book gives voice to their frustrations, fears, humiliation, and untold successes.
Judi Dench in an exchange to playwright David Hare after the opening of Racing Demon (1990):'Can't you write me a musical so that I can sit on a chair in a fur coat and nothing else and sing RUDE songs?'
Or Maggie Smith to Laurence Olivier when being turned down for the promised role of Millamant in Congreve's The Way of the World (1969): 'What on earth do you expect me to say? I am absolutely heartbroken by your decision but what can I do? You must know that I have now no chance to play the one part you have always told me I should.'
And James Corden to playwright Richard Bean on One Man, Two Guvnors (2011): 'I'm loving it Richard every single night. I will never be able to thank you enough for this part. The only time it isn't fun is five minutes before and 20 minutes after!'
The genesis of the National Theatre began in 1904 when William Archer and Harley Granville Barker launched a 'Scheme & Estimates for a National Theatre', but the theatre didn't come into being until 1963 when Laurence Olivier was appointed head of the NT and its first artistic director.
Working out of the Old Vic, near Waterloo Station, from October 1963 they began performances in the 880-seat proscenium theatre, with Olivier directing Peter O'Toole in Hamlet. His decade at the helm produced lots of classics: Michael Redgrave in Uncle Vanya, Edith Evans and Maggie Smith in Noel Coward's Hay Fever and Ian McKellen as Claudio in Much Ado About Nothing, but there was also much that was fresh and invigorating thanks to Olivier's appointment of enfant terrible and former critic Kenneth Tynan, who became Olivier's right-hand-man - Peter Nicholls' Black Comedy and The National Health, Tom Stoppard's Rosencrantz and Guildenstern are Dead, and an all-male As You Like It with Ronald Pickup as Rosalind.
Peter Hall followed Olivier as artistic director and had to oversee the frequently delayed move from the Old Vic to the new building on South Bank, a period of 'tortuous limbo' according to Rosenthal. The three theatre complex finally opened in 1973 but only one of the theatres, the Lyttelton, was ready for performances. The others, the Olivier and the Dorfman (formerly the Cottosloe) came later.
Hall had the longest tenure (15 years) of any NT director and his reign saw the introduction to the NT of playwright Alan Ayckbourn's work with Bedroom Farce (1975),which became a huge international and financial hit for the company. Robert Bolt's State of Revolution, about the Russian Revolution, saw Christopher Morahan join Hall's team after years producing and directing plays for BBC television.
'I am honoured to play Susan Traherne in the play Plenty. Life will never be so good again,' wrote Kate Nelligan to author David Hare, whilst Mike Nicholls enthused to Harold Pinter, 'I can't stop thinking about Betrayal. I think it's as good as anything you've written' and went on to direct it on Broadway, his final stage production before he died.
Amadeus, Another Country and Antony and Cleopatra with Anthony Hopkins and Judi Dench were other successes of the Hall years, which also saw the first production of a Broadway musical, Guys and Dolls, kick up its heels at the National.
There was a restructuring of the production departments when Richard Eyre followed Hall. Shakespeare, as always, featured in the repertoire with Daniel Day-Lewis and Judi Dench (Gertrude) in Hamlet (1989), and Ian McKellan as Richard III in 1991, but the era was dominated by new and relevant work, Alan Bennett's The Madness of George III (1991)with Nigel Hawthorne, Tony Kushner's Angels in America (1991-92),and David Hare's Skylight, which severely strained the relationship between Eyre and Hare.
'Maybe it's sensible if you direct Skylight,' Eyre wrote. 'I could have fooled myself up till Friday that I was fulfilling some sort of useful function, but when you phoned John [Gunter] without even talking to me about the design, then I realised I was at best the butler and at worst the skivvy.'
It was also the period of the controversial Carousel, when Clive Rowe (an actor of colour) was given the role of Mr Snow. Dorothy Rodgers, the 83-year-old widow of the composer, insisted it would be 'inappropriate' casting, partly because the name Snow would appear 'a joke' to the audience. Sense prevailed and Rowe won plaudits for the role.
The Hall era closed with one of the most corrosive plays of the 90s, Patrick Marber's Closer. Tom Stoppard wrote a fan letter to Marber calling it 'brilliant', as did Mike Nichols, who thought it was 'playing even better than it read' and went on to direct the film version with Jude Law and Julia Roberts.
Trevor Nunn's tenure was the shortest but also one of the most critical and commercial successes in the theatre's history, with new plays by David Edgar and Tom Stoppard and musical revivals of Oklahoma!, South Pacific, My Fair Lady and Anything Goes.
1999 was the year Harry Potter and the Philosopher's Stone was first mooted as a stage production. It never saw the light of day at the National but Harry Potter and the Cursed Child became a West End hit in 2016.
Nicholas Hytner's years saw the sweeping introduction of 10 pound seats for two-thirds of the seats in its largest theatre for six months of the year. It was a huge success, as was the product: Alan Bennett's The History Boys (2001),Marianne Elliott's groundbreaking productions of War Horse (2007)and The Curious Incident of the Dog in the Night-Time (2012),the musical London Road (2011) and One Man, Two Guvnors (2011),which made a late-night American TV star of James Corden.
In October 2013 as the National celebrated its 50th anniversary, Rufus Norris, a former director, became the Director Designate, a position he still holds.
The book ends in 2016, so there's little of Norris's work to analyse except for a production of Everyman with Chiwetel Ejiofor, Bartlett Sher's production of Oslo and Norris directing Kurt Weill and Bertolt Brecht's The Threepenny Opera.
Most of Britain's top actors have trod the National boards during the last 55 years, not for the money but for the prestige. And with the introduction of NT Live with Helen Mirren as Phedre, millions of people around the world are now exposed to NT product.
The National Theatre has always been controversial, never satisfying everybody and at times satisfying no one, yet they do get it right more often than not as these pages testify.
The ones that never made it are as fascinating as those that did - Rex Harrison wanting to do The Rape of the Sabine Women; a Crucible that almost starred Sean Connery; Frankie Howard as a possible for The National Health; andKenneth Tynan begging Paul McCartney to write music for As You Like It, and the Beatle blowing him off saying he didn't like Shakespeare's words but offering to write the 'National Theatre Stomp' or the 'Ballad of Larry O'.
The book is a revelation, and, at times, touching. Secretary of the board Kenneth Rae's letter to Michael Redgrave, 'I have now seen your performance of Uncle Vanya four times and can truthfully say nothing in the theatre has moved me more. Were I to tell you in person all I felt, I should merely stammer and blub.' It's the honesty of these notes, letters and emails that give a passionate texture to the book, which is an absolute must read.
Dancing Under the Southern Skies by Valerie Lawson (Australian Scholarly $59.95)
The cover of this book tantalisingly shows ballerina Leanne Benjamin doing a spectacular grande jete against a red-ochre background, above a lorry, outside Alice Springs. This striking image sets the reader up for a heady ride through the rich history of ballet in Australia.
Written in chronological order, covering the twenties through to the nineties, Lawson starts with Anna Pavlova's 1926 tour. Presented by the Tait brothers in association with J.C. Williamson's, it was a tremendous box-office success and set the blueprint for future ballet tours by Russian dance troupes. Although her season included Sleeping Beauty and Coppelia, it was the divertissement The Swan that became her signature showpiece, a solo 'carefully cultivated by publicity photos of Pavlova in the Swan costume that captured the attention.
The next tour in 1934 brought the troubled and fragile Russian ballerina Olga Spessivtseva in a production of Giselle, whose story echoed the star's real life. After a disastrous affair with a Communist official she had fled to Paris, becoming one of Sergei Diaghilev's disciples. In Australia she danced with Anatole Vilzak as Odette and Prince Siegfried in Act Two of Swan Lake. Wherever she went, the petite Spessivtseva captivated the press and audience, but off-stage she was troubled by her Soviet era demons.
The Ballet Russe toured Australia three times, in 1936, 1938 and 1939, and their influence on the genre in the antipodes was incalculable. The dancers and choreographers included Tamara Tchinarova, Irina Baranova, Sono Osato, Anton Dolan, Michel Fokine, Serge Lifar, and Edouard Borovansky, who along with Hélène Kirsova stayed at the outbreak of war and never returned to Europe. Kirsova based herself in Sydney and created her Kirsova School of Russian Ballet, whilst Borovansky chose Melbourne for his home-base.
In 1943 Williamson's joined forces with 'Boro' for two seasons in Melbourne, and an Australian and New Zealand tour. The company was made up of dancers from Boro's group and some Kirsova defectors. In Hobart the company played at the Theatre Royal, which at the time was dilapidated, leaked when it rained and had 'water from open drains flowing down the corridors'.
Following the Second World War, Britain was mindful of the new friendly alliance between the United States and Australia and to strengthen the Empire roots the British Council embarked on a series of cultural tours, with the Ballet Rambert arriving in September 1947, headed by 'poster girl' for the company Sally Gilmour.
During the fifties the Borovansky company was losing money and it looked like it would fold until it was rescued by the Elizabethan Theatre Trust, which had been established in 1954.
Margot Fonteyn's 1957 Royal Ballet tour, sponsored by the Taits, had the female audience swathed in furs and wearing tiaras as they watched the prima ballerina perform Odette in Swan Lake, but it was Robert Helpmann's return that created the headlines as Dr Coppelius in Coppelia, the title character in The Rake's Progress and the tango dancer in Façade.
The Trust were loathe to support an Australian ballet company whilst the Borovansky ballet was still operating, but when 'Boro' died in December 1959 there was no longer any impediment and the Australian Ballet was born. Its first Artistic Director was Peggy van Praagh and its first big splash came with Helpmann's The Display in 1964,which took not only Australia, but also the world, by storm.
But before that came one of the most successful and expensive ballet tours, with Fonteyn and Rudolf Nureyev in Giselle, Swan Lake and Le Corsaire. Nureyev was back in 1972 to film Don Quixote in two disused hangers at Essendon airport, whilst Fonteyn returned in 1977 for a lavish production of The Merry Widow.
Until the nineties, Australian-themed ballets were a rarity rather than the norm - Terra Australis (1946), Corroboree (1954), Melbourne Cup (1962), The Display (1964) and Sun Music (1968).
Lawson has an encyclopaedic knowledge of ballet, which has seen her writing reviews and freelance articles for the Sydney Morning Herald, the Australian Ballet and international touring ballet companies. She's very good at capturing the rampant egos and behind-the-scenes drama of the personalities in raw and honest prose. The last chapter of the book is a series of articles, written for the Sydney Morning Herald, which cover the last twenty years and bring us up-to-date with the work of Graeme Murphy, Stephen Heathcote, Bangarra and David McAllister, the current Artistic Director of the Australian Ballet.
For balletomanes it's a must read but for anyone else it's a fascinating and detailed look at our theatrical history. The book comes with notes, b&w and colour photographs, and an index.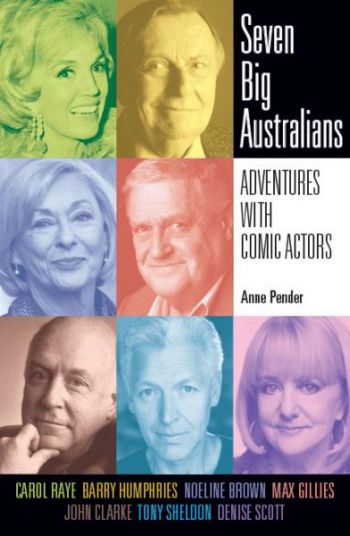 Seven Big Australians – Adventures with Comic Actors by Anne Pender (Monash University Publishing $29.95)
Anne Pender's book profiles the lives and careers of seven actors who have made their name in comedy; Barry Humphries, Carol Raye, Max Gillies, Noeline Brown, John Clarke, Tony Sheldon and Denise Scott. All are still living with the exception of John Clarke, who died in 2017, and all have one thing in common, none of them had any formal drama school education.
Pender has previously written One Man Show, a comprehensive biography of Humphries, and whilst the chapter on Humphries here is the funniest in the book, it ultimately feels like a précis of her previous book. She covers his early life growing up in Melbourne, his schoolyard years, his hatred of sports, and his Dada phase, staging outrageous stunts on trams. The beginnings of Edna, her first appearances on ABC TV, his eventual triumphant London success, and finally conquering Broadway with Dame Edna: The Royal Tour in 1998, after his first attempt failed in 1977, are all covered.
Carol Raye came to Australia with extensive West End credits (she was the lead in Dear Miss Phoebe), and TV experience in Kenya, before she helped create The Mavis Bramston show which introduced weekly satire to television and was a runaway success with Raye, Barry Creyton and Gordon Chater. She later returned to the stage, appearing in Travelling North and Noises Off, ran for the senate and was a member of the NSW Liberal Party.
After cutting her teeth in amateur theatre, Noeline Brown went professional at Philip Street and the Neutral Bay Music Hall. Her major TV career began working with Raye and Creyton on Mavis, with later stints on No. 96, The Naked Vicar Show and Graham Kennedy's Blankety Blanks.
Max Gillies was a teacher before he became a well-known satirist, impersonating public figures. An early member of the Pram Factory and La Mama, he appeared in Marvellous Melbourne, A Stretch of the Imagination andA Toast to Melba, before going solo with Squirts, which morphed into A Night of National Reconciliation and The Gillies Report.
John Clarke, a New Zealander, worked as a film assessor for TVNZ before decamping to London where he met Humphries and appeared in The Adventures of Barry McKenzie. On his return he created the iconic character of Fred Dagg, a sheep farmer, which was an instant hit in his homeland and Australia. He co-scripted the movie Lonely Hearts before ending up at the ABC, appearing with Bryan Dawe in the Clarke and Dawe parody segments on 7.30, commenting on the political news of the day.
Tony Sheldon came from a theatrical family of variety performers and was a child star on Graham Kennedy's IMT. The suicide of his father and his mother Toni Lamond's addiction to prescription pills were dark moments for a boy trying to find his place in the theatrical landscape. He joined the Hunter River Theatre Company, appearing in The Glass Menagerie and Equus, before having his first major success in A Hard God and later Torch Song Trilogy. Playing the role of Bernadette in Priscilla Queen of the Desert – The Musical made him an international star, appearing in the Australian, London and Broadway productions.
Denise Scott is the only actor in the group to specialise in the brutal art of stand-up. After stints in children's theatre at Arena and in Darwin she broke into TV in The Big Gig and continued in Full Frontal. She also joined forces with Judith Lucy on-stage for Comedy is Not Pretty, later appearing with her in Disappointments, which they took to London with disastrous results.
It's an easy read and informative, but frustratingly has no index.