Bran Nue Dae
As Australian opera companies collaborate to revive a 'national treasure', Peter Wyllie Johnston takes us through the 30 year history of this landmark Australian musical.
The national tour of Jimmy Chi's 1990 'breakthrough' musical Bran Nue Dae brings newdistinction to a theatrical work that is one of Australia's most important cultural treasures. Bran Nue Dae is being given a national production by a consortium of Australian opera companies, and is the first Australian musical to be given a major, commercial revival thirty years after its original production. Its impact has continued to be felt since 1990 and now, a new generation of Australians can experience that rare phenomenon: the voice of Aboriginal Australia on the national stage.
It all began, following the 1989 workshop, with the original commercial productionofBran Nue Dae, an unprecedented event which proved to be a breakthrough moment for Australian culture in a number of ways. At its core, the musical carried with it a message of reconciliation, with the hope that the spirit of inclusion and acceptance that was palpable in the community of Broome, would inspire all Australians to recognise and empathise with the experience of Aboriginal Australians.
Bran Nue Dae became the first Aboriginal book musical and the first Australian stage musical to be made into a major feature film (2009). The film, directed by Rachel Perkins with a cast that included Jessica Mauboy, Deborah Mailman, Geoffrey Rush and Ernie Dingo, was a box office success and re-ignited interest in the musical which had opened as part of the Perth Festival at the Octagon Theatre in Perth on March 1, 1990. Jimmy Chi (1948-2017), the composer and lyricist of Bran Nue Dae, worked with his band Kuckles to produce a melodic score that proved to have instant appeal to audiences.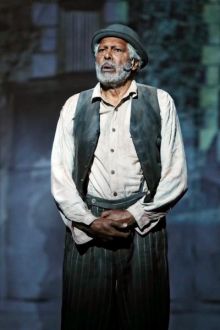 The story of Bran Nue Dae centres on Willie, a young man from Lombadina (a former mission near Broome) who is in Perth to get a proper Catholic education at hands of the German Pallotines. He is caught stealing Cherry Ripes and is told that he is a 'blot' on the mission. Willie is expelled. He meets Uncle Tadpole, an old alcoholic relative. They have a chance encounter with Marijuana Annie and her German lover, Slippery. The four decide to leave the misery and cold of Perth and go back to the Kimberley. They encounter many perils on the trip and Chi, with clarity and directness, confronts his audience with messages in a unique and recognisable style in his lyrics, one that was unheard in an Australian musical before:
There's nothing I would rather be
Than to be an Aborigine…
I'm glad you say that land rights is wrong
Then you should go where you belong
I'd be satisfied,
To rebuild your convict ships
And sail you on the tide.
Eventually Willie completes his journey and Bran Nue Dae concludes in love and reconciliation, with everyone discovering they are really Aboriginal. They sing:
We've nothing old and nothing new
Want us all to be like you
We've no future, we have no past
Hope the sun will shine at last
On the way to a Bran Nue Dae
Everybody, everybody say,
On the way to a Bran Nue Dae…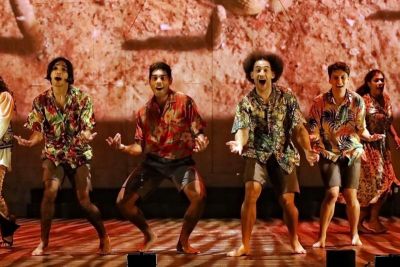 The 2009 film version left much of the score intact and with its stellar cast, Bran Nue Dae would become the only Australian musical on film ever to carry such a powerful view of Australian social history.
Of all the Australian musicals produced since 1990, Bran Nue Dae was the boldest attempt to use words and music to convey an original story as one important means of contributing to reconciliation. It signalled a greater acceptance by non-Aboriginal Australians, of Aboriginal creativity than had, or could ever have, existed in the past. Bran Nue Dae attracted good audiences wherever it was produced both in Australia and on its tour to Fiji. By any measure, among wholly original Australian musicals, Bran Nue Dae became the standout success. No other musical was as important in cultural terms and no other original Australian musical could match it as a landmark in contemporary Australian culture. Its influence was seen in several ways, most obviously by the emergence of a powerful, undiluted Aboriginal voice in new Australian musicals, a voice that dealt with major social issues such as mental illness and racism.
In 1996 Chi's second musical Corrugation Road, written in conjunction with Kuckles, was a semi-autobiographical musical about his struggle with mental illness. The score reflected Chi's religious conviction that (as he wrote in his biography), 'we must acknowledge God and do to others as we would have them do to us'.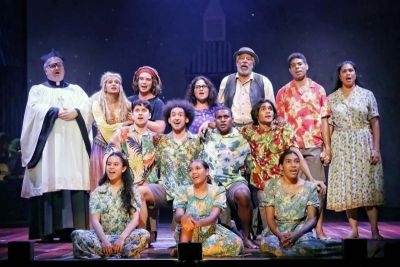 In 1997 Chi received the Red Ochre Award for his two musicals. The following year, a re-written version of Corrugation Road was produced again on tour around Australia. The Age newspaper review summed it up as "One Flew Over The Cuckoo's Nest crossed with Louis Nowra's Cosi, set to music that veers from rock to blues to Lloyd Webber to Gilbert and Sullivan … a loose set of episodic vignettes that tell a universal story."
Among Australian writers and musicians, Jimmy Chi shares the rare distinction of creating two major, commercially produced musicals. This distinction is one he shares with Mrs Varney Monk, whose musicals Collits' Inn (1933) and The Cedar Tree (1934) were produced in Melbourne and Sydney by F. W. Thring. Today, Mrs Monk's musicals stand as a reminder of a very different Australia; one that celebrated 'Australianism' in an era of starkly different social values. By contrast, Jimmy Chi's musicals continue to bear a considerable relevance. They are not only a testament to his array of talents, but both of them effectively communicate important feelings, political and cultural messages from a part of the Australian community that, until Bran Nue Dae exploded joyously onto the stage, had never voiced its views in such a way before. In style and substance, they have much to say to contemporary Australia.
Production photographs from the 2020 production by Prudence Upton.
Peter Wyllie Johnston is one of the authors of The Australian Musical: From the Beginning on sale at http://www.stagewhispers.com.au/node/28144
Bran Nue Dae began its anniversary production at Riverside Theatres, Parramatta in January, before touring to Perth, Melbourne, Brisbane, Canberra and Adelaide. brannuedaemusical.com.au/