Brand New Australian Production for Love Never Dies
Latest News - Sydney Season
Tim McFarlane, Managing Director of The Really Useful Company, and Producer of the Australian production of Andrew Lloyd Webber's LOVE NEVER DIES, confirmed today (November 7, 2011) that the Sydney season of the musical, the continuing story of The Phantom of the Opera, will begin previews on January 8 and Premieres at the Capitol Theatre on Thursday January 12, 2012.
LOVE NEVER DIES will play for a 12 week season and have its final performance on April 1, 2012.
LOVE NEVER DIES has been extensively re- worked by an Australian creative team put together by Tim McFarlane - one of the few instances of a major West End musical being given a complete makeover by an Australian creative team. Andrew Lloyd Webber described the new look production as "one of the finest productions I've ever seen of my work, anywhere."
And NBC Universal Pictures International Entertainment has filmed the Australian production for global BLU-RAYTM and DVD to be released on February 8, 2012.
The roles of The Phantom and Christine in LOVE NEVER DIES are played by Ben Lewis and Anna O'Byrne. They are joined by three of Australian music theatre's most eminent performers, Maria Mercedes, Simon Gleeson and Sharon Millerchip, who take Principal roles.
Maria is Madame Giry; Sharon is Meg, her daughter, (the role she created in the original Australian production of The Phantom of the Opera); and Simon is Christine's husband, Raoul.
More reading
Simon Gleeson: The Dark Side of Raoul
Behind the Phantom mask: Our Interview with Ben Lewis
Sharon Millerchip (Meg Giry) interviewed
Our earlier coverage follows.
Love Never Dies plays at Melbourne's Regent Theatre until December 18, 2011, with a Sydney season at the Capitol Theatre to follow in January 2012.
Love Never Dies Facebook page on Friday August 12, that the Melbourne production will be filmed for international distribution on DVD at the performance on Thursday September 15.
Love Never Dies played its 100th Australian performance on Friday August 19, 2011.
Plot to derail Melbourne's Love Never Dies
A PLOT to derail the new Australian production of the sequel to The Phantom of the Opera has been exposed in Melbourne, the Herald Sun revealed today (April 29, 2011).
'The producers of Love Never Dies, opening next month at the Regent Theatre, discovered this week that die-hard fans of the original musical were planning a poster campaign to discourage audiences from seeing the new show.'
A similar spoiler campaign, by a small band of Phantom fanatics online, preceded London's 2010 premiere of Sir Andrew Lloyd Webber's musical.
The UK campaign also featured antagonistic Love Never Dies "reviews'' posted on the net by people dedicated to protecting the original Phantom as a one-off.
Producer Tim McFarlane called it an "attack on creative freedom".
"I find it amazing that they can take it on themselves to say, 'We have the right to decide what should be done with the Phantom'," he said.
"Surely that's Andrew's call. He's the composer, the creator, and he's upset and bewildered as to why a small group of people would want to try and stop him doing what he does."
Herald Sun - link
Stage Whispers visited rehearsals and spoke to the cast and creatives - link
Click here for The Theatre Show's Love Never Dies Special Edition.
Check out the official video about Love Never Dies moving into the Regent Theatre, Melbourne
Further casting announcements
We recently announced that Anna O'Byrne and Ben Lewis have been cast in the plum roles of The Phantom and Christine in the new Australian production of Andrew Lloyd Webber's Love Never Dies, the continuation of The Phantom of the Opera.
2004 WAAPA Graduate Ben Lewis's credits include Urinetown (Sydney Theatre Company), Priscilla Queen of the Desert - The Musical, Sir Galahad in the original Australian cast of Monty Python'sSpamalot and Count Carl-Magnus in Stephen Sondheim's A Little Night Music (Opera Australia).
Anna O'Byrne is no stranger to the role of Christine Daaé. Within a fortnight of completing her degree at the Victorian College of the Arts, the 2008 graduate was cast as the cover to Christine Daaé, opposite Anthony Warlow in the most recent Australian tour of The Phantom of the Opera.
We can now add the news that Maria Mercedes will play Madam Giry, Simon Gleeson will play Raoul, while Sharon Millerchip returns to the role of Meg Giry, the role she played in the original Australian production of The Phantom of the Opera.
Emma J Hawkins, Paul Tabone and Dean Vince, respectively, will play Fleck, Squelch and Gangle.
Love Never Dies opens at Melbourne's Regent Theatre on May 28.
Our original coverage of the launch in October 20101 follows.
Melbourne has stolen the march on Sydney yet again, with the premiere of another musical blockbuster.
Stage Whispers Editor Neil Litchfield attended the media briefing at the Queen's Hall in Victoria's Parliament House.
Andrew Lloyd Webber today announced, via satellite link from London, that Australia will have an all new production of Love Never Dies, his continuation of the story of The Phantom of the Opera, with a new, Australian creative team.
Simon Phillips will direct the production, which begins previews at Melbourne's Regent Theatre in May 2011. Graeme Murphy will choreograph and the production will have a new design by Gabriela Tylesova.
After a preliminary speech from Victoria's Minister for the Arts Tim Holding listing the numerous sporting and cultural events taking place in Victoria, Lloyd Webber joked about following Tiger Woods into Melbourne with Love Never Dies.
Mr Holding was evasive about the precise amount the Victorian Government has paid to secure the production, but stressed that the flow-on benefits to the Victorian economy from interstate and regional tourism more than justified the outlay.
When host Ray Martin asked Lloyd Webber why Australia and why Melbourne, he replied:
"I have always had a very special relationship with Australia for my musicals. One particularly was Jesus Christ Superstar which, when it opened on Broadway, I was never very happy with. It was only when it came to Australia that it really took off. Of course the London production of Jesus Christ Superstar, directed by Jim Sharman, was based on the Australian one. So when Tim (McFarlane) said to me that Simon Phillips wanted to direct it, I just said, let's do it."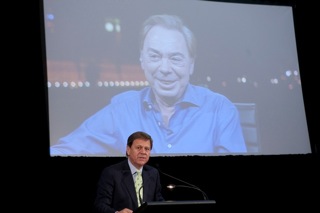 Martin subsequently asked if Melbourne was going to become the new pre-Broadway, given that clearly there are changes he wants to make before going to New York or Los Angeles.
Lloyd Webber responded.
"No, I think that Melbourne will be the place where we can really finally develop the production I wanted to do. I don't see it in any sense as an off-Broadway situation, any more than Jesus Christ Superstar, which opened originally in Sydney of course, then became the London production.
"I think today that musical theatre is international, and that it's about working with the best people in the best possible situations. To think about London and Broadway as where you're going to do something is out of date now. Some of the best theatre that's happening around the world now is happening in places that are miles away from London or Broadway, so I'm really excited about the possibility of working with two really talented people. I'm not interested in talking about London or Broadway, just getting the best possible how and the best possible result."
Among Lloyd Webber's many Australian connections, Martin mentioned Ben Elton, now a Perth resident, in connection with the show's book.
"Ben is an old friend of mine," he replied, "and when we were talking about doing the sequel to The Phantom of the Opera, it was Ben who unlocked the story for me. I think the production that we're going to be doing in Melbourne is going to take the story even further than we did in London. There's one crucial thing which we're going to make even more exciting. The whole thing is going to be, for me, like it's a new show reborn."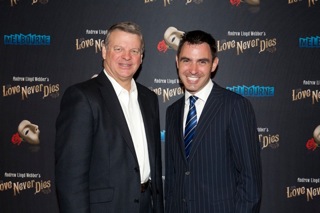 All this discussion skirted politely around, yet pointed clearly to, the fact that the show, which received a disappointing critical response to its West End production in March, is undergoing quite a makeover.
Nationwide auditions commence in a fortnight, on Monday October 25, with Andrew Lloyd Webber visiting Australia for the final round of auditions in January, returning in April when the finishing touches are being put on the production. The auditions will follow conventional lines. Despite the success of reality TV auditions for the leads in recent Lloyd Webber West End productions, Australian networks haven't shown any interest.
Asked if there was a chance that if he loved our stars here, he might take them to Broadway, Lloyd Webber replied, "Well we didn't do too badly with Sunset Boulevard with Hugh Jackman. Artists come from everywhere. That's the extraordinary thing about today."
Update: By the time auditions began on October 25, it was reported that 30,000 tickets had aready been sold. More than 900 performers had registered for the open auditions.
Images: Andrew Lloyd Webber by satellite from London, with Ray Martin, and Tim Holding with Tim McFarlane.