An Officer and a Gentleman the Musical.
Book by Douglas Day Stewart and Sharleen Cooper Cohen. Music and Lyrics by Ken Hirsch and Robin Lerner. Based on the movie written by Douglas Day Stewart. Director: Simon Phillips. Lyric Theatre, The Star. World Premiere: May 18, 2012.
It opens with the sound of a jet fighter screaming overhead. We were strapped in for a night of musical theatre quite unlike any other. If the production was an aircraft carrier I'd say the first act was steady as she goes – but the second act roared into action, pressing all the right entertainment buttons.
The first scene is set in the seedy nightlife of World War 2 Manila, as young Zack confronts the dark side of his father. Then rigorous Officer training begins. Ben Mingay as Zack Mayo keeps taking his shirt off. Whether he was trying on a uniform, getting into bed or fighting you didn't ever have to wait long to see his impressive abs.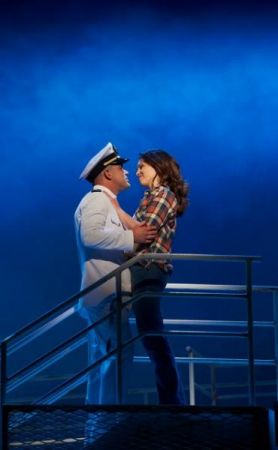 He earns his pay cheque many times over. The push-ups are real, the exercises grueling and the fight looks dangerous. Yes, and he has to sing and act a lot in between.
Just as Ben looks like he was chiseled out of stone, so do some of the songs. They have an earthy rock feel. I'm Gonna Fly is the stand out.
Amanda Harrison as his girlfriend Paula Pokrifki has sweeter music. Her ballad If you believe in Love the Way I do and Wings of My Own are light and pure setting the tone for her character.
The best part in the musical is that of Sid Worley played by Alex Rathgeber. As the son of an admiral he has the world at his feet. The journey he undergoes was portrayed with great sincerity.
Bert Labonte as Sgt Emil Foley also has many opportunities to shine, which were grasped with flying colours.
This was a crisp and disciplined production, tightly directed and beautifully staged.
We all knew what was going to happen in the last scene. It was still an emotional experience as the Officer swept his factory worker off her feet.
The Opening Night standing ovation was well deserved.
David Spicer
Meanwhile Neil Litchfield shares his thoughts on the production.
Like the movie on which it was based, this musical carries an emotional payload in its later stages. It hits home several times before the big romantic finish. Simon Phillips' production nails the human tragedy and the romance as the show draws to a close with lump in your throat, tears in your eyes impact. At least it did in my case.
I want to add some praise for the ensemble, particularly those who, like Ben Mingay, play Officer training candidates. Their exercises, too, are real, frequent, and way beyond the usual call of duty for musical theatre performers. Their military drill, too, was impressive.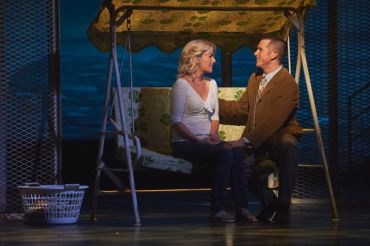 Insets, props within the show's massive automated steel set, and lighting, effectively achieve the many slick transitions essential to translate the film's multiple settings to the stage.
If Act 1 was steady as she goes, to quote David, the essential narrative was always tight and well paced.
Apparently changes and re-writes were constant throughout the preview period, very short by Broadway or West End standards, at about a week and a half. It's testament to a fine Australian cast, that the whole production was particularly tight and disciplined.
It's a genuine thrill to see talented Australian performers and creatives strutting their stuff in the World Premiere of a new, potentially Broadway-bound, musical, and building that original production from the ground up.
Images (from top): Foley (Bert LaBonte) and Zack (Ben Mingay); Ben Mingay and Amanda Harrison (Paula Pokrifki); Lynette (Kate Kendall) and Sid (Alex Rathgeber); Naval Officers & Amanda Harrison, Ben Mingay and ensemble members. Photographer: Brian Geach.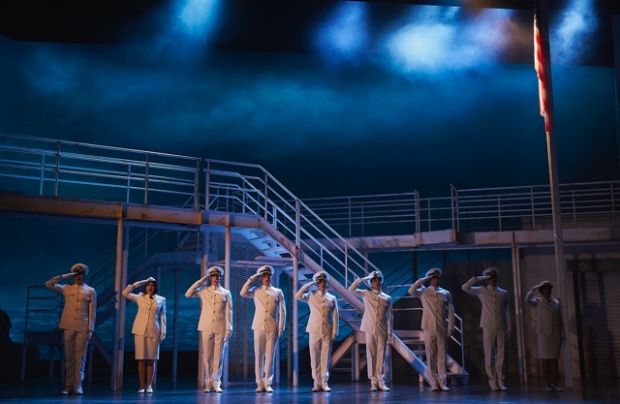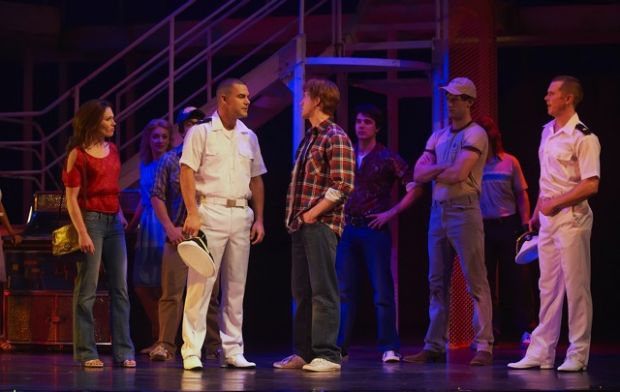 Our earlier coverage.