Theatre Seasons 2014
Australia's theatre companies have dished up a smorgasbord for 2014. There are lashings of stars and classics, sex and comedy, music and cross-dressing and more than a few plays by an English playwright born 450 years ago.
The most extraordinary Shakespeare of 2014 should be Macbeth starring Hugo Weaving (pictured left). The Sydney Theatre will be turned back to front, with the audience watching from the stage.
Giving The Bard a run for his money in the harbour city is David Williamson. For Sydney's Ensemble Theatre he has no less than four plays on, and is even directing one of them (maybe he could also fill in as an usher if they short staffed). The Sydney Theatre Company is reviving Travelling North and the Griffin Theatre, Emerald City.
The favourite pastime of many companies (re-writing the classics) will reach the peak of curiosity when Belvoir stages Hedda Gabler with a man in the title role. Malthouse and the Sydney Theatre Company will join in the cross-dressing fun with Paul Capsis in Calpurnia Descending.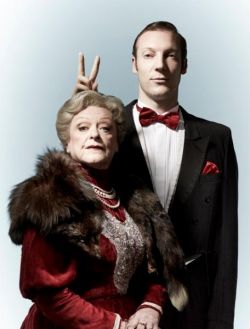 If men seem to be taking over the divas' roles, Nancye Hayes (pictured right) is pulling one back for the ladies as Lady Bracknell in The Importance of Being Earnest in Adelaide, reclaiming the role from Geoffrey Rush, in a production which will also tour.
Co-productions are everywhere.
The Effect, a new play by British playwright Lucy Prebble (ENRON) concerned with medication and the questions of how far is too far, will be seen in a co-production in Sydney and Brisbane, while there will be a separate Melbourne production starring Sigrid Thornton.
Ben Elton is revisiting his play Gasping, first performed in 1990, and is re-imagining it for a new era and new country. The play will now be called Gasp! in a co-production between Black Swan State Theatre Company and Queensland Theatre Company.
International collaborations also feature prominently.
In a major coup, State Theatre Company of SA will be presenting the Australian premiere of The Suit, a work from Peter Brook and Théâtre Des Bouffes Du Nor.
The STC continues its relationship with Belgian company Ontroerend Goed for Fight Night, where audience members will use handheld devices to determine the outcome of each night. The production will be staged in Sydney following an Adelaide Festival season.
Across various companies, Daniel Keane's The Long Way Home, which reflects the experiences of Australian servicemen and women deployed on operations in Iraq, Afghanistan and East Timor, and be presented in conjunction with The Australian Defence Force.
The Captain's Pick.
You can't see everything, so what mainstage productions should you buy tickets for in 2014? Stage Whispers asked the Artistic Directors to help you choose. All were asked to nominate what they would buy tickets to if they could only go to two productions; what productions would suit theatre tragics; what they'd recommend to those after something edgy; what play offers pure entertainment and, finally, a suggestion for young audiences.
Andrew Upton – Artistic Director.
Just Two: Noises Off – A great night out with unstoppable laughter and Cyranno de Bergerac - A great night out with unstoppable laughter. And tears.
Theatre tragics:Travelling North – one of the greatest plays by one of the greatest Australian playwrights (pictured right).
Something edgy: Fight Night– Alexander Devriendt and his company Ontroerend Goed (in cahoots with The Border Project) are at the cutting edge of the intersection between the audience and the actor.
Entertain me: Take your pick!
For young audiences: M.ROCK – Let Valerie Bader corrupt the young.
Mark Kilmurry - Artistic Director (pictured left as Richard The Third).
Just Two: David Williamson's Cruise Control (if they can get a ticket) set on a cruise and based, as ever with David, on experience -- and then perhaps Clybourne Park (Pulitzer Prize and Tony Award winner) as a great conceit and very thought-provoking as well as funny. It deals with race, wealth and neighbours.
Theatre Tragics: Richard The Third! Proof!
Something Edgy: I think the David Williamson trilogy of plays at the Concourse will be wonderful – Face To Face (about community conferencing ) was an amazing experience when I saw it in '99 and stays with me even now.
Just for laughs: Again Cruise Control, and Dark Voyager is a terrific comedy about the famous. Also Absent Friends - the classic Alan Ayckbourn play is one of his very best.
For young audiences: We're Going On A Bear Huntcoming back for a second time. I remember my first experience when I was five! Maybe that's where it all started.
Sam Strong - Associate Artistic Director.
Just two: The Speechmaker. And not just because I'm directing it! It is the first play by Australia's comic royalty – the Working Dog boys Santo Cilauro, Tom Gleisner and Rob Sitch – and a hilarious and beautifully observed satire set aboard Air Force One. Once - this is a beautiful romantic musical based on the film of the same name. This will be the original Broadway production that swept the Tony Awards but with a local cast.
For theatre tragics: Ghosts and Glengarry Glen Ross – two meaty classic plays, helmed by two great directors, featuring some of the country's best actors.
Something edgy: Cock– one of the best new international plays of the last few years and a brilliant portrait of sexual identity in the 21st century. It also features original music from Missy Higgins. The Sublime – a blisteringly topical and no holds barred account of football and sex, written by the man with his finger on the pulse of contemporary masculinity: Brendan Cowell.
Just entertain me: Private Lives– Noel Coward's champagne comedy served with a vodka chaser, featuring music theatre darling Lucy Durack (picturd right). Pennsylvania Avenue – the follow up to Songs for Nobodies – it's hard to go past Bernadette Robinson, Joanna Murray-Smith and Simon Phillips.
For young audiences: Two standouts are Matthew Whittet's reworking of Little Red Riding Hood, Big Bad Wolf and the Arena show Marlin, which will be set in a sea of foam.
Marion Potts - Artistic Director.
Just Two: I would go for contrast: The Good Person of Szechuan and Night on Bald Mountain. Two very different classics from two very different perspectives.
Theatre tragics: Everything. Just don't go home.
Edgy: Ugly Mugs is a new Australian play by Peta Brady that takes us into some gritty territory with a highly poetic voice.
Entertain Me: Both Philadelphia Story and Calpurnia Descending - book-end the year with these highly entertaining and funny pieces. Calpurnia (image left) is likely to be pretty subversive too!
For young audiences: The Witches - after Roald Dahl's fabulous story - it's a solo performance by the masterful Guy Edmunds and it will have both adults and children squealing in delight.
Wesley Enoch - Artistic Director.
Just Two: With our preview packages you can afford three for the price of two. I'd say Australia Day (image right of Paul Bishop - photo by Aaron Tait), Macbeth and Gasp! Two comedies and a classic.
For theatre tragics: The true theatre tragic wants to come to everything.
Something edgy: I think Gloria, The Mountaintop, The Effect, A Tribute of Sorts are all plays that mix ideas with form exploration. Black Diggers will be a big piece built for festivals which will explode myths and tell the hard to tell stories.
Just entertain me: Australia Dayand Gasp! are big invitations to sit back and enjoy the wit and humour of two very comic writers.
For younger audiences: The Magic Hour is a show that will appeal because of the humour.
Ralph Myers - Artistic Director.
Just Two: Tear up the season book, pin all the shows to the wall and then blindfold yourself and play Pin The Tail On The Donkey. I think they're all great. I honestly couldn't choose just two!
For theatre tragics: Brothers Wreck. It's a really, really great play.
Something edgy: Hedda and Nora. See them both. Revel in the different ways that two of the best directors in the country tackle Ibsen's two great tragedies.
Entertain Me:Oedipus Schmoedipus (billed as a ridiculous romp through all the great death scenes of the western theatrical canon). Those women from Post are CRRRAZZZZY!
For young audiences: A Christmas Carol. Family fun at Christmas time!
Geordie Brookman - Artistic Director.
Just Two: Little Bird and The Suit. Two extraordinary and wonderful pieces of work, both featuring exceptional artists. One piece made right here in Adelaide, the other in France via South Africa. Both shows fit in the 'don't miss it' category!
For theatre tragics: The Seagull. A beautiful new version of Chekhov's classic by acclaimed Australian writer Hilary Bell, an amazing cast and a super intimate venue (Feauring Xavier Samuel - pictured right).
Something edgy: Nescha Jelk's production of Othello. It's going to be raw, powerful and unforgettable.
Entertain Me: The Importance of Being Earnest. Easily one of the best comedies ever written with two of our best actors in Nathan O'Keefe and Nancye Hayes. A riotous night.
For young audiences: Phil Kavanagh's wonderful dark comedy Jesikah. It's a fantastic piece of new Australian writing specifically for adolescent audiences.
Nancy Hackett
Just Two: A Streetcar Named Desire by Tennessee Williams, starring Sigrid Thornton as Blanche DuBois (pictured left - image by Robert Frith) and Gasp! by Ben Elton.
For theatre tragics: The Seagull by Anton Chekhov, starring Greta Scacchi and her daughter Leila George.
Something edgy: Dust by Suzie Miller. The play is set on a day when Perth is blanketed with red dust, and follows different people whose worlds are turned upside down in the chaos.
Entertain me: No question - Laughter on the 23rdFloor by Neil Simon.
For young audiences: Flood by Chris Isaacs. Set in Perth and the WA bush, it's about six friends whose camping trip goes horribly wrong.
And if you like psycho thrillers, The House on The Lake by Aidan Fennessy is the play for you.
Image - Bell Shakespeare directors John Bell, Damien Ryan and Peter Evans. Photographer: Pierre Toussaint
Moliere's Tartuffe, celebrations aplenty for Shakespeare's 450th birthday and rediscovering The Winter's Tale are headliners.
Henry V. This contemporary take inspired by the true story of a group of boys who rehearsed plays in a bunker during the Blitz in 1941 will tour to 32 venues.
Including youth: a new version of A Midsummer Night's Dream, titled The Dream, runs a family-friendly 90-minutes and there's a new schools production of Macbeth,
Links
Black Swan State Theatre Company
State Theatre Company of South Australia
Other Related Links