Stage Lights Up: (Ghost Light Off)
As theatres across the country slowly reopen their doors we speak with producers across the country about their experiences. As 'ghost lights' are dimmed and stage lights switched on, Stage Whispers correspondents Beth Keehn (Queensland), Kimberley Shaw (Western Australia) and Mark Wickett (South Australia) have been out enjoying live theatre again. Fleet footed smaller theatre companies have led the way. There is a clear message to theatre communities and audiences: be brave, be safe, and get back to support your entertainment venues.
State Theatres Across the Country
It's not surprising that the states with the most theatre action are those with the fewest COVID cases.
Queensland Theatre (QT) reopened with an extended season of The Holidays in November, while their world premiere adaptation of Trent Dalton's Boy Swallows Universe has been postponed to the Brisbane Festival 2021.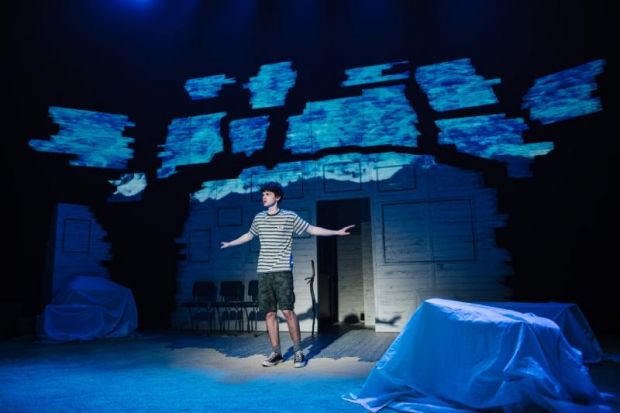 Image: The Holidays. Photographer: Morgan Roberts.
www.stagewhispers.com.au/reviews/holidays
QPAC reopened its doors in late August with QPAC Unlocked – which saw sold-out shows as (albeit smaller) audiences returned to a varied programme in some smaller venues, including the South Bank's Lyrebird Restaurant.
The Sydney Theatre Company (STC) returned in September with a new Australian play, Angus Cerini's Wonnangatta, and an updated 2020 schedule. With socially distanced seating, the show immediately sold out. Belvoir also re-opened its doors at one-third capacity with the play A Room of One's Own.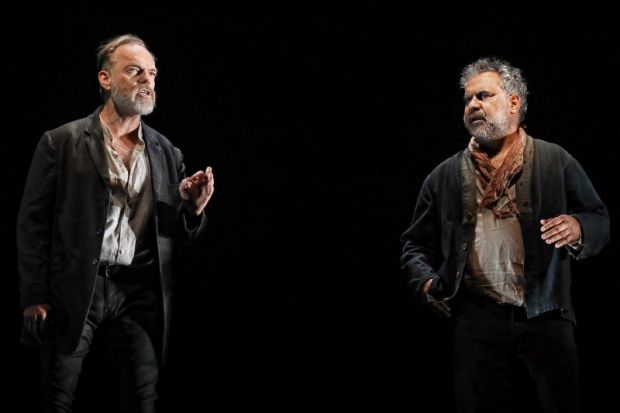 Image: Wonnangatta. Photographer: Prudence Upton.
www.stagewhispers.com.au/reviews/wonnangatta
State Theatre SA presented 1930s thriller Gaslight by Patrick Hamilton in early September, though their end-of-year comedy, Ripcord by David Lindsay-Abaire (starring Nancye Hayes - pictured at the top of this article), scheduled from 13 November to 5 December, was suspended just before its opening night due to the brief November lockdown. The season is resuming in December and is extended by an extra week.
Image: Gaslight.
In Western Australia, the Black Swan State Theatre Company will reopen on 28 November for Rodgers and Hammerstein's Oklahoma!
www.stagewhispers.com.au/news/cross-gender-curly-perth-oklahoma
Sadly, Victoria is the hardest hit. The Melbourne Theatre Company announced that 11 of its 12 productions in 2020 have been cancelled as a result of the stage 4 restrictions in Victoria.
The Tasmanian Theatre Company has also postponed its 2020 season.
Communities Calling
While the state theatres are considering what business looks like in a post-lockdown world, our smaller theatre troupes have bravely jumped in to test the waters first, fleet of foot, quick to adapt to seating regulations and deal with smaller audiences, changing venues, and flexing season offerings to suit changing audience needs.
Insight NSW: Racy Play a Hit in Kings Cross
In Sydney, an independent production broke the lockdown barrier. The Credeaux Canvas by Keith Bunin opened at El Rocco Café in Kings Cross in July, ran to sold-out shows and has extended several times.
Originally designed as an immersive audience experience, this racy, off-Broadway show set in a small New York apartment had to pivot to accommodate COVID restrictions. The seating was limited to 24 people and all members of the audience underwent temperature checks.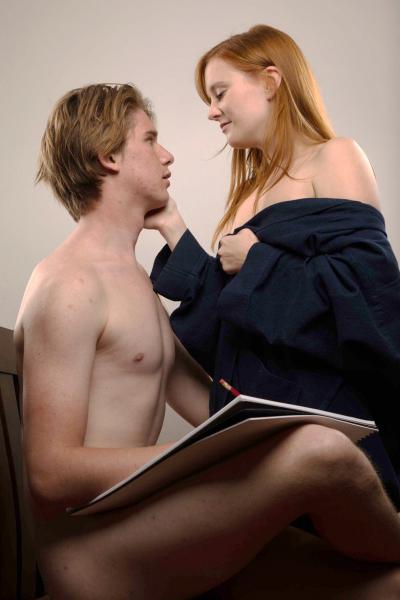 Producer and Director Les Solomon said, "We've gone to extraordinary lengths to keep people safe – and proved it can be done.
"This production was well rehearsed via Zoom and we were even able to explore the play by speaking to the playwright in America. The only 'negative' aspect has been that some audiences seemed a little inhibited by the small space and closeness to the actors."
The two-hour piece centres on an art fraud and features an 'unusual' nude scene for both its young leads. Its cast have received great reviews and the two leading actors, Samson Alston and Rachel Marley, are now getting busy with other offers.
"Next year I hope to tour Australia with the play. It's been a very positive experience – a bright light in a dark tunnel.
Les's message to audiences: "Come out and do it – come and join the party! After all, as the Sydney Morning Herald said of our production: 'It's safer than the supermarket'."
https://www.stagewhispers.com.au/reviews/credeaux-canvas-0
Insight NSW: Mapping the Route Back to Touring
Leading the way in touring Australia in a post-COVID world is CDP Theatre Producers. The independent and self-funded company specialises in touring, especially to regional Australia. CDP Kids broke their lockdown with a new Australian adaptation of Alison Lester's The Magic Beach by award-winning writer Finegan Kruckemeyer. The tour commenced in NSW and is continuing across the country to WA, NT and Queensland until December – pausing for quarantine where required. One branch of the company self-isolated in SA before their tour of The 91-Storey Treehouse from late September to early October. The company says school groups and families are loving the shows and the audience energy is alive and well.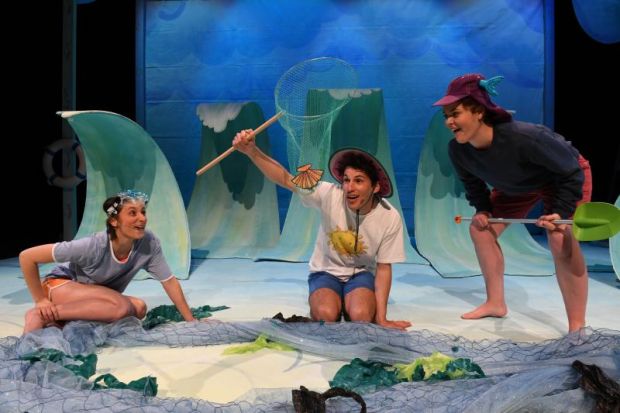 Image: Magic Beach. Photographer: Jams D. Morgan.
Company Stage Manager Sharna Galvin told us, "CDP wants to be pioneers in getting back into theatres. Fortunately our shows are small production wise and don't need huge audiences to be enjoyed. The company is extremely proactive and CDP's producers are on top of the latest COVID-safe requirements."
Sharna points out that the theatre is leagues ahead of other industries when it comes to hygiene and safety for workers and audiences.
"Theatre is at the forefront of a good safety culture – theatre people are really compliant and have been for decades. It is a self-regulated industry – no one wants their show to be closed. And while actors do need to be performing, the old 'show must go on' is no longer a strong issue. That attitude has been broken down through efforts to promote good mental health – so generally performers who are feeling unwell stay at home."
Sharna's message to audiences is: "We are on our way back! Don't be afraid. Professional theatre has a strong and deeply entrenched safety culture, and public safety is everything to us."
Insight Qld: Brisbane Festival – Bursting the COVID Cloud
This year's Brisbane Festival was a deliberately disruptive programme that hit town like a ray of sunshine.
Festival Artistic Director Louise Bezzina told us that her mission was to provide moments of surprise and delight for audiences, no matter the format or the location. Knowing that venues may be closed, she put together a programme of pop-up events, suburban street serenades and online bedtime stories.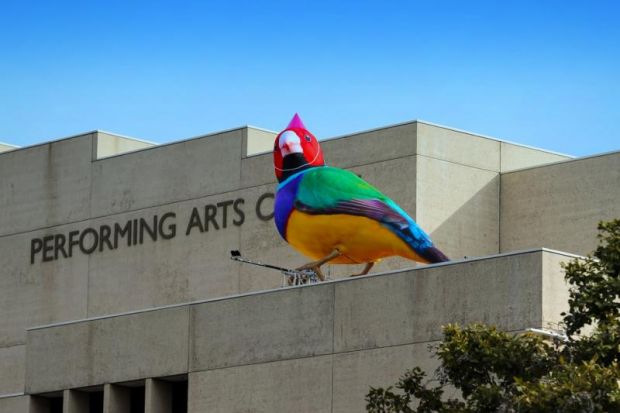 Image: Brisbane Festival - Messengers of Brisbane. Atmosphere Photography.
A flock of giant Gouldian Finches by artist Florentijn Hofman flew in wearing their party hats and perched on venues across the inner-city. The border restrictions meant that the festival drew on Queensland's wealth of local talent. Online lockdown favourites such as the Isolate Late Show went live to an audience for the first time. Cabaret and comedy could finally rub shoulders with musicians and singers, storytellers and art makers. Many shows were sold out and audiences eagerly took to the many free performances on offer.
Louise said: "We've taken art out to people when they've needed it most and we reached audiences in 190 Brisbane suburbs. When restrictions lifted and venues reopened, the team quickly huddled together and put together several mini-festivals, using fabulous venues like QPAC, the Tivoli, Powerhouse, La Boite and the new Metro Arts theatre."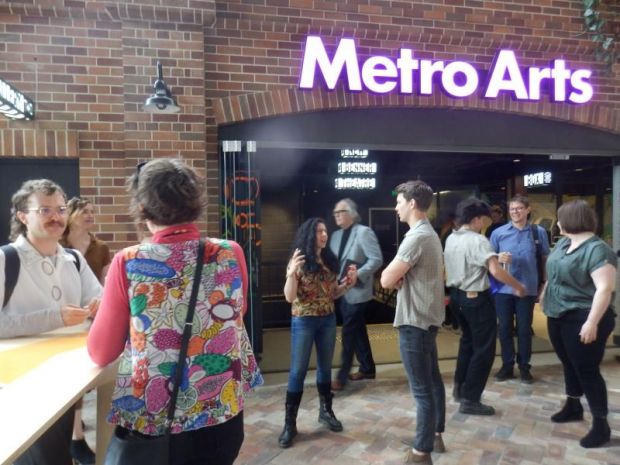 "I've never before received so many positive messages from audience members – proving that people want hope and joy. For that reason, I think audiences have been more than happy to comply with the COVID regulations."
Louise's message to audiences: "Thank you! You are amazing! Come out and continue to enjoy yourselves."
https://www.stagewhispers.com.au/news/metro-arts-opens-new-arts-hub-brisbanes-west-end
Insight Qld: Community Theatre Roars at Growl
Brisbane Community Theatre group Growl Theatre presented Suddenly Last Summer by Tennessee Williams, which was a 'sold out' production in August. The show's Director, Brendan James, said:
"At first, our COVID plan felt quite restrictive, but once we opened, the spaced-out seating created an amazingly intimate space. It was about performing for members of the community who were starved for good-quality performing – we owed it to them."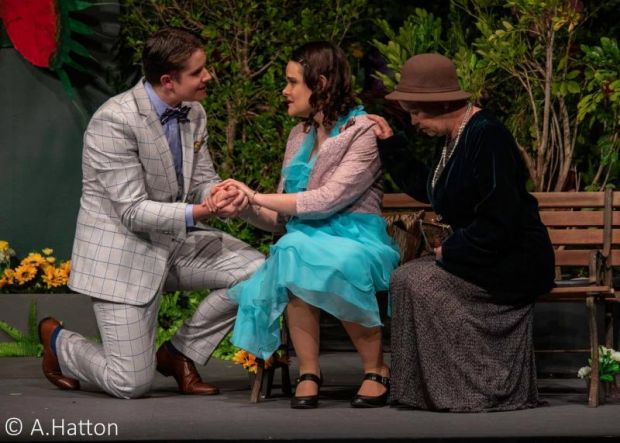 Image: Suddenly Last Summer
How did the restrictions affect actors? Bianca Butler Reynolds, who played Catherine Holly, told us: "Despite the reduced seating capacity, the hall felt full every night. Receiving standing ovations after some of our performances was the icing on the cake. It reinforced how much theatre serves the community, makers and viewers alike."
Insight Qld: Getting Pro-am Back in Business
Brisbane Arts Theatre reopened in September with a sold out opening night for Feet of Clay, the group's latest instalment of Terry Pratchett's Discworld series. Artistic Director John Boyce told Stage Whispers that the independent group has had to find a way to make the new COVID normal as viable as possible.
"The theatre usually holds 110 people; with social distancing, a full house is now about 42 seats. We reopened in July with little 'guerrilla' shows to test the waters. But Feet of Clay is the first show that is indicative of a regular season. We will learn to live alongside the virus - there's no reason we can't continue to diversify and tell stories.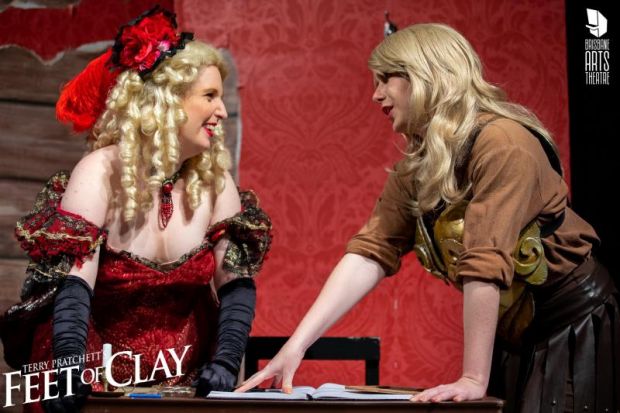 Image: Feet of Clay
"People are wanting what we have to offer. It will be difficult to get back to where we were two years ago – we've had to adjust and make difficult staffing and programming choices. One solution we will try in 2021 – instead of a full annual programme, we will be launching a series of mini-seasons – will free us up to be flexible."
John's message to audiences: "Trust us – we are doing everything in our powers to make the experience safe and happy. We are taking good care of our people and our audiences. There's only so much on-demand film and TV you can take! Come out and engage with us – in full 3D!"
John Grey, who performed in Feet of Clay, told us: "The only noticeable difference from a 'normal' night is that the front couple of rows have to be empty, and that the audience have their intermission drinks delivered to their seats, Gold Class style. If you like live theatre, and you want it to survive, I urge you to get a group together and book a night out."
Waiting for the Cue in South Australia
Insight SA: Opening Night at the New Her Majesty's Theatre in Adelaide
With a freshly refurbished, historical venue to unveil, the opening night of Gaslight at the new Her Majesty's Theatre in Adelaide was well-publicised and highly anticipated. Mark Wickett was there, recording the reality of COVID restrictions for audiences.
"There was a bit of a buzz just turning up outside the new Her Majesty's. We queued up outside the theatre, in a socially distanced line, and were allowed in gradually so as not to fill the foyer. The bars and water-fountains were closed, so the atmosphere in the public areas was subdued. There was plenty of hand sanitiser everywhere plus notices about not proceeding if you were feeling unwell or exhibiting any of the COVID symptoms. Audiences need to remember that, in the current environment, everyone is extremely sensitive to any coughing – it is always a distraction, but even more so now.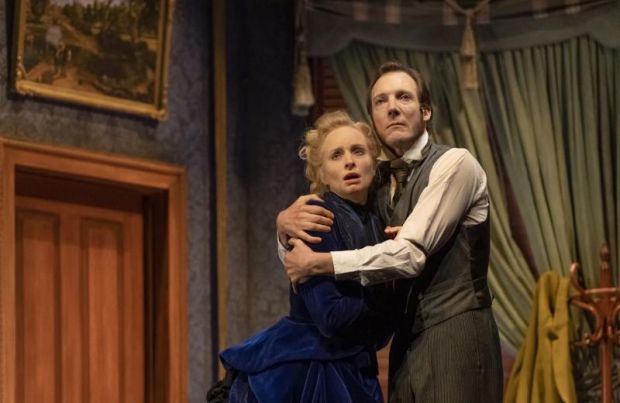 "Our tickets were checked, and we were directed to our seats. Her Majesty's is now a 1,500-seat theatre on three levels, which probably helped with the socially distanced seating plan. Every other seat was stickered 'don't sit here' and, even if we had arrived together, we had to sit apart to preserve the checkerboard of the rows in front and behind.
"While the atmosphere of this huge auditorium was more subdued than I've experienced before the pandemic, the positive buzz of being out at the theatre again was still dominant – even the pre-show announcement got a round of applause! Overall, the fact that we were back sharing live performance was a far bigger experience than any inconvenience of distancing. If this is the new norm, it's perfectly manageable for an audience."
Insight SA: The School Bubble
Mark Wickett also worked on three school productions.
"Each production is handling COVID-19 restrictions differently in terms of seating and crowd management. Their challenges are the same as the smaller theatres, around seating capacity, access to facilities, bar purchases, and so on. COVID restrictions haven't impacted the shows themselves – although we did have one close call, when one lead actor, who was in isolation, was still awaiting the results of a COVID test on the day before dress rehearsal. He had to deliver his lines via Zoom! Fortunately, the lag did not detract from the pace and rhythm of the performance!
"Where the restrictions have hit harder is in audience numbers – in one performance space, numbers were limited to 60; another larger school theatre could seat more than 100 with every other row left empty and two seats between each family group. The smaller audiences made just as much noise in applause and appreciation as a full theatre, and the gathering of the audience before the show created a bit of a buzz pre-show. Overall, it has been a positive experience."
Western Australia's Hive of Activity
With no community-transmitted COVID-19, WA is all abuzz with theatrical productions – our correspondent Kimberley Shaw has reviewed 16 post-lockdown productions. She has also represented community theatre in meetings with the Minister for the Arts to reality-check the latest COVID-safe regulations for their implementation in a live theatre setting.
Insight WA: Australian Premiere at a Profit-share, Pub Venue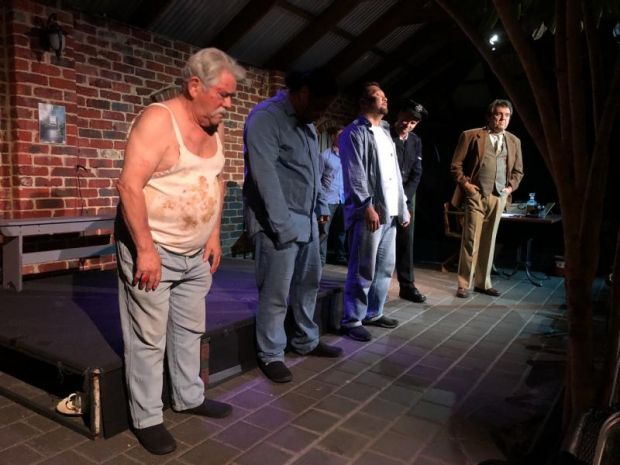 Image: Not About Nightingales
Sarah Christiner is the Director/Producer of the Australian premiere of Not About Nightingales, the 'lost' play by Tennessee Williams, staged at the brewery, Last Drop Canning Vale. Sarah told us that 'distanced' audiences were not a problem for this venue.
"We are not spacing our seats differently than usual, but we do have reduced capacity. Initially we were planning on an audience of 70, but the reduction to 50 was actually a blessing in disguise! For a start, the performance rights were cheaper. It also reduced issues with audience sightlines having fewer people in the room. My message to audiences would be to just be sensible. If you're crook, stay home. We have no community transmission of COVID in WA because we have been sensible. Keep up the good work and don't let unnecessary fears stop you from going out and enjoying life."
https://www.stagewhispers.com.au/reviews/not-about-nightingales
Insight WA: Musical at the Melville
Director Craig Griffen presented the Pulitzer Prize winning musical Next to Normal at Melville Theatre in late August/early September. Despite its hard-hitting theme of mental illness, the musical was very warmly received, with some audience members moved to tears. The staging allowed for a six-piece ensemble to perform beneath the stage.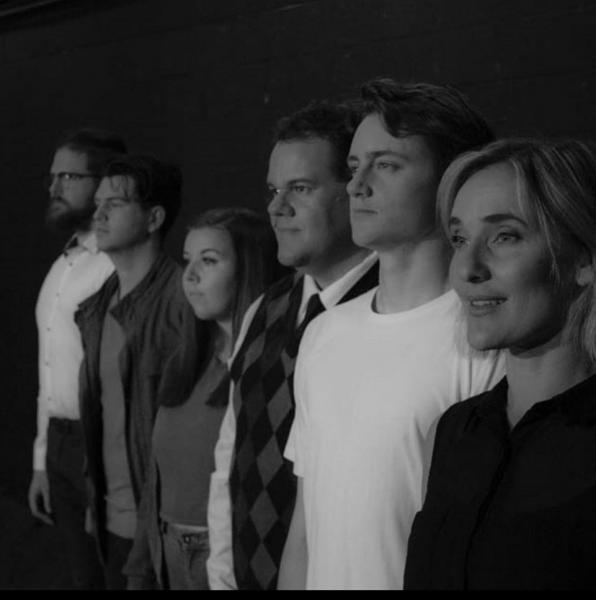 Image: Next to Normal cast.
Actor Elethea Sartorelli, who played the leading role of Diana, told us:
"As a performer, the distancing was a concern to begin with. However, the management of the seating arrangements and promotion by cast and production company to encourage group bookings assisted greatly. During performances, the distancing did not seem to matter. The response to the show was very positive and our production resonated strongly with those who attended.
"I'm also a production manager at a school that runs a performing arts group. Social distancing has impacted our performances significantly and has meant that we were only able to promote the school show, with limits on bookings, to cast families and not to the wider community. However, the audience responses have meant that the cast didn't seem to feel impacted by the reduced numbers at all."
https://www.stagewhispers.com.au/reviews/next-normal-11
Insight WA: Performing Arts Schools: The WAAPA Show Goes On
With capacity limits and social distancing restrictions, the economies of scale prevent many companies mounting a production under the current circumstances. However, as a Performing Arts conservatoire, Western Australian Academy of Performing Arts (WAAPA) must continue to put on performances so the teachers can properly assess students' creative output and abilities.
WAAPA told us: "The 50 percent capacity limit is being strictly adhered to by Edith Cowan University. So, by the time you take into account the cast, crew and front-of-house staff, you are left with maybe 20, 30 or 50 seats – which isn't enough for internal stakeholders (such as students, staff) let alone the general public.
"To work around the restrictions, where the works are original or in the public domain, we have been filming for broadcast. We plan on filming Nicole Stinton's adaptation of Orpheus In The Underworld, which we are staging at The Rechabite."
They hosted a week-long broadcast season on their YouTube channel in October.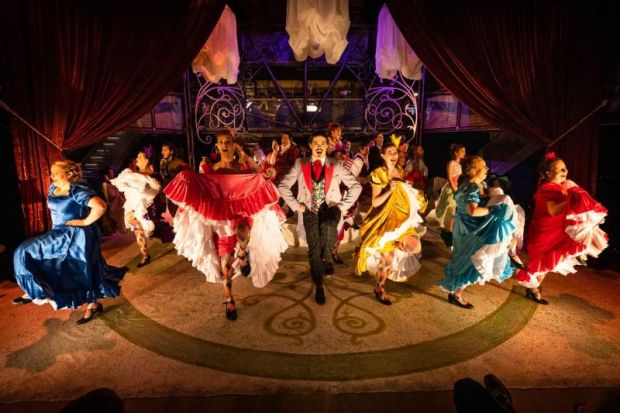 Image: Orpheus in the Underworld. Photographer: Stephen Heath.
https://www.stagewhispers.com.au/reviews/orpheus-underworld-1
ACT – All Quiet in the Capital
Things have been quiet in Australia's capital territory. However, Queanbeyan Players announced their musical theatre line-up for 2021: The Sound of Music in March, Kiss, Me Kate in June and Oklahoma! in October. The group's President, Alison Newhouse, said: "Queanbeyan Players enjoys a supportive and engaged community and, like everyone, we are all looking forward to reconnecting and getting back into rehearsals and production as soon as health guidelines allow."
And the lights were back on at Canberra Rep in September, with a production of Joe Orton's What the Butler Saw.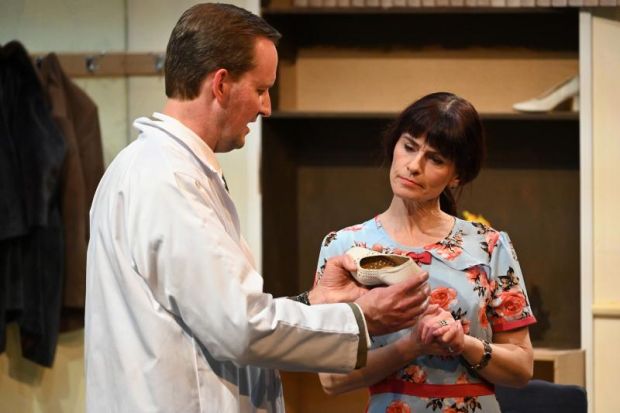 Image: What the Butler Saw
www.stagewhispers.com.au/reviews/what-butler-saw-0
As New Zealand's Prime Minister, and self-confessed amateur theatre enthusiast Jacinda Ardern said recently: "These are the times that we need the Arts."
But, as we slowly move out of lockdown conditions, these are the times when the Arts need us too! Lochie Beh, President of the Lane Cove Theatre Company summed it up well: "When we're on the other side of this, please volunteer, donate or simply come and see our shows."
Check the Stage Whispers website for all the action at small theatres in your state. www.stagewhispers.com.au/community-theatre