Musicals in 2014 and Beyond
Click here to check out our new feature - Musicals in 2015 and Beyond
Something old, something new and plot-lines borrowed from a film or two. Stage Whispers looks at what will sing and dance across our stages in 2014.
Baz Luhrmann's World Premiere adaptation of his hit movie Strictly Ballroom The Musical is probably the most keenly anticipated musical of 2014.
"One thing I can guarantee you - everything dances in this show. Because there are a number of scenes in which there are large audiences and festivals, there will also be a participatory element. The dancing will be all around you," Baz Luhrmann told the media launch.
The musical adaptation of the movie opens at the Lyric Theatre in Sydney on April 12. It will include both original songs and pop favourites including Love is in the Air.
The costume designer is Catherine Martin, the double Oscar winning spouse of Baz, while producers Global Creatures are sure to provide us with a visual feast.
The big question of course is whether it will work as a musical or will the production overwhelm the story? Strictly Ballroom began as a student play written while Baz was at NIDA – let's hope that the fine dramatic bones of the story shine through.
Links
Strictly Ballroom will have a Melbourne season at Her Majesty's Theatre from January 2015
**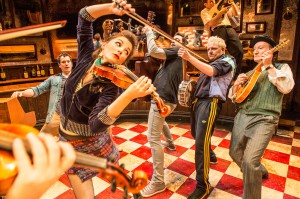 Melbourne had to wait until October for a brand new musical theatre offering, the Australian Premiere of Once, just two years after it scooped the pool at the Tony Awards, courtesy of a collaboration between the Melbourne Theatre Company and John Frost.
Based on the 2006 Irish film,Once is a good old-fashioned love story set in an Irish pub.
When a Czech flower seller takes an interest in the haunting love songs of an Irish busker, the pair develop a friendship through their shared passion for music. As the chemistry between them grows their songwriting soars to powerful new heights.
The producers are looking for talented 'out of the musical theatre box' performers who will need to sing, move, act and play a musical instrument to audition, after sifting through preliminary video auditions from hopefuls all over the country.
John Frost explained that on all his trips to New York he had avoided seeing Once, thinking it was not his style and far more suited to the MTC. But once he saw the show, many trips later, he couldn't resist, and his thoughts about the MTC came back to inspire him.
Frost says, "Once is a truly beautiful show with heart-warming music and a charming love story offering a refreshing and surprising change to the typical Broadway musical."
**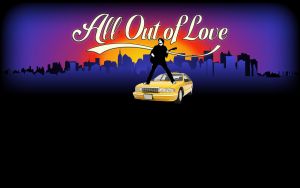 In the meantime, Perth audiences will see the world premiere of the new musical All Out of Love in July 2014, featuring music by Air Supply, ahead of a Singapore season and other yet to be announced Australian and international dates.
All Out of Love is to be produced by musical theatre newcomers Musical Management Asia Pacific MMAP.
**
In yet another Tony Award winning collaboration, John Frost continues his association with Opera Australia with a touring revival of his own hit production of The King and I.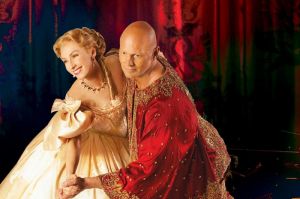 Lisa McCune and Teddy Tahu-Rodes team up again, exchanging the on-stage romance sparked in South Pacific for the cross-cultural sparring of Anna and the King.
This Christopher Renshaw directed production premiered at the Adelaide Festival Theatre in 1991, transferring to Broadway five years later, and winning win four Tony Awards. British director Renshaw will return to restage the production
With its Tony and Drama Desk award winning set and costume designs by Aussies Brian Thomson and Roger Kirk, the production is already guaranteed to be a visual treat to match the music of Rodgers and Hammerstein.
The King and I opens at QPAC in April, moving to the Princess Theatre, Melbourne in June, with a Sydney season at the Sydney Opera House in September.
Link to more detailed coverage.
**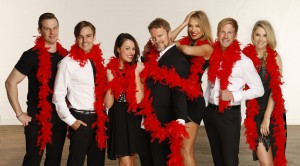 How many times can we do the Time Warp again? Every six years or so it seems, although many of the cities which the latest revival of The Rocky Horror Show will visit have not seen it for 15 years.
Producers Howard Panter and John Frost are recreating the latest West End revival for Australian audiences.
Christie Whelan-Browne as Janet and Tim Maddren as Brad will play the unsuspecting young couple couple ready to be corrupted by Craig Mclachlan, returning to the role of Frank N Furter.
The producers Howard Panter and John Frost said, "Craig oozes that risqué charm that an actor playing Frank needs, as well as bucket loads of sex appeal. He captivated all of us in the audition room."
Stage Whispers editor Neil Litchfield confesses to having seen the orginal production more than 15 times, but firmly denies that he already has his fishnets and stilettos packed for the flight to Brisbane.
Opening on December 31, at QPAC, a season at the Crown Theatre, Perth follows in February, by the Festival Theatre, Adelaide in March and Melbourne's Comedy Theatre in April.
Sydney will have to wait until April 2015 thanks to the city's chronic lack of venues. The production will open at the Lyric Theatre in April 2015
**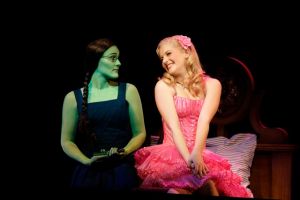 Celebrating 10 years as the top-selling musical on Broadway, Wicked rode its broomstick in to Melbourne at its original home, the Regent Theatre, in May as part of the anniversary festivities, ahead of seasons in Sydney and Brisbane. Lucy Durack returns as Glinda with Jemma Rix (Elphaba) and Maggie Kirkpatrick (Madame Morrible). Reg Livermore plays the Wizard of Oz. Playing Doctor Dillamond will be Glen Hogstrom, who joined the cast in this role during the Asian tour. The role of Nessarose will be played by newcomer Emily Cascarino (Mamma Mia!, Jersey Boys), while Edward Grey, who recently played Kiki in Legally Blonde, will play Boq.
Wicked commenced its Sydney season at the Capitol Theatre on September 25.
**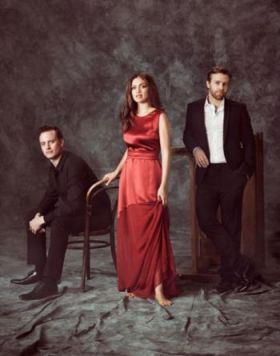 For those youngsters who think Les Misérables is a movie on far too grand a scale to put on stage, you are in for a big surprise in 2014 when it opens at Her Majesty's Theatre, Melbourne in June.
Yes Les Mis actually started out as a stage musical.
On the back of the success of the film, Cameron Mackintosh is bringing the West End's longest running musical back to Australia. The new Melbourne production is the version created to celebrate the show's 25th Anniversary in London's West End.
Cameron Mackintosh is crowing about the casting, claiming that he catapulted Anthony Warlow and Marina Prior to stardom by casting them in his first Australian production and is hoping to repeat the favour with a new generation, though Simon Gleeson, playing Jean Valjean (Hugh Jackman's role), can claim years of West End and Australian experience.
Singing even better than Russell Crowe (is that really so difficult) will be Hayden Tee asJavert.
Trevor Ashley plays Monsieur Thénardier (Sasha Baron Cohen's film role), though Sir Cameron might have been bolder, and cast him as Madame Thénardier.
Image: Australian cast members Simon Gleeson, Patrice Tipoki and Hayden Tee.
Link to more coverage and casting
Le Misérables has subsequently announced seasons in Perth (Jan 2015) and Sydney (March). Link to more details.
**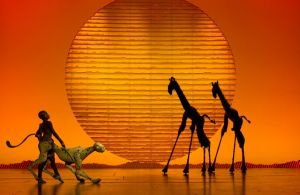 Disney has cast many talented debutantes, emerging Australian and New Zealand talent, together with a number of seasoned performers, for its 10th anniversary production of The Lion King, which will roam though Sydney's Capitol Theatre for the first part of 2014.
The principal cast includes new discovery Rob Collins in the role of Mufasa. Born and raised in Darwin, Rob has helped coordinate the National Indigenous Music Awards since its inception in 2004. He is joined by television and theatre performer Josh Quong Tart as Scar, well-known theatre actor Cameron Goodall as Zazu, New Zealand performer Jamie McGregor as Timon and Russell Dykstra as Pumbaa.
The role of Simba will be played by New Zealander Nick Afoa, a keen rugby player and singer who made his mark singing the national anthem at the recent Rugby World Cup in Australia.
Images: Giraffes and Cheetah. Photograph by Joan Marcus ©Disney
**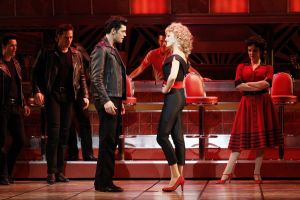 Still hot is of Grease, giving Melbourne plenty to sing about Her Majesty's Theatre from January 2, 2014, ahead of Perth (June) and Adelaide (August) seasons.
Latest. With the Melbourne season a sell-out, John Frost has announced a return Melbourne season for December 2014. More Details.
Critics and fans have raved.
"This was the best production of Grease I have ever seen - fast, funny, and massively entertaining. David Gilmore's direction, based on his long-running West End revival, satisfied on every level," wrote Stage Whispers' Peter Pinne.
Photographer: Jeff Busby
**
King Kong ended its Melbourne only season at the Regent Theatre in February 2014, and allthough speculation has been rife about it moving on to Broadway with a complete change of writers and more, the transfer still seems a long way off.
**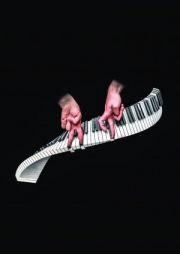 On a smaller scale, Darlinghurst Theatre Company begins its first year in new home, Eternity Playhouse, in February with Falsettos by William Finn and James Lapine, a Tony Award winner for Best Book and Best Score in 1992.
Directed by Stephen Colyer, the cast will be led by Tamlyn Henderson (poised to storm the barricade in Les Misérables next year) and Katrina Retallick (Dirty Rotten Scoundrels, The Addams Family) as Marvin and his ex-wife Trina. Katrina recently performed the role of Jolene Oakes in James Anthony Productions' Dirty Rotten Scoundrels, garnering much critical acclaim and a Glugs nomination.
**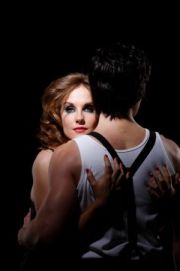 Speaking of the old Darlo Theatre, renamed in honour of Nancye Hayes it is about to become Sydney's new home for Indee Musical Theatre and cabaret. First production for the new venue in February 2014 will be Sweet Charity, starring Verity Hunt Ballard in the title role, with Martin Crewes as Charlie, Vittorio and Oscar, Debora Krizak as Nikki and Ursula, Lisa Sontag as Helene and Kuki Tipoki as Big Daddy. Dean Bryant directs, with musical direction by Andrew Worboys and choreography by Andrew Hallsworth.
Interview with Director Dean Bryant
Sweet Charity will tour in 2015, beginning in Canberra in February. More details.
**
Independent Sydney Musical Theatre company Squabbalogic presened the exuberant musical within a comedy The Drowsy Chaperone, in association with Hayes Theatre Co from March 14 – April 6, 2014.
**
In a premiere production, Tim Freedman and Alex Broun's Truth, Beauty and a Picture of You played at Sydney's Hayes Theatre Co from Friday, 9 May 2014.
Inspired by the characters, stories and lyrics of one of Australia's foremost singer/songwriters, Tim Freedman,Truth, Beauty and a Picture of You is about the hope you find when all hope is lost, as four lost souls struggle to find peace with themselves and their pasts. If not, they'll just have to move to Marrickville. Featuring many of Tim's biggest hits from a life in music this new Australian musical theatre work is described as 'moving, funny and surprisingly romantic'.
**
A revival of four-hander Australian musical LoveBites by Peter Rutherford and James Millar plays at the Hayes from Sept 10 – Oct 5, 2014
**
Luckiest Productions will present a long overdue new production of Miracle City by Nick Enright and Max Lambert from October 17 – November 16, 2014.
**
Nancye Hayes makes her first appearance on the stage of the theatre named after her in the World Premiere of Beyond Desire by Neil Rutherford and Kieran Drury., at the Hayes Theatre Co from Nov 21 – Dec 13.
**
Several 2015 productions have been announced for the Hayes Theatre Co.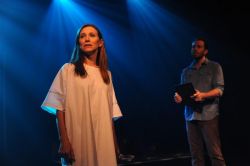 Doorstep Arts (Geelong, Victoria) will bring their acclaimed production of Next to Normal to the Hayes from January 8 to February 1, 2014.
Coral Drouyn's review of the Geelong season.
**
Enda Markey produces Blood Brothers at the Hayes Theatre Co for a four week season from February 6, 2014 .
The cast features Helen Dallimore as Mrs Johnstone, Bobby Fox as Mickey, Blake Bowden as Edward, Michael Cormick as Narrator, Bronwyn Mulcahy as Mrs Lyons, Phillip Lowe as Mr Lyons, Christy Sullivan as Linda, Jamie Kristian as Sammy and Erin James as Donna Marie.
**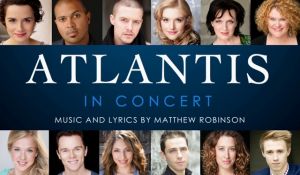 A cast of leading Australian musical theatre talents appeared for two performances only of Matthew Robinson's new work – ATLANTIS on Febriuary 23 in Melbourne.
Pratt Prize-winning composer/lyricist Matthew Robinson presents the World Premiere concert of the epic event musical ATLANTIS. Charting the days leading to the destruction of the ancient mythological kingdom, ATLANTIS has been developed throughout Australia and the United States for the past 2 years with firm interest now being expressed by Broadway producers and investors.
**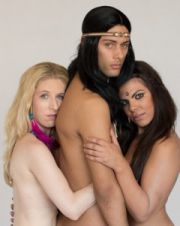 Following the success of its 2013 revival of HAIR, the production returned in 2014 commencing a tour of regional Victoria in Warnambool on February 21, with a return Melbourne engagement at Chapel Off Chapel from March 4 – 9. The tour visited other centres including Geelong, Ballarat, Warragul and Shepparton. Tod Strike joins the cast in the role of Berger.
More details and touring dates
**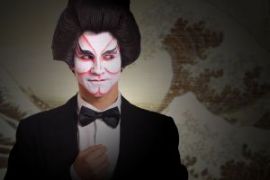 Melbourne audiences will get the opportunity to see a fully theatrically realised production of the Stephen Sondheim / John Weidman musical Pacific Overtures, Sondheim's personal favourite, in February 2014, presented by Watch This and Manilla Street Productions at Theatre Works. Alister Smith directs a cast including Anton Berezin as Reciter, Adrian Li Donni as Kayama and Nick Simpson-Deeks as Manjiro, with musical direction by Robyn Womersley.
Manilla Street productions also presented a new production of Blood Brothers at Chapel off Chapel from March 9, with Chelsea Plumley in the role of Mrs Johnson and Gareth Keegan and Matthew Bradford as twins Mickey and Eddie.
**
New satirical Australian Musical DreamSong played for a 10 day season at Theatre Works, St Kilda from 10 to 20 April.
Written by Hugo Chiarella and Robert Tripolino, directed by Dean Bryant (Pirates of Penzance, Next to Normal, The Producers), with choreography by Andrew Hallsworth (Priscilla Queen of the Desert, A Funny Thing Happened on the Way to the Forum), DreamSong is an irreverent comedy that investigates questions of faith and spirituality through a satirical depiction of evangelical populist religion, politics and popular culture and how all of these interweave, set to a pulsing score of Christian pop and soaring power ballads.
**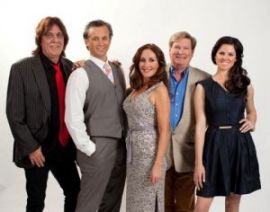 Brisbane's newly professionalized musical theatre company Harvest Rain announced its 2014 season, their first full season as a fully professional company, featuring Guys and Dolls (starring Ian Stenlake, and Daryl Somers, Wayne Scott Kermond and Angela Harding) in March, an Arena production of CATS (starring Marina Prior) in July and Monty Python's Spamalot (starring Jon English, Simon Gallaher and Julie Anthony) in October.
**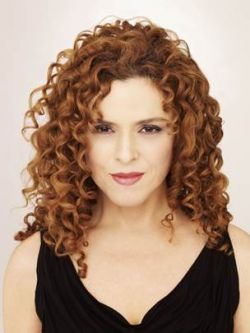 Three-time Tony Award winning Broadway diva Bernadette Peters briought her concert to Australia in April 2014, with performances in Sydney, Melbourne and on the Gold Coast, performing a selection of Broadway songs including standards, Rodgers & Hammerstein and Stephen Sondheim to name a few.
**
West End and Broadway star Elaine Paige will tour to Brisbane, Sydney and Melbourne in December 2014.
**
The final prduction for 2014 at New Theatre in Newtown (NSW) will be Stephen Sondheim and Hugh Wheeler's Swenney Todd.
**
The Production Company in Melbourne again presents a series of three musicals - Guys and Dolls from July 19, Show Boat from August 16 and La Cage Aux Folles, which opens on November 22.
**
Casey Gould and Loclan Mackenzie-Spencer presented the Australian Premiere of Calvin Berger - A Musical by Barry Wyner in Melbourne at Southbank Theatre, The Lawler, from September 10 – 13, 2014.
**
High Fidelity – The Musical, with music by Tom Kitt; lyrics by Amanda Green; book by David Lyndsay-Abaire; based on the best-selling novel by Nick Hornby, had its Australian Premiere from Sept 11 - 21 at Chapel off Chapel in Melbourne.
**
Parade by Jason Robert Brown and Alfred Uhry had its first Australian professional production from Sept 17 – 28, 2014 at 45 Downstairs, Melbourne.
**
Ghost Light and Moving Light Productions staged the Victorian Premiere of Carrie The Musical by Lawrence D Cohen, Michael Gore and Dean Pitchford from from September 25 to October 12 at Chapel Off Chapel.
**
Passion by Stephen Sondheim and James Lapine will be produced by Life Like Company from November 5 - 8, 2014 at The Playhouse, Arts Centre Melbourne.
**
Producer John Frost is staging a new Australian production of Dirty Dancing, which will play at the Sydney Lyric Theatre from 28 November, followed by Melbourne's Princess Theatre from 4 March 2015 and the Lyric Theatre, QPAC from 27 May.
**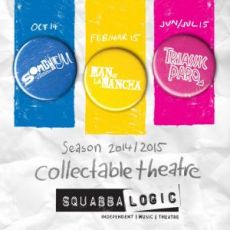 Sydney Indee musical theatre company Squabbalogic has announced its 2014 / 2015 season at the Reginald Theatre, Seymour Centre
It opens with the Australia premiere of Sondheim on Sondheim from Oct 1–18, 2014.
Man of La Mancha by Dale Wasserman, Joe Darion and Mitch Leigh follows from Feb 25 – Mar 21, 2015..
The Australian Premiere of Triassic Parq follows from June 17 - July 4, 2015.
More details of Sondheim on Sondheim
**
In 2015, Cole Porter classic Anything Goes will be Opera's Australia's third musical collaboration with impresario John Frost, following South Pacific and The King and I.
Caroline O'Connor is joined by Todd McKenney as Lord Evelyn Oakleigh, Wayne Scott Kermond as Moonface Martin, Debora Krizak as Erma, Carmen Duncan as Evangeline Harcourt, Alan Jones as the Captain of the S.S. American, Alex Rathgeber as Billy Crocker and Claire Lyon as Hope Harcourt.
Anything Goes will dock in Melbourne in May, Brisbane in July and Sydney in September 2015.
**
Melbourne-based StageArt has announced three productions at Chapel off Chapel in the first half of 2015, In The Heights (Feb/March), Dreamgirls (May/June) and A Super Brady Cabaret (June)**
**
Tim Minchin's West End and Broadway smash hit Matilda The Musical will open at Sydney's Lyric Theatre in August 2015, and not in Melbourne as previously rumoured.
**
In Development
John Frost also has two new musicals in the works. Dreamlover, based on the life and music of Bobby Darin (written by the Australian team of John-Michael Howson and Frank Howson) was workshopped by director Simon Phillips. No news yet of an opening. Link to earlier coverage
Frost has also announced he has joined forces with the producer of the award winning Australian film RED DOG, Nelson Woss, to explore developing the Red Dog story into a musical production. Link to earlier coverage.
Musical Theatre fans are licking their lips in anticipation.