Musicals in 2015 and Beyond
Click here to read our new feature, Musicals in 2016 and Beyond
***
Stage Whispers correspondents preview another exciting year of Musical Theatre.
The biggest musical theatre news of 2015 is the arrival of Tim Minchin's West End and Broadway smash hit Matilda The Musical at Sydney's Lyric Theatre in July, at the start of a national tour.
At the launch Tim recalled that it wasn't so long ago that he was a struggling artist – once earningthe princely sum of $7.50 for four months work in a co-op production. These days Matilda, written by Minchin and Dennis Kelly, is seen by 20,000 people a week.
But he says, "it was not made to be a huge commercial hit," rather "to honour Roald Dahl …and tell a great story."
Tim Minchin believes he is on the same wave length as Dahl – Matilda "is almost indiscernible from some of my comedy," as it is "laced with criticism of anti-intellectualism."
He cites the lyrics of a song called 'Loud' sung by Matilda's mother. "What you know matters less than the volume with which what you don't know is expressed."
Minchin describes the production as a "double miracle".
"It is the story of a kid who is miraculously smart and moral and strong and eventually magic. Yet you are watching an actual 9 or 10 year old girl spend two and half hours on stage doing stuff that is indiscernible from magic in itself."
As for the music he relishes the fact that many of the songs break all the rules.
"Half way through the second act, where you are meant to have your biggest ballad with soaring strings and three key changes, we chose to place a tiny girl on a pile of books and have her sing a song about relativity, which resolves into a chorus where it dissolves into five bars of near silence. That song is called 'Quiet'. Although it is not the one you go away humming, I like it.
"I admit it is a little weird sung by a hairy man."
Judge for yourself. Hear Tim Minchin sing 'Quiet' at the launch.
Full cast of Matilda announced
Image of Tim Minchin at the launch by James Morgan.
**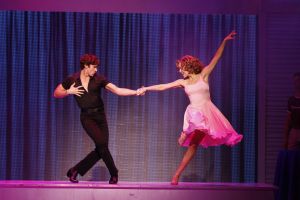 Producer John Frost again dominates the landscape in 2015. He admitted recently that if he were to produce his favourite musical, it would be the rarely performed classic 1776. But he said not many people would come to see it. Musicals with wide public appeal are chosen for production.
Fitting the bill perfectly is Dirty Dancing. It opened at the Sydney Lyric Theatre on 28 November, at Melbourne's Princess Theatre from 4 March, the Lyric Theatre, QPAC from 27 May and Perth in August.
The production promises "heart-pounding music, passionate romance and sensationally sexy dancing."
Originally produced by Kevin Jacobsen and Col Joye in Australia, Dirty Dancing subsequently conquered the West End and is still touring regional USA.
The coming of age drama is sure to bring back memories of the original movie starring Patrick Swayze.
Image: Kurt Phelan and Kirby Burgess. Photographer: Jeff Busby
***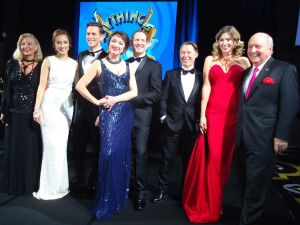 John Frost is partnering with Opera Australia to produce the Cole Porter classic Anything Goes, which will dock in Melbourne in May, Brisbane in July and Sydney in September.
Broadcaster Alan Jones stole the headlines with news that he will play the Captain of the S.S. American, the ocean liner on which Cole Porter's madcap tale of love, disguise, misadventure and frisky sailors takes place.
Overlooked in the fuss which followed in some quarters was the fact that Alan Jones is only making a cameo appearance. His casting was designed to attract publicity and appeal to his followers.
The real news is the strong cast. Caroline O'Connor will be a joy as Reno Sweeney. Also on board will be Todd McKenney as Lord Evelyn Oakleigh, Wayne Scott Kermond as Moonface Martin, Debora Krizak as Erma, Alex Rathgeber as Billy Crocker, Claire Lyon as Hope Harcourt and Carmen Duncan as Evangeline Harcourt.
Read more about Anything Goes.
**
Producers John Frost, Andrew Lloyd Webber, David Ian and the Really Useful Group today wiill bring the lavish London Palladium production of The Sound of Music to Australia in late 2015 for a national tour.
**
John Frost and Opera Australia will join forces to present a new version of the musical thriller Jekyll & Hyde in Australia commencing in late 2015, directed by Christopher Renshaw (The King and I, Legends!) and designed by Gabriela Tylesova (Cosi Fan Tutte, Love Never Dies).
The cast, led by Teddy Tahu Rhodes, Jemma Rix and Lucy Maunder has been announced.
**
UPDATE - Sydney season of Here Lies Love postponed.
The Australian Premiere of the interactive stage musical Here Lies Love, the award-winning New York production, originally acheduled to play in a pop-up theatre made from shipping containers in Sydney in May as the theatrical centrepiece of the Vivid Festival has now been postponed, possibly to a date later in 2015.
**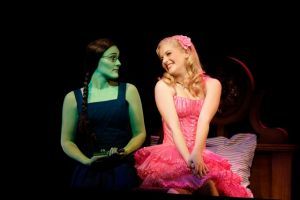 Wicked continues at Sydney's Capitol Theatre until the end of January, before travelling to Brisbane where it opens at QPAC's Lyric Theatre on 15 February, and Crown Theatre, Perth from May 3.
Simon Gallaher takes on the role of the Wizard for Brisbane and Perth, while Suzy Mathers steps into the role of Glinda, with Lucy Durack pleaving the show ahead of the birth of her first child.
David Spicer wrote, "The second time round Wicked feels more comfortable in its green skin. All the elements which make it a terrific night of musical theatre remain.
"There is the clever book which neatly dovetails the fable of The Wizard of Oz and the spectacular sets, set to the universal themes of friendship and acceptance in the face of intolerance.
"Giving it the edge over last time is the soaring performance of Jemma Rix as the green witch and Reg Livermore's style and panache as The Wizard."
Read our Sydney and Melbourne reviews
Go backstage as Jemma Rix makes up.
A new Wizard for Brisbane and Perth
Image: Jemma Rix and Lucy Durack sing 'Popular'.
**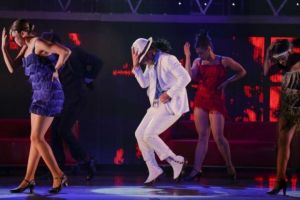 Thriller Live, celebrating the career of Michael Jackson and the Jackson Five, tours Australia, opening in Perth on December 10, 2014 with seasons in Adelaide (from December 30), Brisbane (from January 14, 2015), Melbourne (from January 28) and Sydney (from February 26).
The show, now in its sixth year in London's West End, contains all of Jackson's favourite songs including: I Want You Back, ABC, Can You Feel It, Off The Wall, The Way You Make Me Feel, Smooth Criminal, Beat It, Billie Jean, Dirty Diana, Bad, Rock With You, They Don't care About Us, Dangerous, Heal The World, and Thriller.
**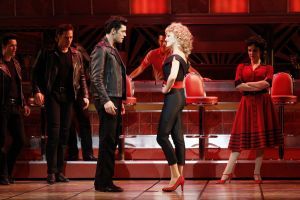 Grease began a return Melbourne season on December 11, 2014 at the Regent Theatre.
Peter Pinne described it as "the best production of Grease I have ever seen - fast, funny, and massively entertaining.
"Despite the satire of the piece being blunted by years of over-familiarization, it still works. Australia's love affair with the Grease phenomenon has not abated."
More on the return Melbourne season.
Original Melbourne season review.
Photographer: Jeff Busby.
**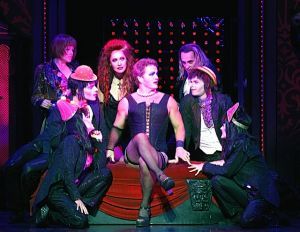 The West End revival of The Rocky Horror Show is finally making it to Sydney for a season from April 11 at the Lyric Theatre after entertaining Australian audiences over the last year. A return Melbourne season follows from June 12.
Craig McLachlan has proved he is bullet proof as Dr Frank n Furter.
Bert Newton will appear as the Narrator. Kristian Lavercombe will return as Riff Raff, Brendan Irving as Rocky, and Nicholas Christo as Eddie and Dr Scott.
Photographer: Jeff Busby
Full cast for 2015 Sydney and Melbourne seasons announced
Read more about the Sydney season.
Read more about the return Melbourne season.
**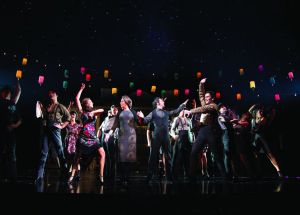 Baz Luhrmann's adaptation of his hit movie Strictly Ballroom The Musical will have a Melbourne season at Her Majesty's Theatre from January, with a Brisbane season to follow in September.
Stage Whispers nominated it as the prospective highlight of 2014, and while it was an extraordinary spectacle and a very entertaining night out, it had to be said that the musical still needed some development.
The creative team is working to iron out some of the creases including the challenge of blending songs from different genres.
We're hoping it can be polished like a ballroom dancer's shoes during the off season workshops.
Production image by Douglas Kirkland
More about the Melbourne season.
Read more about the Brisbane season
**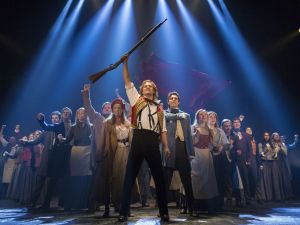 Les Misérables wound up its run at Her Majesty's Theatre, Melbourne, in December, prior to seasons in Perth (Jan 13) and Sydney (March).
Coral Droyun wrote, "It is simply splendid on all levels. Beautifully mounted with a remarkable set and projections, astonishingly lit, wonderfully evocative projection and magnificent sound design. The show is a triumph before we even mention the actors.
"This Les Mis gives us a Valjean, in the form of Simon Gleeson, who may well be the quintessential casting in the role.
"Hayden Tee has staked his claim on Javert forever. His magnificent rendition of 'Stars' in Act One had the audience cheering and screaming for a good 30 seconds.
"Trevor Ashley and Lara Mulcahy at last deliver the perfect Thenardiers."
Read Coral Drouyn's review in full.
Interview with Eponine (Kerrie Anne Greenland).
More detail on Sydney and Melbourne seasons.
Photographer: Matt Murphy.
**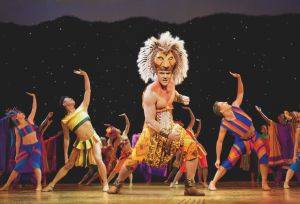 The Lion King became the most successful stage show of all time during 2014 – when it overtook the previous record holder The Phantom of the Opera.
Worldwide productions of the show, including the long-running Broadway production, surpassed the $US6.2 billion box office mark.
This Australian production is the 10th production running concurrently around the world, playing in Melbourne from February, following its season at QPAC.
Peter Pinne wrote in Brisbane, "This salad bowl of theatrical magic overwhelms with its vision and deserves every accolade it has ever received."
"I first saw The Lion King just after it opened on Broadway in 1997 and was amazed by the sheer theatricality of Julie Taymor's ground-breaking production. 17 years later I'm still amazed."
Image: Nick Alfoa as Simba. Photograph by Deen van Meer.
**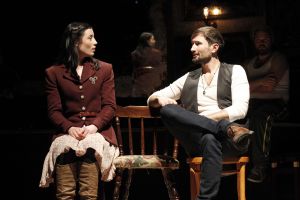 ONCE, the winner of eight Tony Awards including Best Musical, continued its run at Melbourne's Princess Theatre until February. Set in an Irish pub, Once is a bittersweet musical that uses song and dance in a truly unique way with the cast acting as orchestra onstage. Musical collaborators Glen Hansard and Markéta Irglová originally starred in and wrote the music for the original 2007 Irish independent film, Once, that was filmed on a shoestring budget. In adapting it for stage, Enda Walsh has retained many of the songs written by the duo, including the Academy Award-winning Falling Slowly.
ONCE will not tour beyond Melbourne.
Coral Drouyn chats to Australia's Guy and Girl
Photographer: Jeff Busby
**
Opera Queensland will stage Candide at the Playhouse, QPAC, from July 23 to August 1. David Hobson will play Candide, with Rachelle Durkin as Cunegonde, Bryan Probets as Pangloss and Christine Johnston (from the Kransky Sisters) as the old lady with only half a buttock. Lindy Hume directs. The production will use the Scottish Opera edition of the Opera House version.
Candide has a score by Leonard Bernstein, with a book by Hugh Wheeler, lyrics by Richard Wilbur, and additional lyrics by Stephen Sondheim, John LaTouche, Dorothy Parker, Lillian Hellman and Leonard Bernstein.
**
The Production Company (Melbourne) has announced a seaon of three musicals for 2015 - West Side Story (July), Nice Work if You Can Get It (August) and Jerry's Girls (Nov).
**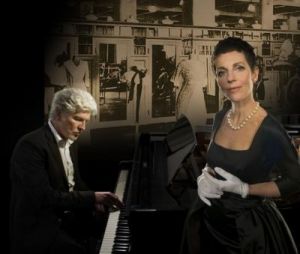 The Queensland Theatre Company is marking a welcome return to musical theatre with the World Premiere of Ladies in Black in November 2015.
Simon Phillips directs the musical, with original music from Tim Finn, adapted by Carolyn Burns from the novel by Madeleine St John, starring Christen O'Leary.
The story is seen through the eyes of a bookish school leaver in the 1950's in Sydney's most glamorous and stuffy department store.
Expect to see many fabulous frocks and a peek into the liberating 1960's.
**
The Melbourne Theatre Company's 2015 season includes the World Premiere of What Rhymes with Cars and Girls, with music and lyrics by Tim Rodgers and a book by Aidan Fenessy in February. The 'boutique' musical threads songs from Tim Rogers' first solo album into a tale of love across the class divide in contemporary Australia.
**
Black Swan State Theatre Company in Perth has also included a musical in its 2015 season. Rachel Beck will star in the Pulitzer and Tony award winning musical Next to Normal, to be seen for the first time in Western Australia in November.
More about the Black Swan season.
**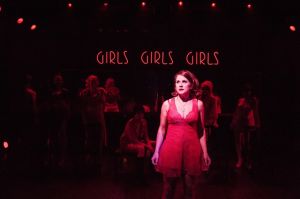 The Hayes Theatre Co in Sydney opened in spectacular fashion in 2014 with the sell-out hit production of Sweet Charity. Now that co-production from Luckiest Productions & Neil Gooding Productions is touring in 2015, beginning at the Sydney Opera House on January 15, with Canberra (from Feb 11), Wollongong (from Mar 11) and Melbourne to follow.
The winner of three 2014 Helpmann Awards, Sweet Charity is directed Dean Bryant, and boasts an outstanding list of musical theatre stars led by dual Helpmann Award winner Verity Hunt-Ballard in her award winning performance in the title role, along with other original cast members including Martin Crewes and Debora Krizak.
Photographer: Kurt Sneddon
Our review of the original Sydney season.
**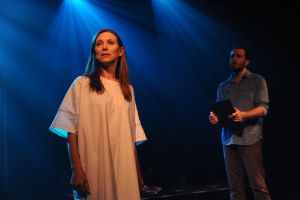 In January 2015 Doorstep Arts (Geelong, Victoria) brought their acclaimed production of Next to Normal to the Hayes. Natalie O'Donnel reprised her portrayal of Diana, joined by Anthony Harkin, Alex Rathgeber, Brent Trotter, Kiane O'Farrell and Clay Roberts.
Coral Drouyn said of the Geelong season: "It is more than a show, it is an emotional experience if it is done well. Doorstep Arts do it so well that it could be renamed Next to Perfect."
Read Coral Drouyn's full review of the Geelong season.
Read more about Next to Normal
**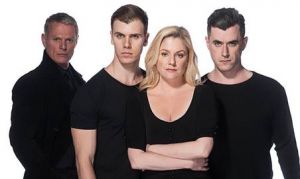 Enda Markey produced Willy Russell's long-running West End hit Blood Brothers at the Hayes Theatre Co for a four week season from February 6, 2015. The talented cast includes Helen Dallimore as Mrs Johnstone, Bobby Fox as Mickey, Blake Bowden as Edward and Michael Cormick as Narrator.
That production now travels to Melbourne for a four week season at the Alex Theatre, St Kilda from July 16.
**
Geraldine Turner made her first cabaret appearance in Sydney in ten years in in Turner's Turn, at the Hayes Theatre Co on Sunday evenings February 22, March 1 and 8.
The Hayes hosted several short cabaret seasons during March and April.
Tim Draxl returned to the Sydney stage in Freeway – The Chet Baker Journey at the Hayes Theatre Co from 17 March 2015.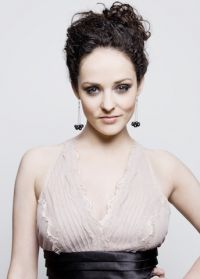 Neil Gooding Productions presented Lucy Maunder in Irving Berlin: Songs In The Key Of Black at Hayes Theatre Co for the first time from Tuesday 7 April to Sunday 12 April 2015 for eight performances only.
Elise McCann returned in Everybody Loves Lucy, her portrait of Lucille Ball, from March 22 - 28.
Everybody's Talkin' 'bout me starring Tim Freedman as Harry Nilsson played at Hayes from Monday 13 April - Sunday 19 April, 2015.
**
Neil Gooding Productions stages the Australian premiere of the Lucille Lortel Award winning Off-Broadway musical Dogfight at the Hayes in May 2015.
**
Showqueen Productions and Working Management in association with Hayes Theatre Co present Heathers The Musical from July 16 to August 9, 2015 at the Hayes Theatre Co.
**
A brand new production of High Society will be presented by Hayes Theatre Co from September 4, 2015. In a first this production will be produced solely by Hayes Theatre Co, rather than one of the production companies involved with the theatre, or an external producer.
**
From October 8 2015, Highway Run Productions in association with Hayes Theatre Co will present Jonathan Larson's RENT at the Hayes
**
Blue Saint Productions in association with Hayes Theatre Co will premiere the 2014 Broadway revival of VIOLET in Australia.
**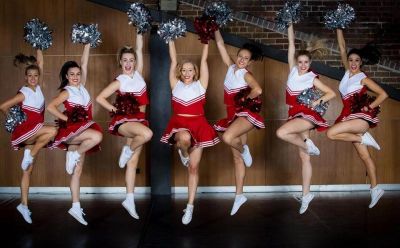 TONY Award nominated Bring It On The Musical will have its Australian Premiere at NIDA Theatres, Kensington playing from Saturday 27 June to Thursday 9 July 2015, produced by Supply Evolution.
**
Sydney Indee musical theatre company Squabbalogic's 2014 / 2015 season at the Reginald Theatre, Seymour Centre will continue with Man of La Mancha Feb 25 – Mar 21. Tony Sheldon returns to Australia to play the title role.
The Australian Premiere of Triassic Parq follows from June 17 - July 4.
More about the Squabbalogic season.
Squabbalogic will also present the Sydney Premiere of Grey Gardens in November / December 2015 at the Seymour Centre as part of the 2015 Reginald season.
**
Melbourne based Indee musical theatre company StageArt has announced three productions at Chapel off Chapel in the first half of 2015, In The Heights (Feb/March), Dreamgirls (May/June) and A Super Brady Cabaret (June)
**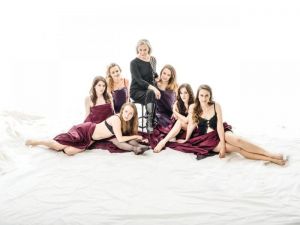 Loving Repeating – a musical of Gertrude Stein, a new musical about the American expatriate writer, Gertrude Stein and her passion for life, language and the thrill of romantic love, has its Australian Professional Premiere at Chapel off Chapel from 21 January – 8 February 2015, presented by Vic Theatre Company.
Love Repeating has music by Stephen Flaherty; lyrics by Gertrude Stein; and additional book by Frank Galati.
The cast of Loving Repeating features: Gertrude Stein, Deidre Rubenstein; Young Gertrude, Caitlin Berry; Middle-age Gertrude, Jennifer Peers; Young Alice, Gillian Cosgriff; Alice B Toklas, Nicole Melloy; Helen Furr, Emily Paddon-Brown; Georgine Skeene, Sage Douglas; John, Vincent Hooper; Paul, Tobias Madden; Guy, Tim Carney; Ensemble Suzie Melloy, Oliver Reading, Mitchell Ralston and Alex Given.
The creative team includes: Jason Langley, Director; Michael Ralph, Choreographer; Ben Kiley, Musical Director; Nathan Weyers, Set Design; and Travis Macfarlane, Lighting Design.
Photographer: Albert Comper.
**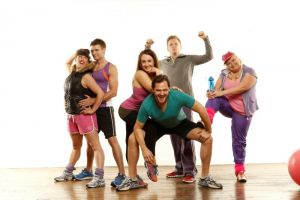 Sexercise – The Musical opens Melbourne's newest live performance venue, The Alex Theatre, St Kilda (the old George Cinemas on Fitzroy Street), playing from 19 February to the 15 March.
The musical comedy looks at well meaning friends, all with their own relationship and emotional problems, trying to help their friends who have been stretched to breaking point - work, kids, life! Joe (Lyall Brooks) and Sam (Nicole Melloy) are the couple not connecting, Tania (Lulu McClatchy) thought she met her life partner and then got dumped, Shane (Kristin Holland) is in his late 30's and still dating woman in their 20's, Andy (Cameron MacDonald) married 'the one' but the wrong one! And then there's Rhonda (Fem Belling) the counsellor who suggests a self-help book called Sexercise. Rhonda also loves her online dating and all that it offers. Created by Malcolm C. Cooke, Co-produced by Malcolm and Alexander Vass (wrote the book Sexercise for fun in the 90's), directed by Sara Grenfell and written and musically created by Derek Rowe.
**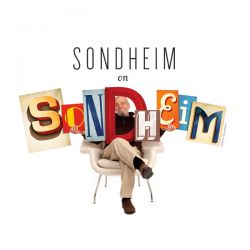 Manilla Street Productions will present the Melbourne Premiere of Sondheim on Sondheim at the Melbourne Recital Centre on Saturday May 23.
**
Watch This will present Stephen Sondheim's Company at Melbourne's fortyfivedownstairs from September 17 to October 4, 2015, following on from the success of their previous productions of Sondheim musicals Pacific Overtures and Assassins.
**
New Australian musical NED will play its World Premiere Season at Bendigo's new Ulumbarra Theatre from May 21 – 30.
**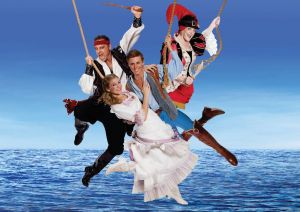 Following their first fully professional season in 2014, Brisbane's Harvest Rain will kick off their 2015 season in March with an all-new production of The Pirates of Penzance at QPAC. Television host Andrew O'Keefe will lead the cast as the Pirate King, with Nancye Hayes as Ruth and John Wood as the Major General. Stephen Sondheim's Into The Woods will follow.
**
The Book of Mormon – the musical written by South Park creators Trey Parker and Matt Stone and Avenue Q co-creator Robert Lopez – is coming to Australia.
The Tony®, Olivier®, and Grammy® award-winning show will begin performances at Melbourne's Princess Theatre from January 2017.
**
The West End stage production Singin' In the Rain will open at Melbourne's Her Majesty's Theatre in May 2016 starring an all-Australian cast including Adam Garcia, produced in Australia by Lunchbox Theatrical Productions, David Atkins Enterprises, Michael Cassel Group and Dainty Group International. Seasons have also been confirmed in Sydney, Brisbane, Adelaide and Perth.
**
Stage Whispers has been reliably informed that Stephen Schwartz is planning another trip to Australia in 2015 coinciding with the import of the Tony Award winning Broadway 2013 revival of his musical Pippin.
The revival opened on Broadway in March 2013, and closes on January 4, 2015.
Rumour has it that John Frost will open it in Melbourne in late 2015.
No official word as yet.
While Stephen Schwartz was in Australia/New Zealand in 2013 for the opening of Wicked in Auckland and a triptych of his musicals staged by Magnormos, he was interviewed by Coral Drouyn.
Click here to read the interview
**
Patrick Edgeworth is writing the book for a jukebox musical of 60s folk group, The Seekers. Tentatively titled Georgie Girl, after their big hit of the same name, the musical is expected to premiere in 2015. Edgeworth is related to lead female singer of the group Judith Durham.
**
Dream Lover, The Bobby Darin Musical written by Frank Howson and John-Michael Howson will have its World Premiere at Sydney Lyric Theatre in September 2016. To be produced by John and Barbara Gilbert of Gilbert Theatrical Pty Ltd and John Frost of The Gordon Frost Organisation, the musical tells the story of Bobby Darin, the singer, songwriter, actor and entertainer whose sensational career spanned the 1950's and 60's. Simon Phillips will direct.