Musicals in 2020
As of March 2020, most current productions have been postponed or cancelled due to COVID19,
Shrek the Musical
Based on the much-loved DreamWorks movie, Shrek the Musical opened on Broadway complete with a dragon portrayed by a large animatronic head.
This production has less technology and more old-fashioned show business schtick. Instead of a robot, Australian audiences will have the star power of Marcia Hines as the dragon.
Ben Mingay will play the green ogre, while just months after giving birth to her second baby, Lucy Durack will also be slapping on the green paint as Princess Fiona.
The role of Lord Farquaad, the short-in-stature, ruthless ruler of Duloc, and the associated old vaudeville trick (requiring knee pads) have been assigned to the trusty hoofs of Todd McKenney.
Shrek opens at the Sydney Lyric Theatre in January, followed by Her Majesty's Theatre, Melbourne from February and then a season at the Lyric Theatre, Brisbane.
Image: Ben Mingay as Shrek. Photographer: Brian Geach.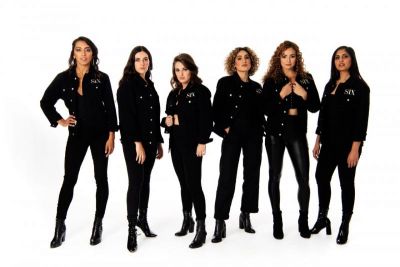 SIX The Musical
West End hit SIX The Musical, by Toby Marlow and Lucy Moss, has its Australian premiere Sydney Opera House from January 4 to March 6.
SIX remixes the history of the six wives of Henry VIII - Britain's notorious Tudor King - by giving the microphone to his Queens to tell their stories: Catherine of Aragon, Anne Boleyn, Jane Seymour, Anna of Cleves, Katherine Howard and Catherine Parr.
These powerful women transform from Tudor Queens to Pop Princesses as they tell their rebellious tales in this original pop musical, accompanied by an all-female band and inspired by the canon of music divas like Adele, Lily Allen and Ariana Grande.
SIX twists the narrative from five hundred years of historical heartbreak into a 75-minute celebration of 21st-century girl power.
Image: SIX Australian cast - Chloe Zuel, Kala Gare, Loren Hunter, Kiana Daniele, Courtney Monsma and Vidya Makan. Photographer: James D. Morgan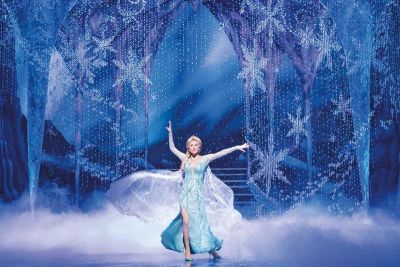 Frozen
Disney Theatrical's musical Frozen will have its premiere Australian season at Sydney's Capitol Theatre in July, only two years after its Broadway premiere.
Based on the classic fable of the Snow Queen, Frozen was the highest grossing animated movie of all time, with eye popping imagery and that ear worm song "Let it Go".
A dozen songs were added by the original composers, plus a mountain of scenic effects, to turn it into a Broadway musical. Special effects highlights include a stunning curtain of Swarovski crystals.
The New York Times raved about the "masterly" first twenty minutes but noted that children were looking on the sleepy side during the second act.
The Guardian was also a little underwhelmed, describing Frozen as "a good show, with its music, its dance, its flurry of likable leads, and snowball after snowball." The real star of Frozen is not Elsa, its critic said, but Sven the reindeer. In true Disney style the show and characters are the stars, not the cast.
Australia's Elsa and Anna announced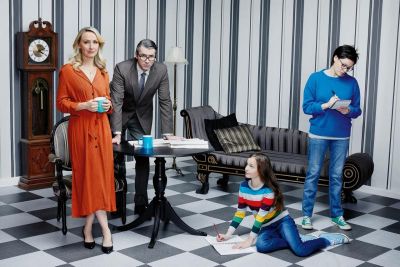 Fun Home.
At the complete opposite end of the musical spectrum is Fun Home.The winner of the 2014 Tony Award for Best Musical, Fun Home is a small cast, simply staged production,based on a graphic novel by Alison Bechdel. It's described as "a heartfelt story about coming out and coming of age."
After the unexpected death of her father, Alison is forced to confront his secrets. Shifting between past and present, we meet present-day Alison, a successful graphic novelist; college-age Alison on the cusp of self-discovery; and precocious child Alison, who plays in coffins instead of sandboxes in the family's Bechdel Funeral Home.
Maggie McKenna, the original (musical) Muriel, returns from touring the United States in Dear Evan Hansen to play medium Alison, alongside Lucy Maunder as mature Alison.
The cast also features Lisa McCune, Ryan Gonzalez and Adam Murphy.
Melbourne Theatre Company will stage the Australian Premiere in July, followed by a season at the Sydney Theatre Company commencing in late August.
Photo by Justin Ridler
Melboure Theatre Company Season 2020
Sydney Theatre Company Season 2020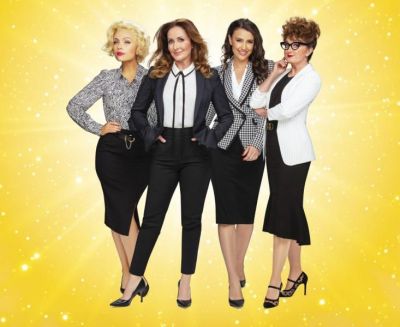 Dolly Parton's 9 to 5
Based on the 1980 film of the same name, the musical 9 to 5 had a limited run on Broadway in 2009, but has been given a new life thanks to a well-received production at London's Savoy Theatre and the changing times.
A musical about workplace harassment is suddenly topical again thanks to the #MeToo movement.
The female-led musical follows workmates Doralee, Violet and Judy as they prepare to take revenge on their incredibly sexist supervisor, but as they tie him up and begin reforming the office, their CEO pays a surprise visit.
The musical features a mostly original score by Dolly Parton, with a couple of her hits including, of course, "9 to 5".
Dolly Parton's 9 to 5opens at Sydney Lyric Theatre, The Star in April.
Image: Samantha Dodemaide, Caroline O'Connor, Erin Clare and Marina Prior. Photographer: Peter Brew-Bevan.
Eddie Perfect announced as the boss.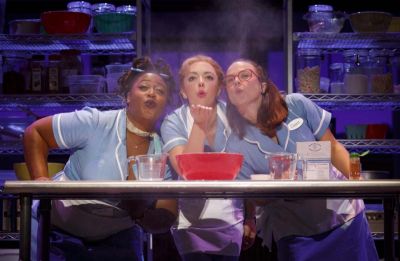 Waitress
Waitress opened on Broadway in the same season as Hamilton,and although it was overshadowed by that production (just a few blocks away), it is still scheduled to continue baking on the Great White Way until January 2020.
Described by Variety as having "a charming score that suits the quirky material", Waitress is based on a 2007 rom com by Adrienne Shelly.
The central character is diner waitress Jenna, who "is such a honey bun, she melts us like the mounds of butter that make Jenna's homemade pies so luscious."
The Australian premiere is slated for late 2020 at the Sydney Lyric Theatre, but has already been postponed once due to cast scheduling.
Image: Charity Angel Dawson, Desi Oakley and Lenne Klingaman in the U.S. National Tour of Waitress. Photographer: Joan Marcus.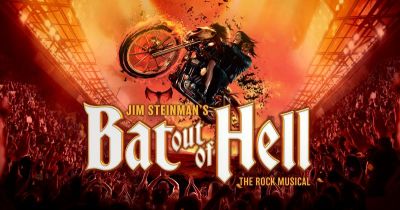 Bat Out of Hell
The arena rock musical, Jim Steinman's Bat Out Of Hell will tour Australia in June 2020.
The Award-Winning stage musical has been transformed into an arena rock musical and will feature iconic songs from the Bat Out Of Hell albums, including "You Took The Words Right Out of My Mouth," "Bat Out Of Hell," "I Would Do Anything For Love (But I Won't Do That)," and "Two Out Of Three Ain't Bad". These rock songs propel an epic story of rebellious youth and passion as Strat, the immortal leader of The Lost, has fallen in love with Raven, the beautiful daughter of the tyrannical ruler Falco.
This rock musical based on one of the best-selling albums of all time will commence in Sydney at Qudos Bank Arena on Thursday 4 June followed by arena dates in Brisbane, Melbourne, Adelaide and Perth.
Everybody's Talking About Jamie
The critically acclaimed, Olivier Award nominated, West End musical Everybody's Talking About Jamie will have its Australian Premiere Season at the Sydney Opera House from 18 July 2020 prior to a national tour.
Billy Elliot the Musical
The 10th anniversary tour of Billy Elliot the Musical continues into 2020. After opening in Sydney in October, it plays Adelaide from December 29, then Melbourne from February 2020.
* Melbourne season closed early due to coronavirus
The Book of Mormon
After clocking up more than 1000 performances across Australia, The Book of Mormon returns to Brisbane at QPAC in January 2020.
Photographer: Jeff Busby.
Menopause The Musical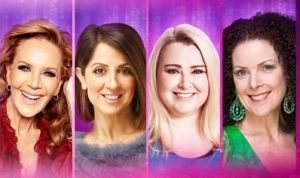 Seen by nearly 15 million people in more than 500 cities worldwide, Menopause The Musical® returns to Sydney in May 2020 for a strictly limited season at the Capitol Theatre from May 6 to 17 at the start of a national tour. Seasons in Melbourne, Perth and Brisbane follow.
Inspired by a hot flush and a bottle of wine, Menopause The Musical® is a celebration for women who are on the brink of, in the middle of, or have survived "The Change". The laughter-filled 90-minute production gets audience members out of their seats and singing along to parodies from classic pop songs of the '60s, '70s and '80s.
Starring in the production are Rhonda Burchmore, Silvie Paladino, Lara Mulcahy and Gina Hogan.
School of Rock
Following seasons in Melbourne, Asia, New Zealand and Brisbane, Andrew Lloyd Webber's School of Rock continues its Sydney season at the Capitol Theatre into 2020, before heading to the Adelaide Festival Centre from March 20.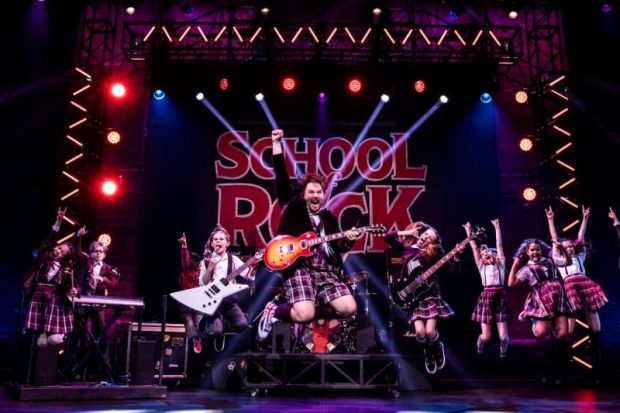 Come From Away
After its Melbourne season at the Comedy Theatre concludes in March, the Australian production of Come From Away was sscheduled to head to China, but this tour was cancelled due to COVID-19. A Sydney season follows at the State Theatre from August,
The Melbourne season closed early due to COVID-19, but Come From Away will return to Melbourne in February 2021.
Photographer: Jeff Busby.
Melbourne season closes early due to COVID-19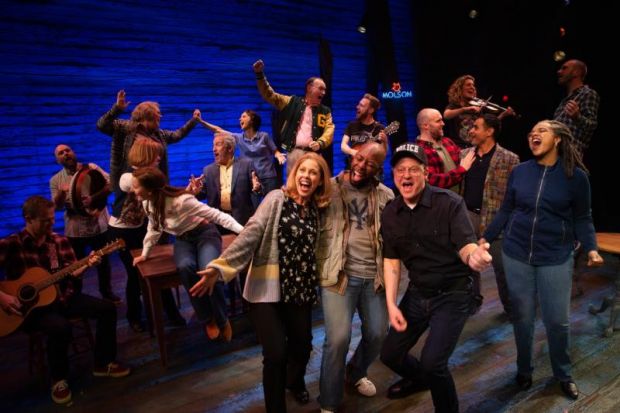 Chicago
The revival of the hit Kander and Ebb musical Chicago continues its national tour at the State Theatre, Arts Centre, Melbourne during January and February, starring Natalie Bassingthwaighte, Alinta Chidzey, Casey Donovan and Jason Donovan.
Charlie and the Chocolate Factory
Roald Dahl's Charlie and the Chocolate Factory plays at Melbourne's Her Majesty's Theatre until February 2, before transferring to the Lyric Theatre, QPAC in Brisbane from March 18.
* Brisbane season postponed due to Coronavirus
Opera Companies Staging Musicals
Fiddler on the Roof
Opera Australia and John Frost again join forces in 2020to stage two musicals.
Fiddler on the Roof, the classic Broadway musical set in a downtrodden Ukrainian village will be even more Jewish, in a new interpretation, performed entirely in Yiddish (a hybrid of Hebrew/German with a Russian accent).
This production was originally staged off-Broadway and described by the New York Times as "offering a kind of authenticity no other American Fiddler ever has."
Time Out New York said, "At times it's more like a séance than a show. The turn-of-the-20th-century village of Anatevka may be fictional, but its denizens feel wonderfully, vibrantly alive."
Fiddler on the Roof, directed byOscar and Tony Award winner Joel Grey, plays at the Sydney Opera House in September, then Melbourne's Comedy Theatre in November.
Image from New York production. Photographer: Matthew Murphy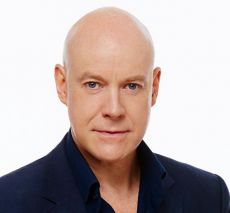 The Secret Garden
Production cancelled - full details
Opera Australia and John Frost will also collaborate on a 25th anniversary production of The Secret Garden, which reunites the original Broadway creative team of director Susan H Schulman, choreographer Michael Lichtefeld and designer Heidi Ettinger. Based on the popular literary classic by Frances Hodgson Burnett, with a book and lyrics by Marsha Norman and music by Lucy Simon, The Secret Garden will open at Sydney Lyric Theatre in August.
Anthony Warlow will return in the role of Archibald Craven which he played in the original 1995 production
The Light in the Piazza.
Four-time Grammy Award winner Renée Fleming stars in Opera Australia's production of Broadway musical The Light in the Piazza, which won six Tony Awards including Best Original Score. Set in Florence during a languid 1950s summer, a windborne hat sparks an intense romance between Clara and local dreamer Fabrizio. The production plays at the Sydney Opera House in August.

Bran Nue Dae
Opera companies around the country are combining for a 25th anniversary tour ofJimmy Chi and Kuckles' coming-of-age musical comedy. A loving and joyous celebration of Indigenous culture, Bran Nue Dae is an exuberant ride through 1960s Western Australia.
Ernie Dingo will reprise the role of Uncle Tadpole he first performed 30 years ago.
The revival will have a real family feel with up to three generations involved. Original Kuckles member Stephen Pigram will tour as part of the band, this time with his daughters Naomi and Ngaire as the Associate Director and the role of Aunty Theresa respectively and their children Taj, Tehya and Bojesse all in the ensemble. Fellow Kuckles member and the show's Indigenous Advisor Michael Mavromatis will be joined in the band by his son Manny.
Lauded as "the great Australian musical" when it premièred in 1990, this newproduction will tour to Parramatta, Perth, Melbourne, Brisbane, Canberra and Adelaide.
Return Sydney Season announced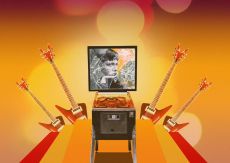 The Who's Tommy
Victorian Opera is venturing about as far away from traditional opera as you could imagine with The Who's Tommy. Based on the band's 1969 rock opera album about the pinball wizard Tommy, whose traumatic childhood leaves him deaf, dumb and blind, the rock opera will play at the Palais Theatre, St Kilda in August.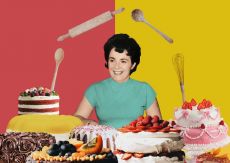 Margaret Fulton The Musical
Victorian Opera gets cooking with its other musical theatre offering in 2020. Based on the best-selling autobiography I Sang for My Supper: Memories of a Food Writer, Margaret Fulton: The Musical brings her inspiring true story to the stage at Arts Centre Melbourne in September.
Read more about Victorian Opera's 2020 season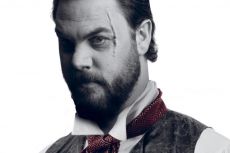 Sweeney Todd
State Opera SA will presentStephen Sondheim and Hugh Wheeler's classic musical about the Demon Barber of Fleet Street, starring Ben Mingay and Antoinette Halloran, at Her Majesty's Theatre, Adelaide from October 3 to 10.
Read more about State Opera SA's 2020 season
Intimate Productions
At The Hayes
Sydney's Hayes Theatre will stage four new Australian musicals amongst the offerings in its 2020 season. The Hayes Theatre is offering subscriptions for the time in its five year history.
T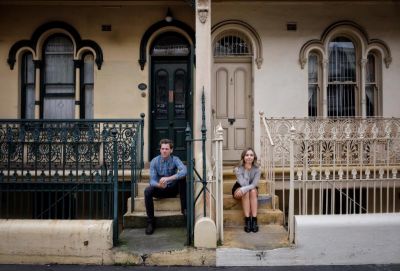 he Life of Us
Created by Ashleigh Taylor & Ben Bennett, The Life of Us follows the long distance romance of Charlie and Ellie. Forced apart by circumstance, they maintain their relationship through technology. But how much connection can a person truly feel through a screen?
The Life of Us follows the long-distance romance of Charlie and Ellie. Forced apart by circumstance, they maintain their relationship through technology, but how much connection can a person truly feel through a screen? As we watch their lives unfold and their relationships crumble, we begin to understand what we want isn't always what we need. The Life of Us is a modern-day musical that looks at how we love and what it means to be connected.
Playing from January 16.
The Rise and Disguise of Elizabeth R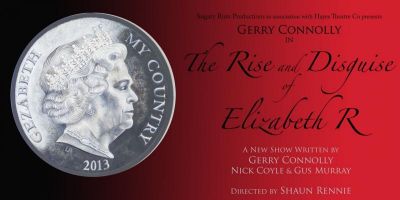 Gerry Connolly has written, and will star in, brand-new musical The Rise and Disguise of Elizabeth R, which brings to life many of Gerry's alter-egos, from Her Maj, her son, her bete noir the Baroness Thatcher, her Australian PMs to other famous home-grown personalities. Connolly is a familiar and much-loved face in Australia. Playing from 13 February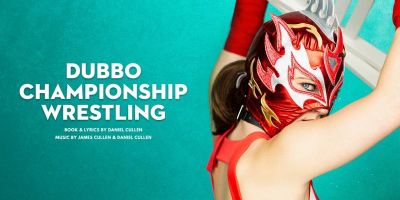 Dubbo Championship Wrestling
There's not a spare seat in the West Dubbo High School Gym. Ozzy the Aussie Battler flicks his cape and steps into the ring, and the crowd go troppo. Dubbo Championship Wrestling, by Daniel and James Cullen, is a new Aussie rock musical about professional wrestling, regional Australia, and musical theatre itself. Playing from May 29
The Sovereign Wife
The creator of Keating, composer Casey Bennetto, teams up with Sisters Grimm to "explore the guts of our brave nation, ina toe-tapping musical colonoscopy". The Sovereign Wife smashes together all the stories Australia loves to tell about itself - combining the subtlety of Baz Luhrmann's Australia with the soaring beauty of Gina Rinehart's poetry." Playing from August 7.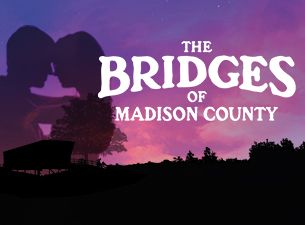 The Bridges of Madison County
Producers Matthew Henderson and Neil Gooding will present the Australian premiere of the musical The Bridges of Madison County. Based on the best-selling novel and developed by the Pulitzer and Tony Award-winning creative team of Jason Robert Brown (The Last Five Years, Parade, Songs for a New World) and Marsha Norman (The Secret Garden, The Colour Purple), The Bridges of Madison County will have its Australian Premiere in March 2020 at Hayes Theatre Co.
The Bridges of Madison Countyis probably best known as the Academy Award-nominated film starring Meryl Streep and Clint Eastwood.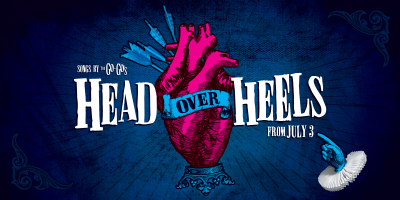 Head Over Heels
The team that produced the musical American Psycho in 2019, in association with Hayes Theatre Co, are thrilled to present the Australian Premiere of Head Over Heels. Playing at Hayes Theatre Co from 3 July 2020, Head Over Heels is a new musical comedy from the creatives behind Hedwig and the Angry Inch, Avenue Q, Next To Normal and Spring Awakening.
Set to the music of the iconic 1980's all-female rock band The Go-Go's, the musical features songs "We Got the Beat", "Our Lips Are Sealed" and Belinda Carlisle's "Heaven is a Place on Earth"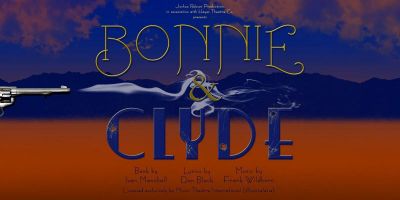 Bonnie and Clyde
Telling the story of America's most notorious bank robbers and lovers, Bonnie & Clyde will play from 18 September 2020 as part of Hayes Theatre Co's 2020 season.
At the height of the Great Depression, Bonnie Parker and Clyde Barrow went from two small-town nobodies in West Texas to America's most renowned folk heroes and Texas law enforcement's worst nightmares. The Tony-nominated musical from composer Frank Wildhorn (Jekyll & Hyde, Civil War, Dracula) is a story of love, adventure and crime that captured the attention of an entire country.
Bonnie & Clyde combines gospel, rock, folk and blues music to produce a score that complements the action-filled true story of fugitive lovers on a date with death.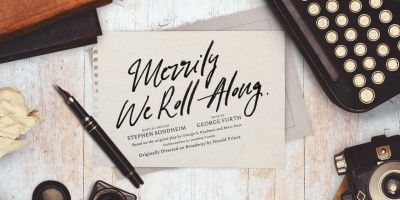 Merrily We Roll Along
To mark Stephen Sondheim's 90th year, Luckiest Productions, in association with Hayes Theatre Co, will present the Stephen Sondheim-George Furth musical Merrily We Roll Along from 16 April 2020 at the Hayes Theatre Co.
Merrily We Roll Along is the heartbreaker of Sondheim musicals, looking at how the best of friends lose their way as they fight to win at life. It follows a trio of friends - composer Franklin Shepard, his writing partner lyricist Charley Kringas and upcoming novelist Mary Flynn. The three are primed to change the world through words and music, however success has a way of opening doors that take them further away from what - and who - they love. Famously told in reverse, Merrily We Roll Along is an emotional detective story that investigates how grown-up sellouts are forged from wide-eyed poets.
* Postponed until 2021 due to Coronavirus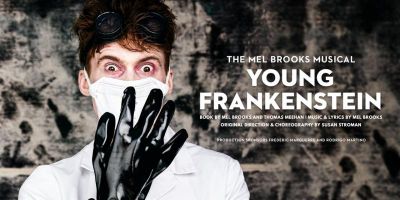 Young Frankenstein
Mel Brooks' Young Frankenstein concludes the season in November.
Hayes Theatre Co presents the kooky musical comedy Young Frankenstein, adapted by Mel Brooks (The Producers, Blazing Saddles) from his own legendarily funny film, from November 6. Featuring songs like "The Transylvania Mania " and "Puttin' on the Ritz," Young Frankenstein is supported by Frederic Marguerre and Rodrigo Martino through the Artist Led Program.
The Hayes will also host Neglected Musicals January production of Irene, staring Stefanie Caccamo and Nancye Hayes, and a season of cabaret productions in September.
Read more about the Hayes Theatre Co 2020 season
Monthy Python's Spamalot
One Eyed Man's production of Monthy Python's Spamalot, which premiered at the Hayes Theatre Company in 2019, will tour during 2019, visiting venues including Arts Centre Melbourne, Parramatta Riverside Theatres, Canberra Theatr5e Centre, The Arts House Wyong and HOTA (Gold Coast).
Photographer: John McRae
Read our review of the original Sydney season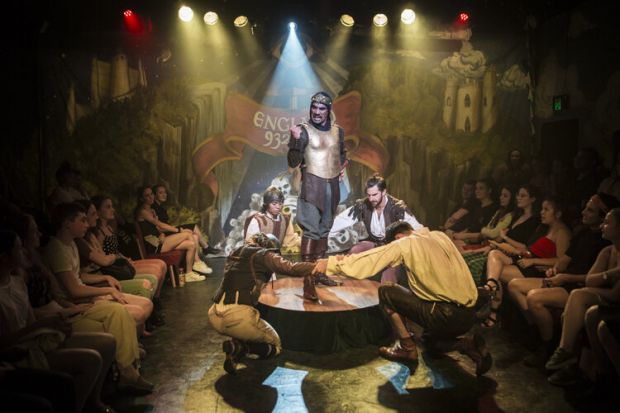 American Psycho at Sydney Opera House and Arts Centre Melbourne.
American Psycho – The Musical will be presented at Arts Centre Melbourne from May 21 to 3o, and in the Sydney Opera House Playhouse from 4 – 21 June, 2020. Sexy, dark and disturbing, the production is returning after a successful season at the Hayes Theatre Co. in 2019 that earned the musical nine 2020 Sydney Theatre Awards.
At Darlinghurst Theatre Company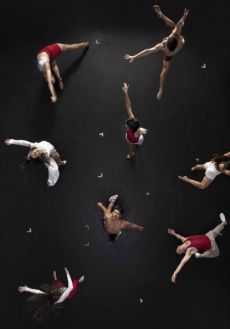 A Chorus Line
A new staging of A Chorus Line, directed and choreographed by Amy Campbell, will be the first professional production in Australia to feature entirely new choreography.
"Blood, sweat and tears don't date," says Campbell. "The intimate nature of the space will make 19 dancers feel like 100. You'll feel their sweat, pain and joy in every row. You'll be up close and intimate with these characters who, by their very nature, expose all their vulnerabilities and talent for the chance to be seen and heard. The physical energy is going to be electric."
Playing March 13 to April 19.
Image by Daniel Shipp
• Closed due to Coronavirus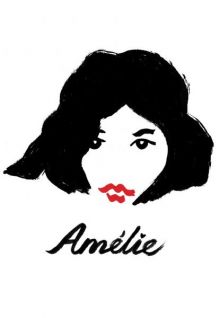 Amélie
The musical version of Amélie will have its Australian Premiere from July 2 to August 9. Based on the motion picture of the same name, this production will featurean ensemble of actor-musicians in a blend of musical theatre, puppetry and illusion.
"The musical takes all of the charm and imagination of the film and stirs in the tangible magic of live theatre. Amélie is a show that encourages us all to dream about a better, brighter world," says director Shaun Rennie.
Image: Evi O Studio
Read more about Darlinghurst Theatre Company's 2020 seson
Oklahoma! at Black Swan
Black Swan State Theatre Company's production of Rodgers and Hammerstein's Oklahoma! takes to the Heath Ledger Theatre stage in Perth from 28 Nov to 20 Dec. This intimate production, performed in the round, promises bluegrass, country and even the chance to join the townsfolk and band members on stage in the heart of the action for a square-dance at the Box Social. Directed by Richard Carroll (Calamity Jane, The Show Goes On).
Read more about Black Swan's 2020 season
Preludes
Preludes by Dave Malloy (Natasha, Pierre & The Great Comet of 1812) will have its Australian premiere at Sydney's Seymour Centre from November 13. Directed by Tyran Parke, it will be presented by Key Change Productions as part of the Seymour Centre's 2020 season, in the Reginald Theatre.
Into the Woods
Melbourne-cased musical theatre company Watch This will present the Stephen Sondheim / James Lapine musical Into The Woods at Meat Market, North Melbourne from September 16 - 26.
Anyone Can Whistle
Sydney based musical theatre company Little Triangle will present the Stephen Sondheim / Atrthur Laurents musical Anyone Can Whistle at the Seymour Centre, in the Reginald Theatre from April 14 - 25.
* Cancelled due to Coronavirus
Looking forward to 2021
Global Creatures will present Moulin Rouge! The Musical in Melbourne at The Regent Theatre in 2021.
Photo: Matthew Murphy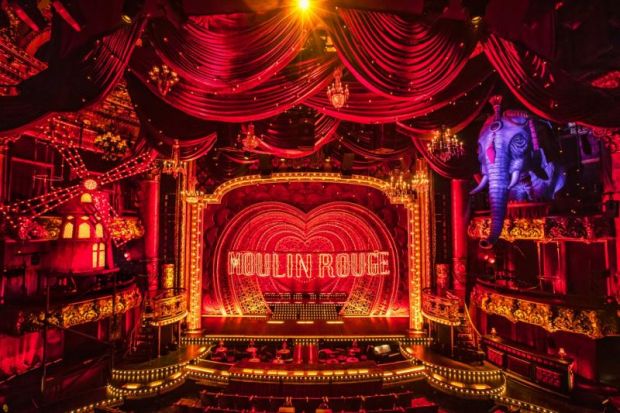 Hamilton will have its Australian premiere at the Sydney Lyric Theatre in March 2021.
Image: Hamilton - US National tour. Photographer: Joan Marcus.